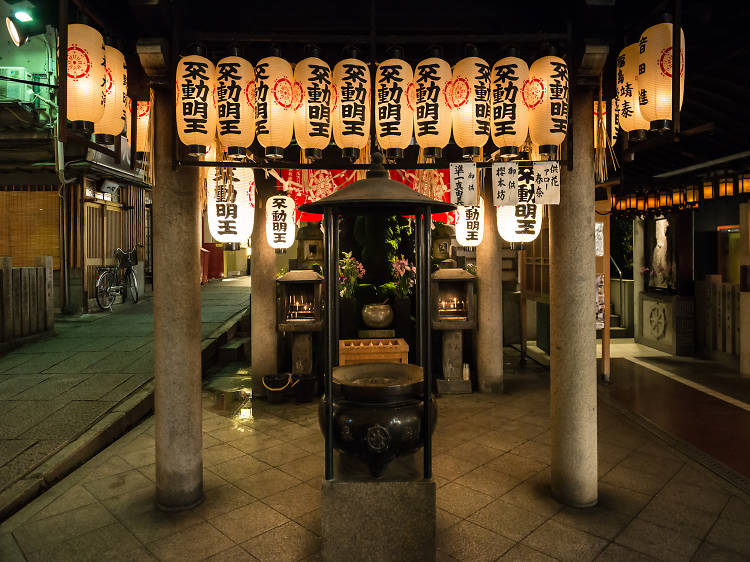 Photograph: Shutterstock
Considered the centre of gravity within the city, Namba has it all: food, drink, shopping, and plenty of debauchery. Slightly north of the station you'll find Osaka's main drag of Dotonbori, a canal flanked by restaurants and stalls on each side of the water and with even more to discover in the backstreets, both north towards Shinsaibashi and back towards Namba station. Head south from the station, and you're in Ura-Namba, with even more bars and entertainment. It's hard to get bored here; it's more likely that you'll succumb to a sensory overload, including the jumble that is Namba's three train stations, all serving different lines, including the Midosuji metro. Just let it all in, and you'll be rewarded with a good time.
STAY
You're best off staying around the Namba station area to discover the breadth of what the area is all about. Sleep in a capsule at First Cabin, where you can also rent a pod for a short period if you need a nap.
EAT
Takoyaki. Okonomiyaki. Any -yaki you can think of, Namba has it, plus more. For takoyaki (octopus-filled balls), the Kukuru chain never disappoints, while the best okonomiyaki (literally meaning 'grill what you like', best described as a thick savoury cabbage pancake) is, as the name says, a matter of personal preference. Fukutaro remains popular.
DRINK
Misono Building's second floor is full of tiny bars; just stick your head in to see where you're welcome. Otherwise, try local brews at Craft Beer Gulp, or plonk yourself down at an izakaya in Ura-Namba and just order something. Anything. Doesn't matter which izakaya, doesn't matter what you order, you're bound to make friends and experience why Osaka is known for its openness.
DO
Pay your selfie tributes to the Glico Man in Dotonbori, eat your way through Kuromon Market, pick up a pretty bowl at Sennichimae Kitchenware Street, shop yourself poor in Amerikamura or Shinsaibashi… Namba is where to embrace your inner tourist.
If you do only one thing…
Head to narrow, lantern-strewn Hozenji Yokocho, a traditional alleyway full of izakaya. It's also the home of Hozenji Temple, a small sanctuary with a decidedly mossy statue that survived World War II. Legend has it that if you pour water over the statue, your wish will come true.