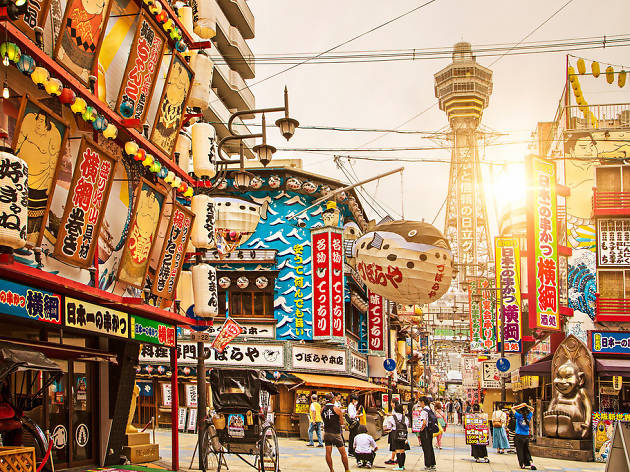 Where to stay in Osaka: best neighbourhoods
Already booked your trip and need to decide where to stay in Osaka? These are the neighbourhoods to consider.
Where to stay in Osaka? Japan's boisterous second city boasts everything from neon-frenzied Namba to the quieter surrounds of Osaka Castle. The city's layout can be a bit confusing to first-time visitors—the main transport hubs are a jumble of underground and overground walkways, may have different names depending on the line or, worse, have the same name for three different stations. Leave that aside, however, and you'll find that it's roughly a toss-up between the central Kita (north) or Minami (south) district—although more outlying areas such as the previously grungy Tennoji and Abeno have become increasingly popular over the years, and budding hipster enclaves can be found in Nakazakicho and Nakanoshima.
The city's main artery is the Midosuji Subway Line, which will get you straight from Umeda and Shin-Osaka stations in the north to Namba in the south. If you somehow manage to end up in a place not on that line (which is quite difficult in central Osaka), don't despair: the wealth of other metro and train lines means that wherever you end up staying, it's an easy hop to a different part of town to explore even more things to do.
Where to stay in Osaka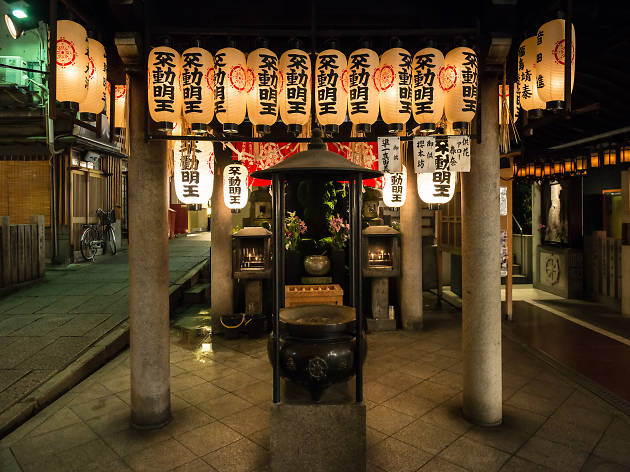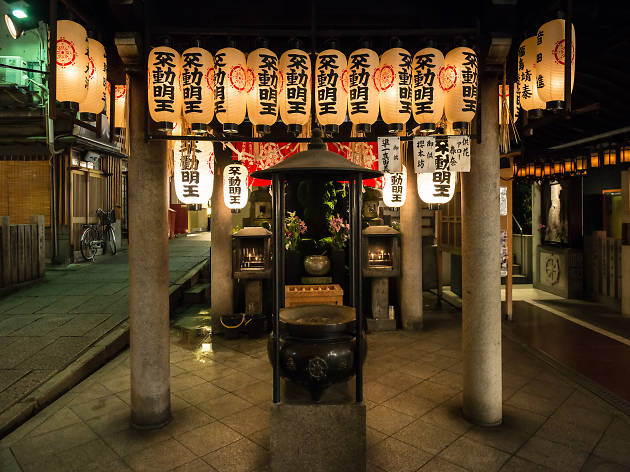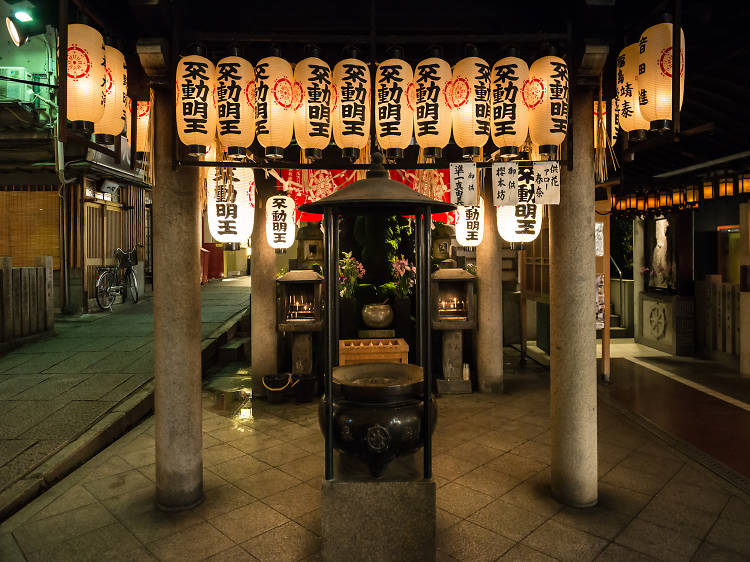 Photograph: Shutterstock
Considered the centre of gravity within the city, Namba has it all: food, drink, shopping, and plenty of debauchery. Slightly north of the station you'll find Osaka's main drag of Dotonbori, a canal flanked by restaurants and stalls on each side of the water and with even more to discover in the backstreets, both north towards Shinsaibashi and back towards Namba station. Head south from the station, and you're in Ura-Namba, with even more bars and entertainment. It's hard to get bored here; it's more likely that you'll succumb to a sensory overload, including the jumble that is Namba's three train stations, all serving different lines, including the Midosuji metro. Just let it all in, and you'll be rewarded with a good time.
STAY
You're best off staying around the Namba station area to discover the breadth of what the area is all about. Sleep in a capsule at First Cabin, where you can also rent a pod for a short period if you need a nap.
EAT
Takoyaki. Okonomiyaki. Any -yaki you can think of, Namba has it, plus more. For takoyaki (octopus-filled balls), the Kukuru chain never disappoints, while the best okonomiyaki (literally meaning 'grill what you like', best described as a thick savoury cabbage pancake) is, as the name says, a matter of personal preference. Fukutaro remains popular.
DRINK
Misono Building's second floor is full of tiny bars; just stick your head in to see where you're welcome. Otherwise, try local brews at Craft Beer Gulp, or plonk yourself down at an izakaya in Ura-Namba and just order something. Anything. Doesn't matter which izakaya, doesn't matter what you order, you're bound to make friends and experience why Osaka is known for its openness.
DO
Pay your selfie tributes to the Glico Man in Dotonbori, eat your way through Kuromon Market, pick up a pretty bowl at Sennichimae Kitchenware Street, shop yourself poor in Amerikamura or Shinsaibashi… Namba is where to embrace your inner tourist.
If you do only one thing…
Head to narrow, lantern-strewn Hozenji Yokocho, a traditional alleyway full of izakaya. It's also the home of Hozenji Temple, a small sanctuary with a decidedly mossy statue that survived World War II. Legend has it that if you pour water over the statue, your wish will come true.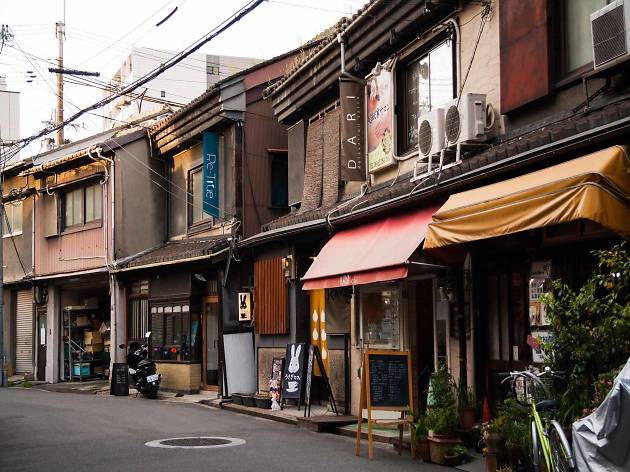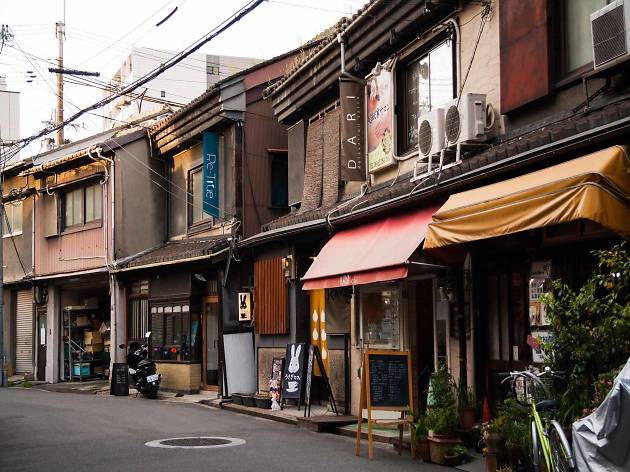 Photograph: Nakazakicho zakka
Located just one stop northeast of Umeda and Osaka stations, Nakazakicho is a laidback, trendy area without all the frenzy and confusing skywalks of its walkway and skyscraper-clad neighbours. It's full of small streets and old houses, over a hundred of which have been repurposed as independent shops, cafés and bars. Nakazakicho Station is only served by the Tanimachi metro line, but it's an easy walk from Umeda Station. So close to central Osaka, yet still a world on its own: Nakazakicho can easily have you hooked.
STAY
Briller Nakazaki's rooms are pretty spacious for Japanese standards, and most of them even come with their own balcony (and some semi-kitsch furnishings). For stellar views of the city, don't forget to check out their rooftop.
EAT
Relax with a book and a novelty coffee at Arabiq, or try Utena Kissaten to experience traditional Japanese café culture. For an even more retro atmosphere, have a cup of tea with a slice of cheesecake at Taiyo no To Café – their obanzai lunch set is a good choice, too.
DRINK
Ever wanted to drink next to a tropical fish or three? Kondo Nettai-gyoten ('Kondo Tropical Fish Shop') is a bar that's filled with quite the amount of aquariums and fish tanks. You might just find yourself chatting to Nemo eventually.
DO
Shop for 'zakka', Japan's much-loved word that basically means 'lifestyle goods'. Zakka shops in Nakazakicho include Asobiya, which has everything with a giraffe motif, and Jam Pot, which does some cute accessories too.
If you do only one thing…
Go to Noon+Cafe. A local institution previously known as Club Noon, it was closed down multiple times in the past due to violating Japan's stringent no-dancing laws, but was eventually acquitted and reopened. During the day, it doubles as a café and event space, while evenings bring eclectic live performances and club nights.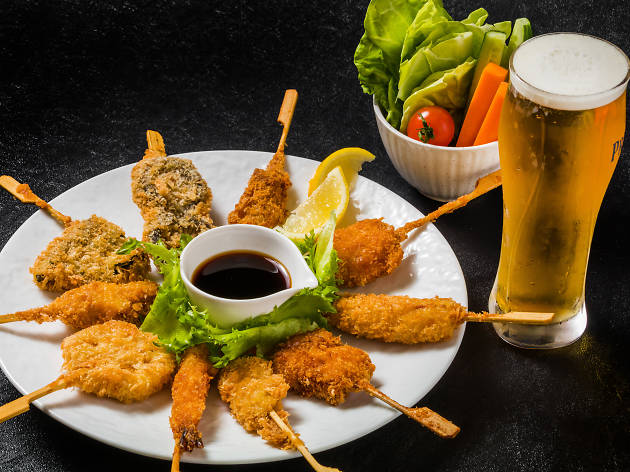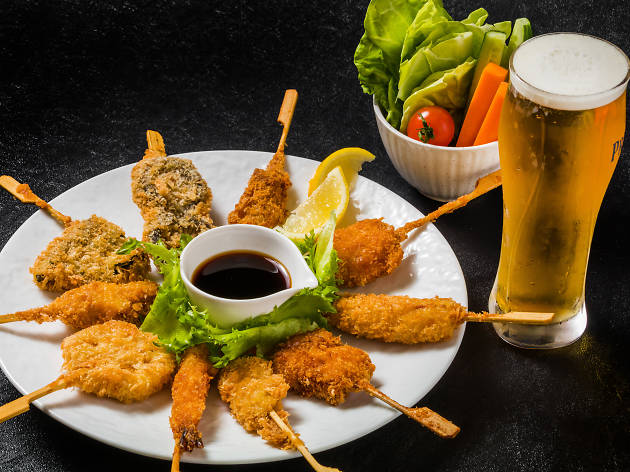 Photograph: Shutterstock
Formerly rather derelict and notorious for its high amount of crime and homelessness, the area around southern Tennoji and Abeno stations has bloomed in its own way since the Abeno Harukas building – Japan's tallest – was finished in 2014. Tennoji Station is very well-connected, being both on the main Midosuji metro line and the Osaka loop train line, while Abeno is on the Tanimachi metro line – get there from Higashi-Umeda Station.
STAY
Tennoji and Abeno's seedy reputation means that there are plenty of love hotels around. For a place with rooms that don't offer lodging by the hour, Ave Tennoji is a good pick, with both capsules and private rooms available, plus that all-important hotel essential – a beer vending machine.
EAT
Northwest of Tennoji Station, a block known as Shinsekai (literally "new world") has a reputation for one specific food: kushikatsu, or deep-fried skewers. The original vendor of this local delicacy is said to be Daruma, and its main branch is here. But if the queue is too long, try any place along the covered Jan Jan Yokocho. Just don't double dip, or you might never be allowed to return to the city.
DRINK
Like most of Japan, drinks are best had in an izakaya, and Shinsekai will sort you out there. For a tipple with a side of live music, head to Otis Blue, a soul music bar on Tennoji's east side with regular live performances.
DO
Get your art on. The area now has two art museums: the older Osaka City Museum of Fine Arts, and the newer Abeno Harukas Art Museum, inside Abeno Harukas. Generally speaking, if you like art from bygone eras, head to the City Museum; for modern art, go for Abeno.
If you do only one thing…
Visit Isshin-ji Temple. The current head priest is an architect, which explains the rather modern overhaul of the main gate. You'll also find multiple Okutsu Butsu, or Buddha statues built completely from ashes – many an Osakan can trace their ancestors here.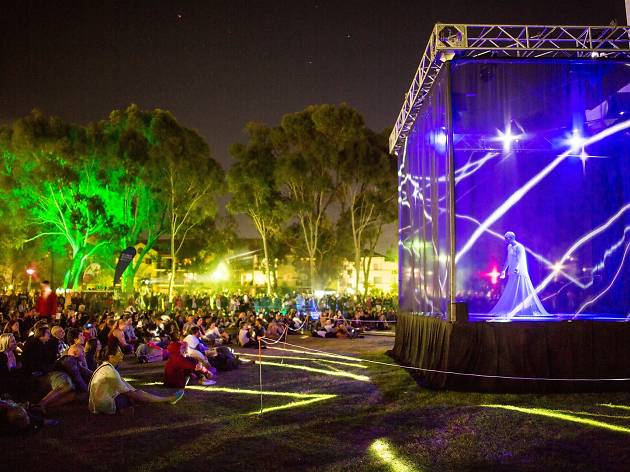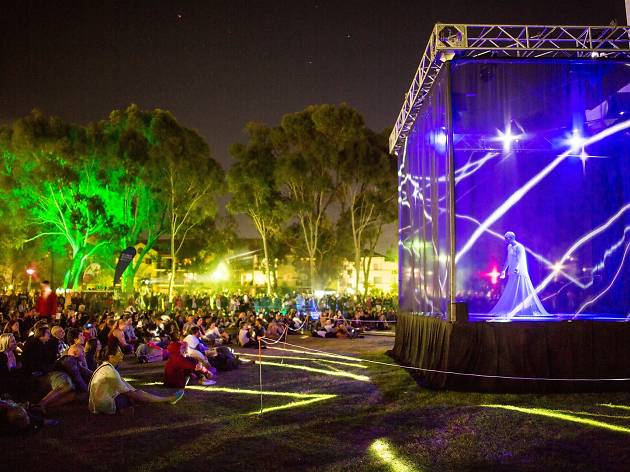 Photograph OKMEDIA
This island, smack between Umeda and Namba, used to primarily be an office district, but has seen a bit of a hipster revival in recent years. You'll now find retro coffee shops, design stores and funky restaurants between the grey skyscrapers, making it a nice alternative base from where to explore the city. Being in the centre of the city means Nakanoshima is easy to get to from all directions, with multiple stations (including Higobashi, Yodoyabashi and Kitahama) dotted just across the river on each side, and a few stations (Nakanoshima, Watanabebashi, Oebashi, Naniwabashi) on the island itself. The best mode of transportation is your own two feet though, as the island makes for a lovely stroll.
STAY
Be prepared to splash the cash at upscale venues such as the five-star Rihga Royal or the Conrad. The simple Hotel NCB, on the island's western edge, offers more wallet-friendly rates, and also has a few Japanese-style rooms complete with tatami.
EAT
You'll find plenty of cafés serving lunch sets on the island itself, but for dinner, head for Kitahama Terrace just across the water, near Naniwa Bridge. Most of the restaurants here boast riverside terrace seating – a true rarity in outdoor-seating-averse Japan. For the ultimate indulgence, we particularly like Kitahama Urara for their innovative take on Japanese cuisine.
DRINK
For a caffeinated pick-me-up, try the hipster Moto Coffee near Higobashi, or Graf, a design store-meets-café. For something a bit boozier, head to Nakanoshima Park's R Riverside Grill & Beer Garden.
DO
Walk around the island and take in the architecture, including the famed Osaka Central Public Hall. Once you're done with that, head to Nakanoshima Park, which has a pretty rose garden too. For a more unorthodox experience, go paddle boarding around the island; Japan City SUP Association offer tours.
If you only do one thing…
See the sunset. Buildings across Nakanoshima are lit up at night, and the kaleidoscope of the sun setting over the financial district's high rise complexes never tires.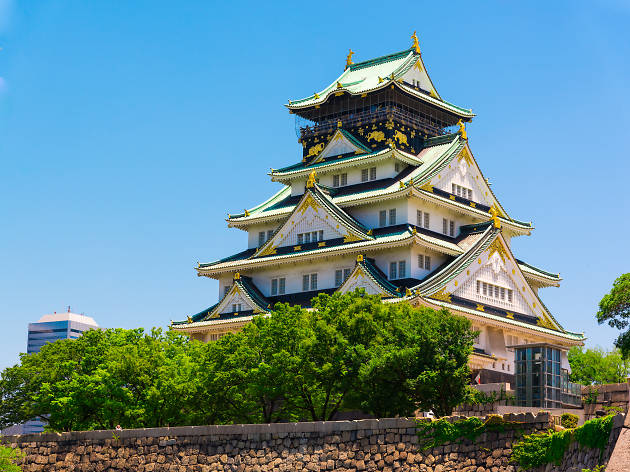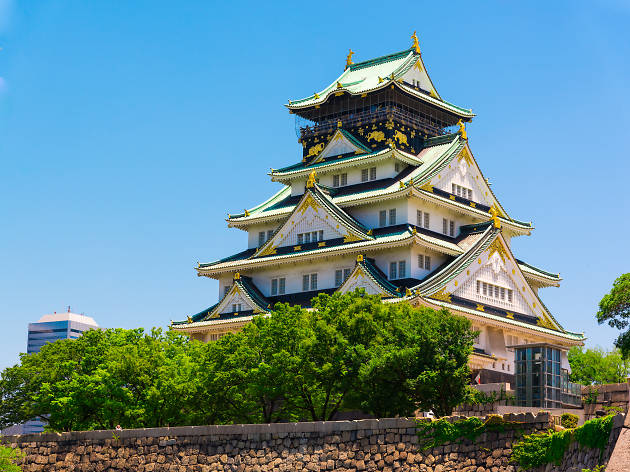 Photograph: Osaka Castle
Osaka's only semi-outlying tourist sight (bar Universal Studios), the castle area is a much quieter, local alternative to the lights and sounds of Namba and more central Osaka. West of the castle is the edge of the centre, while north and east of the castle is a mix of very residential (east) and very business-y (north). The castle grounds are free to enter, and it's a popular picnic spot, not to mention a cherry blossom hotspot. For transport, the Osaka Loop train line runs east of the castle, while the Tanimachi metro line runs on the west and south side. The Loop line helps you get to the castle, but the Tanimachi side has more entertainment options that are not mall-based. Regardless, being able to wake up in the morning and see the castle without the crowds is worth staying in the area.
STAY
Most accommodation options are clustered west and southwest of the castle; all things (north)east of it are mainly useful if you're on a business trip or absolutely insist on being near the Osaka Loop train line. One of the most quirky – and best – options is CharinCo Hostel, a very stylish bike-oriented hostel ('chari' is slang for bicycle in Japanese). Besides the usual good guesthouse prerequisites (a comfy lounge area, a bar, soft beds, 24-hour front desk), they also have free bicycles for you to explore the city on two wheels.
EAT
You'll find the most dining options around the metro and train stations. One good exception is Fugutora, which specialises in blowfish. If you just want a nibble as a dare, have it as serving of sashimi, but to really get the full spectrum, go for one of the course menus, where the poisonous fish is served up in different styles.
DRINK
This side of town doesn't party as hard as, say, Namba, but don't let that deter you. Harenohi, near Tanimachi-yonchome Station, does a range of craft beer, and serves some pretty decent gyoza too.
DO
You're within stumbling distance of Osaka Castle – actually go there. Besides going inside and marvelling at the view from up top, the castle grounds are a great place to hang out (although they get murderously crowded in cherry blossom season). You can also go on a boat tour of the moat.
If you do only one thing…
Make a beeline for Acidracines Patisserie and try their signature pistachio and sour cherry cake or a seasonal treat. The baked goodies here have been rated as some of the best in Western Japan.
Mapping out your trip?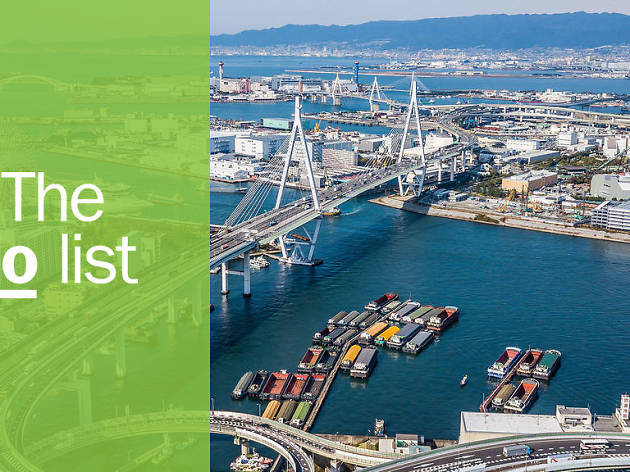 Known within Japan as the home of many a comedian, the city is louder, brasher, and often more merry than Tokyo – possibly any other city in Japan. The centre is relatively compact, but don't let that deceive you: to really get underneath Osaka's skin, you'll need at least a couple of days of walking, eating and drinking. Here are the very best things to do in Osaka.