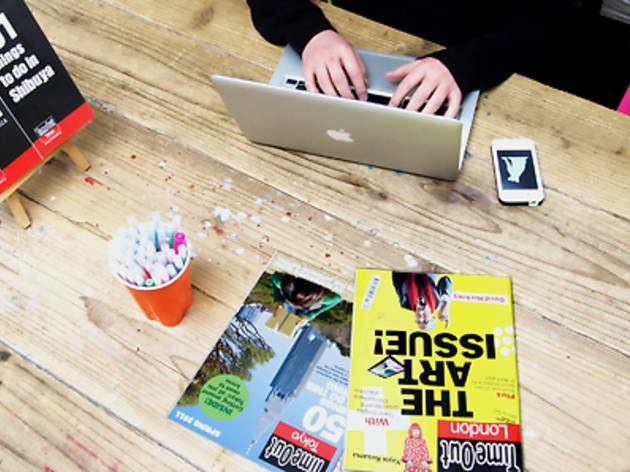 Time Out Tokyo provides comprehensive coverage of food, music, arts, entertainment and events in both English and Japanese through our website, mobile apps and city guides. Working closely with local experts, we aim to help our readers get to know the city through engaging features, detailed listings and reviews. If you're an experienced writer with a love of Tokyo and an interest in joining the Time Out team, keep an eye on this page for job listing updates and freelance opportunities. To apply for any of these positions, email your application to jobs[at]timeout.jp.
***
Full-time sales position
Context of the role:
You'll be working with the sales team in planning creative solutions for clients. Your primary role will be corresponding with clients and recommending advertising solutions and other promotional plans. You'll also be responsible for finding new sales leads through business directories, client referrals, etc, as well as managing projects that involve business partnerships and collaborations.
Who we're looking for:
- Someone with experience in sales (especially in ad agencies, digital, IT and/or media companies)
- Bilingual candidates who can speak both English and Japanese are preferred
- Basic computer skills are necessary (Internet, e-mail, Excel, PowerPoint and Word)
- Basic knowledge of creating a sales presentation is advantageous
***
Deputy Editor
Context of the role:
You will be expected to work collaboratively with the existing Time Out digital and print teams (both English and Japanese). You should have extensive skills in editing both a magazine and a website. Social media knowledge and experience are necessary.
Main duties and responsibilities:
- You will be expected to appreciate and execute the 'house style' of Time Out, for which training will be provided.
- Assist the Editor-in-Chief in editing the magazine (quarterly) and website (daily); sub-editing and publishing listings, news, features and multimedia. Generating content for both print and web, finding compelling ways to ensure Time Out Tokyo is the destination for food, lifestyle and entertainment, listings and events in Tokyo.
- Responsible for the publication of Time Out Tokyo's quarterly magazine, website, commercial content and any associated print/digital products.
- While you'll primary work on English content, there will be translation work involved (mostly from Japanese to English).
- Assist in executing social media platform updates; helping to grow audience and reach using the Time Out 'voice'.
- You will manage a team of writers, editorial assistant and freelancers, who will assist in the performance of your overall duties.
- Liaising with Marketing and Sales teams to coordinate contests, sales, events and marketing opportunities.
- Generating ideas and monitoring a range of media sources to develop and extend Time Out Tokyo's coverage in innovative ways.
- Acting as the brand ambassador, as required, at public events.
Requirements:
- Candidate must possess at least a Diploma, Advanced/Higher/Graduate Diploma, any field.
- Excellent command of the English language with good communication skills (written and oral).
- Japanese language skills are necessary (at least intermediary), both written and oral.
- Able to deliver high quality work on time and work under pressure.
- You should be well organised, a good multi-tasker and tenacious in character.
- Interest in and knowledge of the local lifestyle entertainment scene is highly advantageous, so is knowledge and/or experience in digital media and sub-editing.
- Candidate who is living in Tokyo with a valid working visa is preferable.
- At least 2 years' experience in a related field is preferable.
***
Staff Writer (in-house)

Time Out Tokyo is currently looking for staff writers to join our editorial team. Staff writers work on our website, magazine and all other English-language publications, and will be asked to cover tasks as diverse as reporting, editing, proofreading and interacting with clients and other third parties. Staff writers are expected to possess excellent English writing skills, in addition to being proficient in Japanese (speaking, reading and writing).
Specialist knowledge in any of the fields covered by Time Out Tokyo (Eating & Drinking, Film, Music, Art etc) is considered an asset, but candidates are expected to have a broad interest in Tokyo-related topics and issues.
If you consider yourself an experienced writer with in-depth knowledge of Tokyo and Japan and feel like you would be an asset to our English-language site and publications, please send a copy of your CV and three writing samples to jobs@timeout.jp. As we are currently looking for both full-time and part-time writers, please also indicate in your application which type of contract you would prefer.
***
Freelance

Time Out Tokyo is always looking to expand its freelance database. Are you an experienced writer with an in-depth knowledge of Tokyo? Are you brimming with story ideas? Would you be an asset to our English language site? If you think you fit the bill and would like to be included on our freelance list, please send a copy of your CV and three writing samples to jobs@timeout.jp.
Please note that due to the high volume of CVs we receive, we are unable to respond to everyone. But we keep all CVs on file and will contact you should we wish to commission you for work.