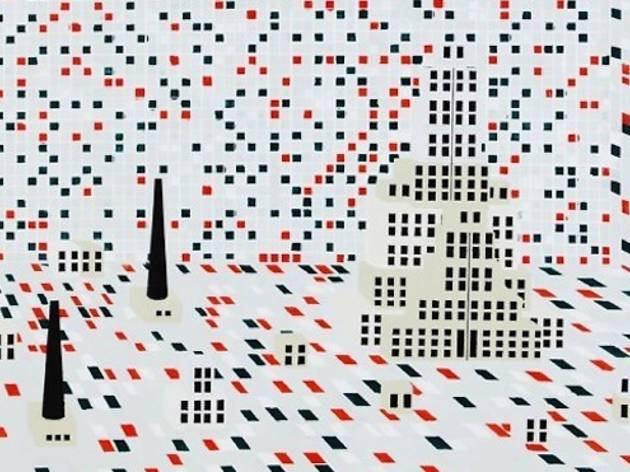 1/7
'Workshop II', détail, 2012 / © Courtesy de l'artiste et galerie Xippas
2/7
'Workshop II', 2012 / © Courtesy de l'artiste et galerie Xippas
3/7
'Modern toys II', 2013 / © Courtesy de l'artiste et galerie Xippas
4/7
'Workshop III', 2012 / © Courtesy de l'artiste et galerie Xippas
5/7
'Tabou II', 2013 / © Courtesy de l'artiste et galerie Xippas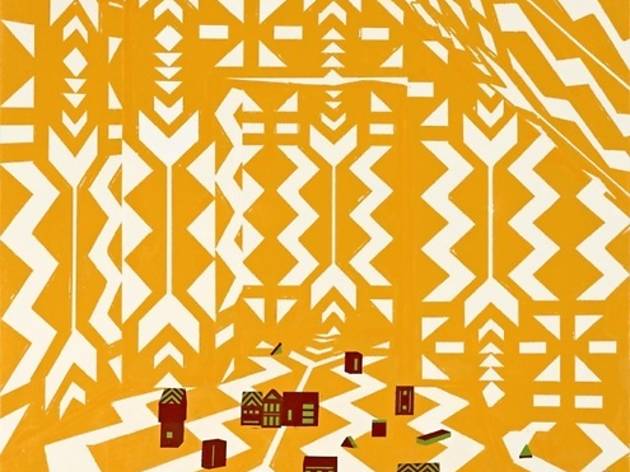 6/7
'Playroom III', 2013 / © Courtesy de l'artiste et galerie Xippas
7/7
'Building the city II', 2013 / © Courtesy de l'artiste et galerie Xippas
Brought to the fore by the size of the canvas, the pure tones of the colours in Farah Atassi's paintings are surprising, dazzling almost. The reds, yellows and blues produce a blinding effect against the white background – then little by little, your eyes adjust to the contrasts, and folkloric motifs beging to take shape. Like in an optical illusion that only reveals itself gradually, the lines come together in a rush, and the perspective suddenly falls into place.

Atassi plays with our perspective, with depth, with distances, and with the paint. She creates stripped-down compositions, enormous empty spaces occupied by nothing but a few multi-coloured constructions that look like children's building blocks or a computer game. Little yellow and red factories and scattered maisonettes seem lost in the immense spaces, abandoned toys in a room devoid of life.

These are melancholy works with a strong sense of absence and inactivity, made even more moving by the playful aesthetic and the gaudy tones. It's the work of an illusionist.