Things to Do
Your comprehensive guide to the best things to do in Paris
What to do in Paris this week
Get the latest scoop on what's going down in Paris this week. Whether you're after the best new events in arts and culture, music and nightlife, restaurants, shopping and more, our local critics' guide gives you the insider knowledge on what's hot to do this week in Paris.
Things to do in Paris for everyone
David Hockney
 Where? The Pompidou centre, Place Georges Pompidou, Paris 4th When? June 21-October 23 2017 After celebrating his 80th birthday at the Tate Modern and before continuing on with the party at New York's MET, the English artist is coming to the Pompidou centre. This will be an important retrospective of his original work, coming nearly 20 years after his first Paris debut at the Pompidou.
Buy tickets
Invalides aux nuit
From July 6 to September 2, 2017, the facades of the interior of Invalides light up to tell the story of Paris's vivid and colourful history. The fifth edition of this summer time festivity promises to be no less spectacular. Using the latest in modern technology, the show produced by Amaclio Productions and created by Bruno Seillier, is sure to deliver an incomparable multi-sensory experience.  Utilising the full extent of Invalides's majesty, the 180-degree projection covers over 250 metres of the building's facade - for an even more immersive event.   Invalides aux Nuit holds events in English on Monday and Thursday nights, meaning English-speakers can fully appreciate the story told behind the pictures.  We advise that if you don't by a seated ticket, you should bring something to protect your derrière...those historic cobbles can get a bit uncomfortable! Check out a video of last year's event for a flavour of what you're in for.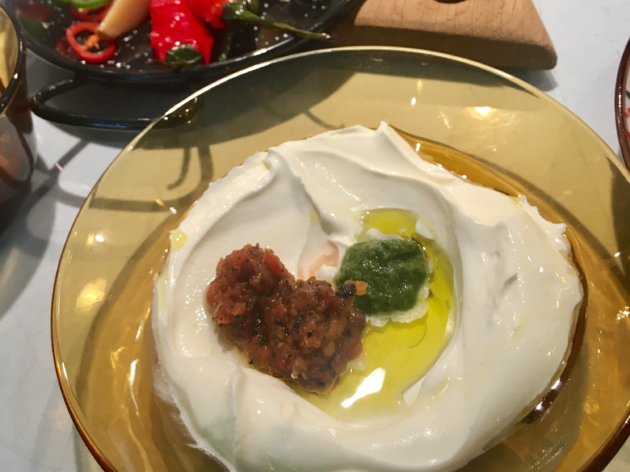 Balagan
A stone's throw from Colette on Rue Saint Honoré, the Tuileries gardens, and Rue de Rivoli, Balagan's location couldn't be any more French if it tried. An unusual setting to do something completely un-French... The latest project from the Experimental Group (after Fish Club, Beef Club Ballroom etc) is heading in a very different direction: to Jerusalem. Headed by two top Isralien chefs behind Machne-Yehuda restaurant in East Jerusalem and The Palomar in London - Assaf Granit and Uri Navon, and new talent Dan Yosha, Balagan is a new project attached to Hotel Renaissance Paris-Vendôme.  The name meaning "beautiful mess" in Hebrew, the space certainly is beautiful with decoration created by the woman behind all Experimental Group's projects - Dorothée Meilichzon. Grey marble, powder pink fabrics, triangular ceramic tiling, copper and wood - it's diverse and rich, just like the country's fabric. Onto the dishes. A vibrant fusion of Moroccan, French and Israeli cusine, the emphasis is on sharing plates but not those with a dainty fork - this is a gluttonous dipping, spongeing, soaking kind of sharing. The messier the better. Stone baked bread (described as something between a focaccia and a donut) great for plunging into tahini with sour spice and hot pesto from Yemen; beefy Morrocan oysters with asparagus, radish and onions that zing and refresh. The dishes are truly sexy: colourful and oozing with flavour that is bold and inviting. The Damascus beef tartare is exceptional,