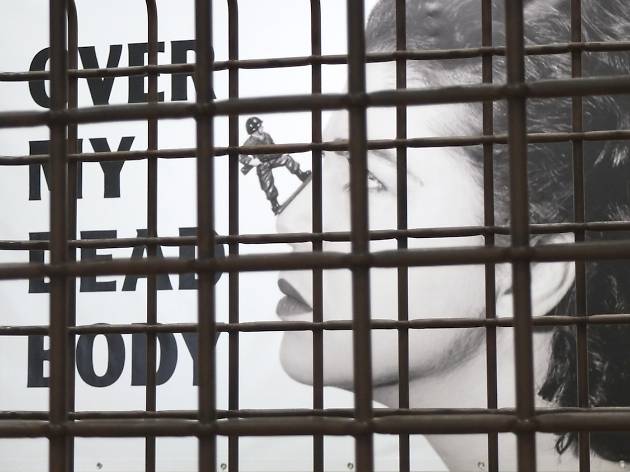 1/17
Vue de l'exposition de Mona Hatoum au Centre Pompidou / Photo : © TB / Time Out
2/17
Vue de l'exposition de Mona Hatoum au Centre Pompidou / Photo : © TB / Time Out
3/17
Vue de l'exposition de Mona Hatoum au Centre Pompidou / Photo : © TB / Time Out
4/17
Vue de l'exposition de Mona Hatoum au Centre Pompidou / Photo : © TB / Time Out
5/17
Vue de l'exposition de Mona Hatoum au Centre Pompidou / Photo : © TB / Time Out
6/17
Vue de l'exposition de Mona Hatoum au Centre Pompidou / Photo : © TB / Time Out
7/17
Vue de l'exposition de Mona Hatoum au Centre Pompidou / Photo : © TB / Time Out
8/17
Vue de l'exposition de Mona Hatoum au Centre Pompidou / Photo : © TB / Time Out
9/17
Vue de l'exposition de Mona Hatoum au Centre Pompidou / Photo : © TB / Time Out
10/17
Vue de l'exposition de Mona Hatoum au Centre Pompidou / Photo : © TB / Time Out
11/17
Vue de l'exposition de Mona Hatoum au Centre Pompidou / Photo : © TB / Time Out
12/17
Vue de l'exposition de Mona Hatoum au Centre Pompidou / Photo : © TB / Time Out
13/17
Vue de l'exposition de Mona Hatoum au Centre Pompidou / Photo : © TB / Time Out
14/17
Vue de l'exposition de Mona Hatoum au Centre Pompidou / Photo : © TB / Time Out
15/17
16/17
Vue de l'exposition de Mona Hatoum au Centre Pompidou / Photo : © TB / Time Out
17/17
Vue de l'exposition de Mona Hatoum au Centre Pompidou / Photo : © TB / Time Out
A highly politicized, searingly honest collection of works from a magnificent British artist of Palestinian origin.
'So much I want to say' (1983) is the title of the video playing at the entrance to Mona Hatoum's exhibition at the Centre Pompidou, in which she repeats the phrase on a loop, covering her mouth with her hands. But self-censure isn't what this is about. Hatoum (a British artist of Palestinian origin) has many scathing things to say and isn't about to hold back – her voice is rich in conceptual art references, highly politicized and often with a slightly dated tone that is nevertheless searingly honest. Whether she's weaving solar systems into Persian carpets, playing butcher with offal, creating sculptures out of her own hair, inventing anti-military propaganda posters or making screens out of grated cheese, Hatoum is a battering ram, always heading in the same direction.

Exile, racial inequality, war in the Middle East, surveillance, Capitalist cynicism and man's dominion over man are the burning issues covered by the 50 or so pieces in this show. Autobiography is never far away either, Hatoum's experience of exile instinctively infusing her work. From paradoxically simple video art to vast tapestries created in collaboration with Palestinian embroiderers living as refugees in Lebanon, Hatoum mixes contemporary art and activism, with one foot in the universe of the dispossessed while maintaining a strong voice in the world's greatest galleries.