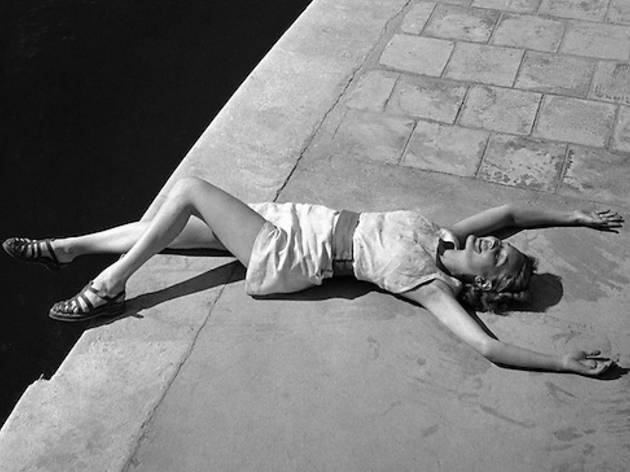 1/11
© Roger-Viollet
2/11
© Gaston Paris
Baignade dans la Seine, près du Pont-Neuf. Paris, vers 1935. Gaston
3/11
© Roger-Viollet
4/11
© Roger-Viollet
5/11
© Camille Tissot
6/11
© Gaston Paris
"La Fête de l'Eau". Piscine Molitor, Paris (XVIEme arr.), vers 1930.
7/11
© Boris Lipnitzki
Dames prenant le thé dans le jardin de l'hôtel Ritz. Paris, vers 1930.
8/11
© Camille Tissot
9/11
© Albert Harlingue
Familles au Bois de Boulogne. Paris, vers 1925.
10/11
© LAPI / Roger-Viollet
Pré-Catelan, Paris, juin 1941.
11/11
© Roger-Viollet
Paris, août 1958.
An exhibition celebrating Paris's slow, hot summer months through vintage photography. 'Parisienne en Eté' recalls the long tradition of men having a dip by Notre-Dame, kids splashing about by Pont Neuf or women sunbathing in a bikini by the Louvre. August is often maligned by Parisians as an empty time when everyone leaves the city, but the exhibiton at the Cité de la Mode et du Design shows an idyllic month, captured in 48 black and white photos taken between 1880 and 1960 by Boris Liptnitzki and Henri Roger of the Viollet-Roger agency. The show is free, and outside, so you can take in the pictures of bathing while enjoying the view of the Quai d'Austerlitz. The images are idealistic, intimate, insouciant and full of simple pleasures – dipping your toes in the Concorde fountain, hanging out at the Piscine Molitor, wandering in Montmartre, sleeping in a forest, floating toy boats in the Tuileries – and will reinvigorate the imaginations of anyone tiring of overheated city life.