Nightlife in Pattaya: 9 best places to go to
From old-school live music bars to huge nightclubs and glittering cabarets, here's a guide to nightlife in Pattaya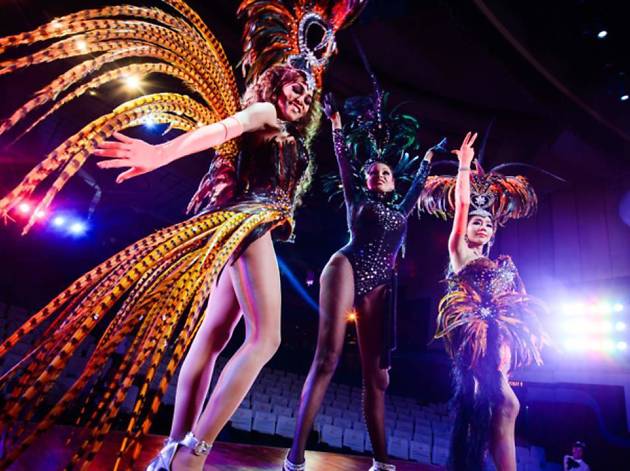 Located less than couple of hours' drive from Bangkok, the sunny seaside town of Pattaya has hundreds of hotels, resorts, shops, things to do and entertainment options to keep its eight million annual visitors busy—but it's the notoriously raucous nightlife in Pattaya that the city is probably best-known for.
There's no getting around it: sex is big business here. However, there's much more to modern Pattaya than go-go bars, massage parlours and ping-pong shows. These days, there are plenty of great live music spots, chic bars and world-class clubs balancing out the less salubrious aspects of life after dark in one of Thailand's most visited cities.
Nightlife in Pattaya
1
Photograph: Hot Tune Bar
What is it? An old school live music joint with a jostling, no-nonsense atmosphere that's one of the best places in Pattaya to hear live rock music.
Why go? In a city of seemingly ubiquitous pop, house and EDM music, Hot Tuna Bar provides a no-frills sanctuary for those who like their music with a little more grit. There are bands playing throughout the night, every night. Most are decent but some are brilliant. It's not the fanciest place in Pattaya, but that's not the point. The music's good, the beer's cold and the vibes are always great.
2
Photograph: Alcazar Cabaret Pattaya
What is it? The most famous cabaret show in Pattaya is a glitzy, glamorous and slightly zany showcase of song and dance in an impressive 1,200-seat purpose-built theatre.
Why go? Throw off your preconceptions and let yourself be thoroughly entertained by the lavish spectacular on offer at Alcazar four times a night. The sets, costumes and choreography are all seriously impressive. Tiffany Cabaret is also rated one of Pattaya's very best.
3
Photograph: Fernando B Photography
V20 Cocktail Lounge and Ice Bar
What is it? The V20 Cocktail Lounge is one of Walking Street's classier bars, with a chic interior, calm service and good cocktails – plus a subzero walk-in ice bar.
Why go? The sleek, main lounge area is a decent enough place to stop for a drink, but it's the freezing Ice Bar – where you don a beanie and a coat and down freezing shots – that most people come for. Set at a nipple-hardening -11 degrees, it's a surreal but thoroughly welcome break from the tropical heat of Thailand.
4
Photograph: The Stone House
What is it? An impressive looking live music venue and bar near the start of Walking Street, with high ceilings, great decor and live Thai cover bands playing rock hits until late.
Why go? Built to resemble a spooky looking old stone church from the outside, you can't miss this place as you wander round Walking Street. If you're a fan of live music rather than EDM and you don't mind hearing your favourite tracks reinterpreted like only Thai cover bands can, this is the place for you.
5
Photograph: Therapist Night Market
What is it? The biggest, most popular night market in Phuket with dozens of stalls selling everything from chintzy souvenirs to fake designer goods and, of course, plenty of delicious street food.
Why go? Also known as Pattaya Weekend Market, this is the place to stock up on gifts for people back home, grab yourself a couple of bargains and fill your face with noodles, spring rolls and banana pancakes. If the hot and hectic atmosphere gets too much, take a seat at one of the half dozen beer kiosks for a cold one and some serious people watching.
6
What is it? A large two-room nightclub at the end of Walking Street that regularly hosts the world's biggest DJs and is one of the few places you're guaranteed to hear decent music in this part of town.
Why go? There are loads of nightclubs in Pattaya, but LimaLima is up there with the best thanks to its quality sound system, friendly staff and great DJs. It attracts a refreshingly un-sleazy crowd given its location, with some of dance and EDM music's biggest names regularly dropping by to hit the decks.
7
Photograph: Pattaya Boxing World
What is it? The place to go for authentic Muay Thai boxing fights between both locals and international guests every Wednesday and Friday night from 8pm until midnight.
Why go? You'll see a lot of adverts and meet a lot of touts shouting at you about Thai boxing in Pattaya, but don't fall into the tourist traps. This is the only place for real fights between real fighters and the atmosphere really gets buzzing as a result. You can expect to see up to ten fights on any night, and there's a bar, restaurant and shop selling Muay Thai gear on site.
8
Photograph: Horizon Bar
What is it? Pattaya's most elegant, spectacular bar located at the rooftop restaurant of the Hilton Hotel with incredible views and cocktails to match.
Why go? Horizon Bar is beautifully designed and features the best views anywhere in the city, so make sure you get up to the 34th floor of the Hilton for at least one sunset during your time in Pattaya. The food, drinks, music and atmosphere are all predictably top-class and the vistas will leave you open-mouthed.
9
Photograph: Hard Rock Cafe
What is it? One of the brightest, biggest and busiest bars in Pattaya that gives a Thai twist to a tried and tested American formula.
Why go? It's a great place to start your night: order a cold beer or cocktail from the decking overlooking Beach Road and soak up the buzz as Pattaya revs its engines for the evening ahead. As with every Hard Rock, burgers and beer dominates the offering, with live bands performing every night. And as this is Thailand, they love a foam party here too.
Want to plan out your days in Pattaya?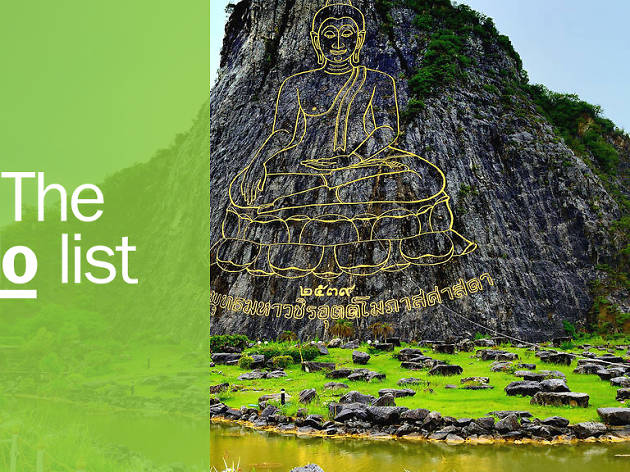 Pattaya has it all, whether you love shopping, culture, entertainment, dining or the bar scene. Here are its best bits.