The House of Angostura is taking over Perth's top bars for three nights
And Dan Gregory, the Australian winner of Angostura's 2017 Cocktail Challenge, will be behind the bar at three exclusive takeovers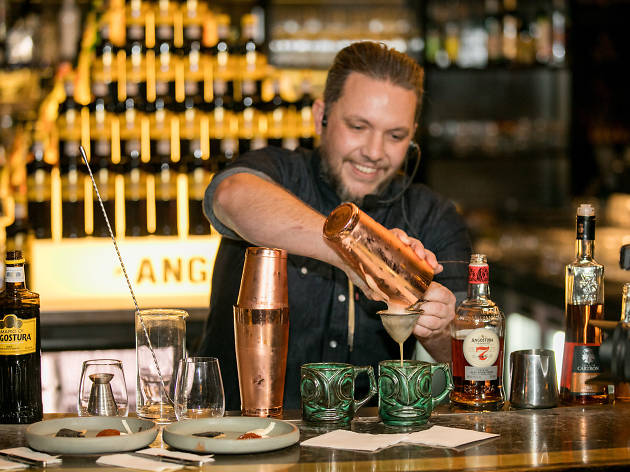 One of Australia's top bartenders is taking over three much-loved Perth bars to showcase the award-winning range of products from House of Angostura. Dan Gregory (currently of Ettie's, Hobart) will be bringing his skills to Mechanics Institute, Long Chim and Tiki as FK for three nights only.
Starting Monday September 24, Gregory will be taking the reins behind these popular Perth spots and creating a range of delightful cocktails that highlight the House of Angostura's range of products. The brand is synonymous with bitters, but Angostura also make an award-winning rum and Amaro (called Amaro di Angostura).
The first stop on the takeover series is Mechanics Institute, where Gregory will be creating Angostura-based cocktails like the Money to Burn, Yuzu Mule and the Smokey Rob as well as Old Fashioned with Angostura bitters on Monday September 24. Then on September 26, he'll make his way to Long Chim where guests can try cocktails made with Angostura Reserva White Rum, Angostura 7 Year Old Rum and Amaro di Angostura. Finally, the series will go out with a bang when Gregory heads to Tiki as FK. At his final destination Gregory will be creating cocktails like the Painted Lady, Dingy Skipper and Jaguar – a potent mix featuring Angostura 7 Year Old Rum, aromatic bitters, champagne, cognac and Gregory's secret tiki mix.
Gregory's skill behind the bar has been widely recognised, and he's won several awards including Angostura's Cocktail Challenge, Bartender Magazine's bartender of the year and Drinks World's most influential bartender. Plus he's worked across some of the most beloved and lauded bars in Australia including Melbourne's Black Pearl and Eau de Vie, Brisbane's the Gresham, and Sydney's Shady Pines. In short, your Angostura cocktails are in very good hands indeed.
The Angostura takeovers are happening at Perth's Mechanics Institute, Long Chim and Tiki as FK from September 24 to 27, with the evenings beginning at 6pm. Entry is free and no Reservations are required.