The 15 best bars in Philadelphia
From cocktail dens to wine bars and lounges, the best bars in Philadelphia are a guaranteed, booze-filled fun time.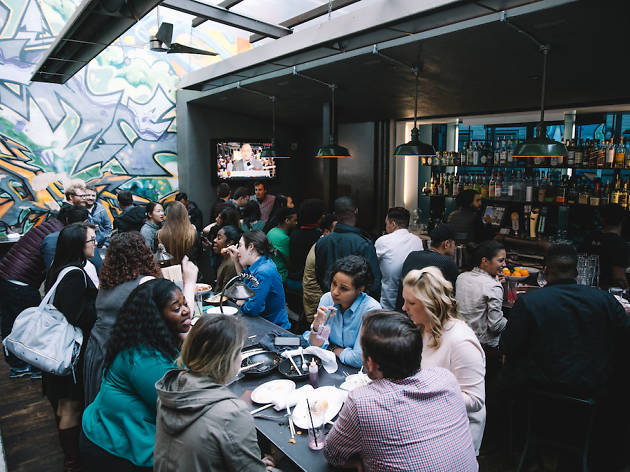 Sure, Philly has its historic sites and its cheesesteaks, but if you really want to know this city and its people, you have to spend time in the best bars in Philadelphia. Bar-hopping your way through the city is a must when you're looking for authentic things to do in Philadelphia. To begin your ultimate, booze-filled Philadelphia nightlife experience, take Philadelphia public transportation to a spot for happy hour. Philadelphia bartenders will be eagerly waiting to shake you up a well-made cocktail—or you could just get straight to business by having them pour you a shot. How the night unfolds from there… well that depends on where you go. From cocktail dens to wine bars, lounges and South Philly dives, we steer you in the right direction with this catering-to-all-tastes collection of some of the best bars in Philadelphia.
Best bars in Philadelphia
1
According to Monk's, the only reason why you're not a fan of beer is because you haven't found the right one yet—so let Monk's help you. Browse through the "Belgian Beer Bible" and choose from over 25 varieties on tap and over 200 bottles from all over the world. Pair your beer with some mussels and frites and you'll be sure to have a jolly good time.
Read more
2
Way back in 1938, proprietor Anthony "Ray" Capozzoli greeted everyone who crossed the threshold of Ray's with a booming "Happy Birthday!"—hence the current moniker. Take your birthday shot (complete with a candle tucked into a clever holder) at the long oak bar and enjoy live music, including a popular open mic night on the first and third Tuesday of each month and karaoke every Friday.
Read more
3
A glowing neon sign invites guests into Writer's Block Rehab, a slick new addition to the stretch of nightlife hotspots along (or just off) the ever-expanding Midtown Village business corridor. Dreamed up by industrial engineer Ram Krishnan, the wordsmith-inspired cocktail lounge offers bar seating on the first and third levels, but head to the second floor "Library" for a more comfortable, lounge-type experience. The menu boasts an impressive selection of wine and beer, and creative cocktails like a turmeric pisco sour ($14) and arugula martini ($14).
Read more
4
In the back of Sampan restaurant in Midtown Village, Graffiti Bar, decorated with custom street art, serves daily cocktail specials under a modern clear ceiling. Catch the game on one of the wall-mounted televisions while taking in offerings like the $2 satay happy hour.
Read more
5
Other than the ornate iron door, there's no sign that lets you know that this speakeasy-type bar exists in the middle of Chinatown. Ring the bell and ask to be let in, but make sure you're dressed appropriately. It's cash-only and there are no cell phones allowed inside, but rumor has it they serve the best Pisco sour in town.
Read more
6
Situated on busy 2nd Street in Northern Liberties, Bourbon and Branch offers a restaurant downstairs and an adorable upstairs bar with live music and a vast selection of whiskey, beer and inventive mixed drinks. Catch the weekday happy hour, from 5 to 7pm, for half-priced drafts and a $5 old fashioned.
Read more
7
Bob and Barbara's Lounge has been a South Philly institution since the late '60s. Go on a Friday or Saturday night to listen to the Hammond B-3 organ combo playing "Liquor Drinking Music" or a Thursday night to sit in the front row for Philly's longest running drag show. Be sure to grab a "Citywide Special" before the night is out. They say the legendary Philly drink—a can of Pabst Blue Ribbon and a shot of Jim Beam for $3—originated here.
Read more
8
Located in the Italian Market in South Philly, Connie's Ric Rac offers an impressive lineup of performances—from live music from local bands to comedy. While it bills itself as a "performance venue that serves drinks, not a bar with a stage," the spot's beverage selection is still impressively loaded with 50 different craft beers.
Read more
10
Dirty Franks, which opened in November 1933 (just a month before Prohibition was repealed), is the dive bar to end all dive bars. Join the classic Philly bar scene in this low-ceilinged, raucous joint, which is also a stop on a Mural Arts Philadelphia walking tour—thanks to its illustrated outdoor wall full of well-known Franks such as Sinatra, Avalon and even Aretha Franklin.
Read more
11
Tria Taproom prides itself on having no televisions and providing no entertainment, preferring its guests to focus on the atmosphere, the wine and the small plates of classy light fare. Gather around a high-top table with your friends and chat over a glass of bordeaux and an imported cheese board.
Read more
12
This upscale bar with an incredible view of the city is located on the top floor of the chic Hyatt at the Bellevue Hotel. The lush fireplace, dark wood and plush leather furniture create a perfect backdrop for an elegant martini and a cheese plate with friends.
Read more
13
It's Oktoberfest all year round at Frankford Hall, where you can munch on Bavarian pretzels and bratwurst while browsing through a huge selection of German and American beers on tap, bottles, cans and beer cocktails (yes, beer sangria is a thing). Sit inside among the exposed brick and open windows or gather out back with a bunch of friends at the long wooden tables.
Read more
14
If you're looking for a friendly neighborhood bar, stop into the Bishop's Collar, where they serve "salvation by the pint" by way of a good beer selection, a hip crowd and lots of regulars. Find a seat on one of the church pews, old Veterans Stadium chairs or outdoor tables lining the sidewalk.
Read more
15
There are over 50 locations of this iconic sports bar stretched across Pennsylvania and New Jersey—usually found near sporting venues, on boardwalks or at amusement parks. But the most authentic Chickie's and Pete's experience is in the South Philly location, just minutes from the Sports Complex. Park yourself at the bar to watch one of the dozens of televised matchups or head to the back room where you can rent out a "cell" for $25 an hour to play video games with your pals while you drink.
Read more
See more of the best bars in Philadelphia