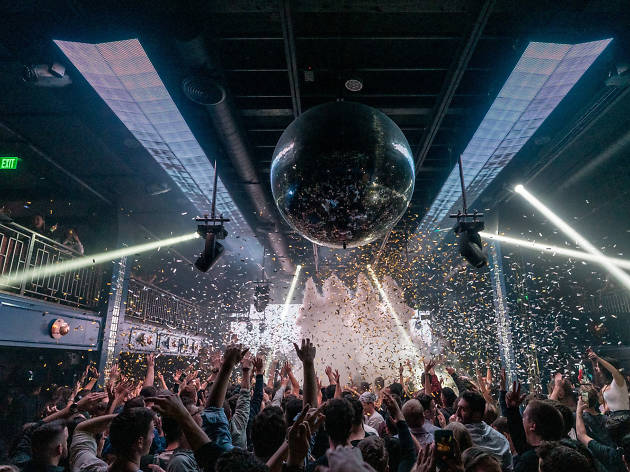 The 16 best clubs in Philly
The most awesome thing about the best clubs in Philly? Their usual cheap drink and admission prices.
Although the city of Brotherly Love is infamously known for its gritty dive and sports bars, nationally-acclaimed restaurants and a whole lot of local museums, the best clubs in Philly are also fun options when in the mood to wear something snazzy and dance until the wee hours.
A typical club night in Philadelphia is usually characterized by tight, sweaty dance floors, cheap drinks and admission, and crazy danceable tunes from a thriving community of local DJs. But a host of larger clubs in and around Center City have opened recently, changing up the scene with Miami-style amenities like VIP sections and bottle service, swanky decor and amazing light and sound shows.
On our guide, find both budget-friendly options and more out-there ones for when you're in a baller mood.
Clubs in Philly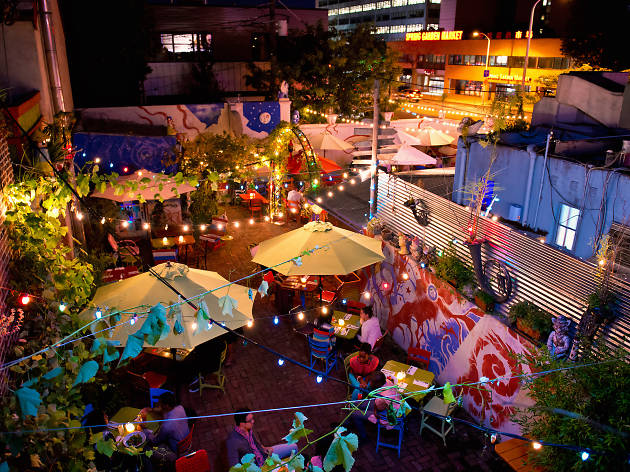 Photograph: Courtesy Visit Philly/J. Fusco
Equal parts retro diner and raging nightclub, this popular Northern Liberties haunt makes for a well-rounded Saturday night with cheap drinks, a packed dance floor and late-night dinner service to soak up all the booze. The nightclub, decked out with neon lighting, a black-and-white tile floor and disco-ball chandeliers, gets shoulder-to-shoulder packed on Saturday nights, when Philly's DJ Deejay rolls in to spin a mix of guilty-pleasure pop and hip-hop favorites. Weeknights feature a more laid-back vibe, especially during the warmer months, when the crowd spills out into the Alice in Wonderland-inspired back patio.
The glowing, neon-lit wall on Dolphin Tavern's dance floor is Instagrammable AF, if that's your thing, but chances are you're here for the music (and the modest $5 cover). Home to one of Philly's most eclectic mix of DJs and dance nights, you will find something you like at this South Philly institution. Recurring parties include disco night Hooked; Basic, a mix of pop and indie tunes with DJ Flufftronix; and Holy Trinity, a monthly rager paying homage to Beyoncé, Rihanna and Nicki Minaj. The Dolphin is open Wednesdays through Saturdays only, and has a great 10pm happy hour with $1 well drinks and Tecates.
This swanky rooftop bar on top of the Kimpton Hotel Monaco Philadelphia in Old City offers a chill vibe and gorgeous views of the city if you want to grab cocktails during the week, but weekends heat up with a rotating lineup of DJs and the occasional celebrity guest. This isn't your typical Philly nightclub experience: a casual yet upscale dress code is enforced and drinks are pricey. The top-tier champagne list is particularly splurge-worthy.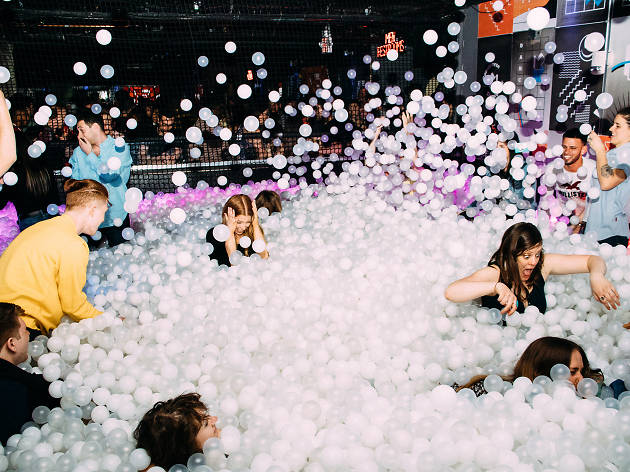 Photograph: Kayla McCaney
This subterranean nightclub in Philly's business district stands out on the local nightclub scene with a funky, retro aesthetic and a giant ball pit (yes, you heard that right). The 15,000-square-foot space is only open on Friday and Saturday nights (and the occasional Thursday), when a rotating list of guest DJs rolls through to play throwback hits from the '80s, '90s and 2000s. There's no dress code, but be sure to chuck your shoes and heels before crashing into that ball pit.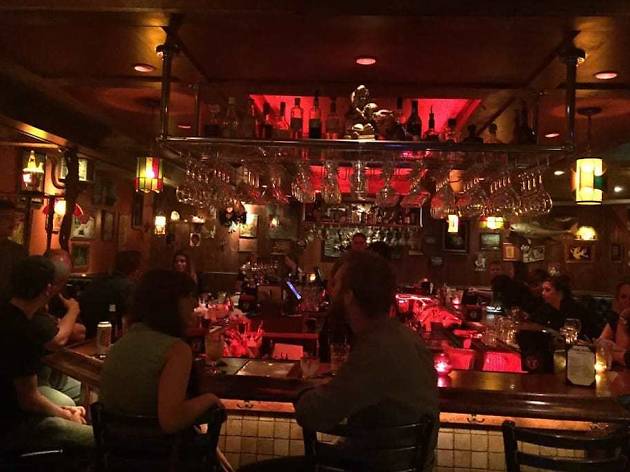 Photograph: Courtesy Yelp/Sari A.
This funky gem, located in a narrow alleyway off of 13th Street in the Gayborhood, is loaded with character. The dimly lit ground level is adorned with vintage artwork—mostly of the female-focused, soft-porn variety—frilly lamps and even taxidermy fish. This is a great place to congregate around the bar, with cocktail in hand, but upstairs is where the party's at. DJs roll in around 10pm on Friday and Saturday nights for ragers that usually come with a $5 cover.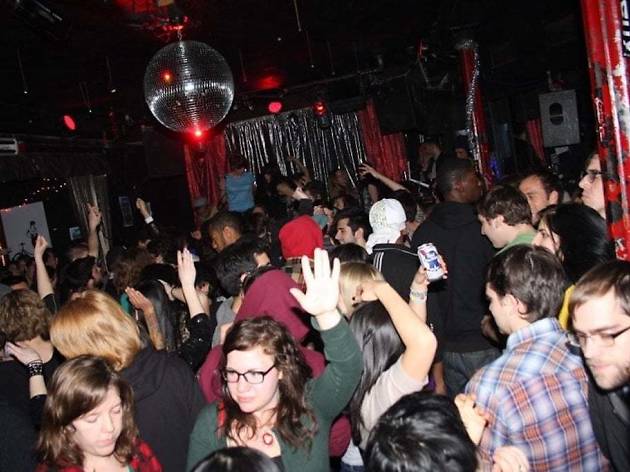 Photograph: Courtesy Yelp/Mirian V.
Beloved Fishtown haunt The Barbary sometimes serves as an all-age live music venue but, most weeks, the club's schedule is stacked with 21-plus throwback dance parties, including the long-running Tigerbeats, an indie rock bash that draws big crowds on Monday nights, and "Through Being Cool," a monthly emo night that's a lot less sappy than it sounds. Be sure to bring some green as the bar is cash-only.
7. Upstairs at the Khyber
This storied Old City bar turned Southern gastropub recently re-opened its second-level live performance space after nearly a decade-long hiatus. In its heyday, Upstairs at the Khyber welcomed everyone from Iggy Pop to Kurt Vile to the Smashing Pumpkins, but seasoned nightlife-goers will remember legendary dance parties like Making Time that once rocked the tiny, bare bones space. That vibe will live on in this new iteration, with events like old-school-soul dance party Boogaloo mixed into its lineup of rock, comedy and drag shows.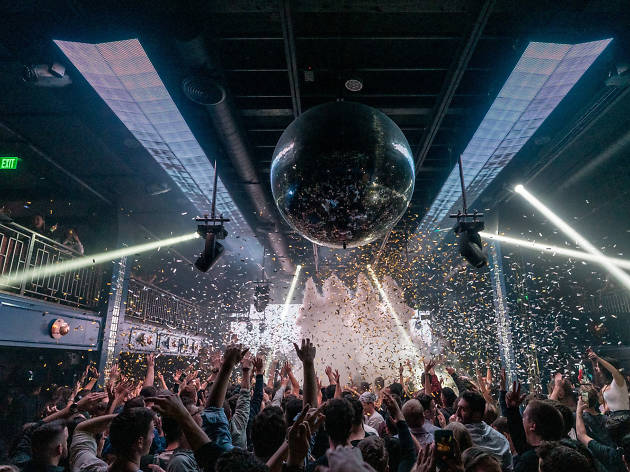 Photograph: NOTO
Philadelphia meets Vegas at this trendy nightlife spot in Chinatown that's decked out with glitzy chandeliers, plush booths and one of the biggest disco balls in the city. Noto (short for "not of the ordinary") is the place to go if you're looking to spread out, with a 2,900-square-foot main room, a balcony level that nearly surrounds the entire dance floor, three bars and a whopping 27 restrooms. It's also the place to check out a list of international DJs who spin on a platform surrounded by a 420-square-foot LED wall.
During the week—especially in the summer—Woody's is one of the Gayborhood's busiest happy hour hangouts, but on weekends it can barely contain the sea of tank-top-clad fellas (and bachelorette parties!) that flood in for a night of drinking, dancing and boys-will-be-boys-ing. This is Philadelphia's oldest gay bar, but it keeps things fresh with recent expansion projects that include the swanky, neon-hued Glo Bar cocktail lounge just off the main bar area downstairs. On the upper level, local DJs and a shimmering disco ball preside over a spacious dance floor that stays thumping until 2am.
This three-story dance complex in the heart of the Gayborhood is one of the only after-hours joints in town. When everything else closes at 2am, Voyeur rages on with a lineup of energetic, EDM-focused DJs and epic light shows in the main room. For a more relaxed experience, the club offers bottle service and VIP seating in its retro-chic mezzanine lounge. Think you see flurries? Don't worry, you're not hallucinating. The club is also equipped with a state of the art bubble machine that replicates snow.
Located above charming French bistro Creperie Beau Monde, this dimly lit lounge and performance space transforms into an energetic nightclub on weekends. If you're into hip-hop, dance or the '90s throwback du jour, make your way here on Fridays and Saturdays around 10pm to boogie on the compact dance floor. On Friday nights, DJ Muhammad spins one of the best dance parties in Philly, hands down, and, on Saturdays, DJ Chris Urban puts on everything from soul to Spice Girls. Expect a $5 cover charge and the same French faire as downstairs, available until 11pm.
Stroll into this unassuming "whiskey and go-go" bar in Callowhill and you'll feel transported through time. The two-room dancehall and speakeasy screams 1970s lounge, with its glowing bar and actual go-go dancers performing most nights of the week. Brown liquor is in ample supply here, whether you're looking for whiskey, bourbon, rye or scotch. Sours are particularly popular and rather inexpensive with a price tag of under $12. Show up on weekends for the full Trestle Inn experience, when DJs play funk and soul jams to a packed dance floor and the go-go gals shimmy until close at 2am.
Gayborhood sports bar and nightclub Tabu recently moved down the street from a rather tight, ramshackle rowhouse to a sprawling, three-level mega complex that houses a sports bar, nightclub lounge, performance space and, when it's warm out, a kitschy tiki-style bar on the roof. There's usually a dance night or two on the weekly events calendar, with local DJs like Drootrax, Carl Michaels and even some drag queens working the turntables. Expect thumping remixes of recent pop hits as well as beloved gay icons like Whitney, Mariah and Madonna worked into the playlist.
Photograph: Courtesy Yelp/Ruba Club
If it's last call and you're not ready to stop dancing, head to this tucked-away NoLibs club—open 11pm to 3am every Friday, Saturday and Sunday—and pay a small door fee to keep the night going. When DJs are in the house, they're usually playing old-school funk, soul and disco. The bar, with its plastic cups of whiskey and draft beers, is cash-only and reasonably priced.
The Saint—as regulars refer to it—is most known for its chill Tuesday Night Hang Out parties, which bring out crowds looking to dance, courtesy of DJ ASTRO 8000 and $5 Jose Cuervo and Jim Beam drinks. Entry is free before 11pm and only $2 after that. There's no dress code, but you might want to throw on something photo-worthy. Local photographer Fame Lust is in the house each week to take shots of the crowd that end up on The Saint's Facebook page.
Photograph: Courtesy U-Bahn
This lively underground spot in Midtown Village is embracing a new nightclub vibe after mostly being a haven for live music since it first opened in 2015. The decor is inspired by Berlin's subway system—with graffiti on the walls, subway-tile backsplashes and a wooden rail fixture decorating the bar—but the drink list is all local. The draft system pours nothing but Pennsylvania beers and ciders, and cocktails are mixed with PA-distilled spirits. DJs play lively sets on Friday and Saturday nights, while weeknights sport a more laid back vibe—and ample opportunity to play some of the retro arcade games on site like Ms. Pacman and Street Fighter 2.
Want to start the night with cheap drinks?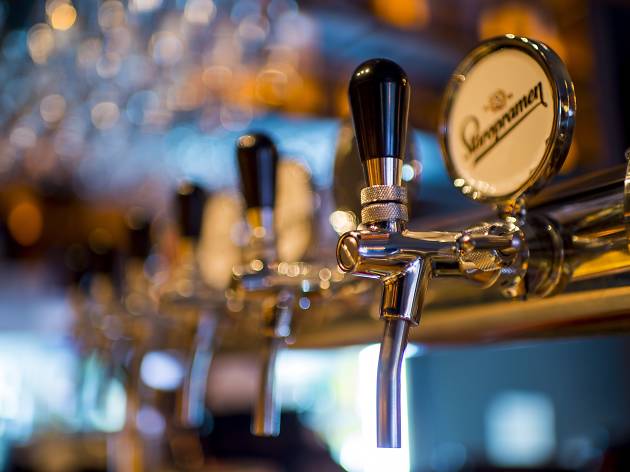 When the clock strikes happy hour, score amazing deals on food, beer and cocktails
Best selling Time Out Offers