It's hard to believe, but Thursday marked the first time in 26 years Atlanta-based hip-hop group Arrested Development played Philadelphia. They were in town on their anniversary tour based around their seminal 1992 debut, 3 Years, 5 Months and 2 Days in the Life Of…, and they delivered a glorious show that wowed the hungry and patient World Café Live crowd.
1. The whole damn band had a chance to shine.
Led by Speech, the hip-hop of Arrested Development took off because of its ability to grab the listener with infectious beats and positive messages. Though Speech's hooks and beats may be the most familiar to the casual listener, this showcase of 3 Years… was a chance to spotlight the entire band. The vocals and choreography of Tasha LaRae and Fareedah Aleem add rich layers of sight and sound to the mix, and a solid lineup of musicians brought classics like "Mr. Wendal" to life. The crowd rejoiced as one song after another led to dancing and arms raised in celebration.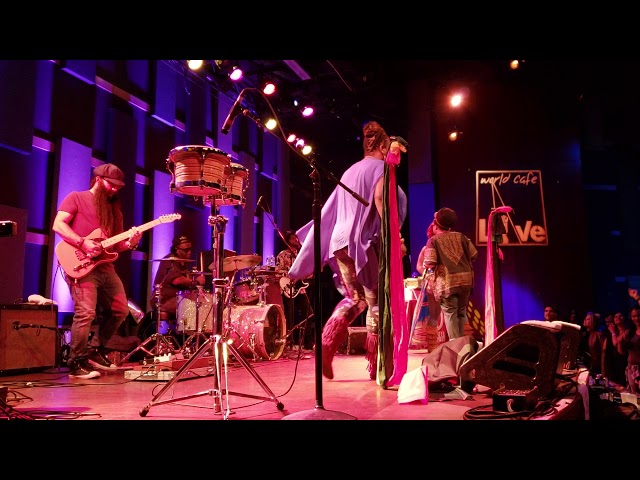 2. We see you, "Tennessee."
If there's one track that defines 3 Years, 5 Months and 2 Days in the Life Of… it would have to be "Tennessee." The song of loss came up later in the set, and its universal lyrics will never stop ringing true. Arrested Development certainly spoke to a crowd of folks who may be itching for change in this wild world we're living in: "Take me to another place/ take me to another land."
3. The lights, new material, off-the-cuff rapping, oh my
I've seen a lot of shows at World Cafe Live, but never have I seen the venue up its lighting-display game like it did for Arrested Development. Luscious blues and vibrant oranges bathed the stage and crowd as the group played through its setlist. It was a true feast for the ears and eyes. We also got a taste of some of AD's latest work, such as "I Don't See You at the Club" from their 2016 release Changing the Narrative, which shows that the band has not lost its groove. Speech and newer member One Love also took a moment to rap on the spot to whatever beat was laid down; the results, like the entire evening, were electric.
4. Philly's own Hardwork Movement opened with a superb set of hip hop.
This is one of the city's best musical acts, a true spectacle to watch as they switch instruments, attire and lead vocals while playing through an energetic set of catchy beats. Their performance of "Living Legends" was their best of the night, and the gig was made all the more special with an added mention and celebration of band member RB Ricks's birthday. It was a good time all around.