When you're a fan of a musician like I am of Robyn Hitchcock (I've seen him live 27 times) you keep going back for that something that always stirs you in the deepest recesses of the soul. He can scratch away at emotions like love and death to find dimensions of beauty and hurt that you never expected. Friday at Underground Arts was another exquisite example of his exotic sense of humor and humanity. Check out some photos and highlights from the night.
1. The seamless mix of new and old was incredible.
Over the course of 21 songs, Hitchcock and his solid backing band, His L.A. Squires, showcased the many nooks and crannies of his career. Songs from his most recent record, 2017's brilliant Robyn Hitchcock, appeared three times in the mix and showed off its strengths when coupled with older material. He followed the great rocker "Listening to the Higsons" with the country-edged "I Pray When I'm Drunk" and ended the main set, after a tremendous "Airscape," with the new and very strange "Mad Shelley's Letterbox."
2. Hitchcock surrounded himself with a top-notch band.
The guy is an expert guitarist and an elite lyricist on his own, but he really shines with his bandmates. Luther Russell played second guitar, Tony Buchen bass and Mark Sheppard was on drums. They sculpted some unexpected live gems. "Insanely Jealous," a song from Hitchcock's original band The Soft Boys, had new angles and curves on Friday as it did on the limited Record Store Day 7-inch it appeared on. The setlist staple "Cynthia Mask" appeared in a rocking version that sounded fresh and new. The highlight of the night came at the end with the stellar "Grooving on a Inner Plane." Dusted off from 1982's Groovy Decay, it is strange funk that left the band and crowd elated.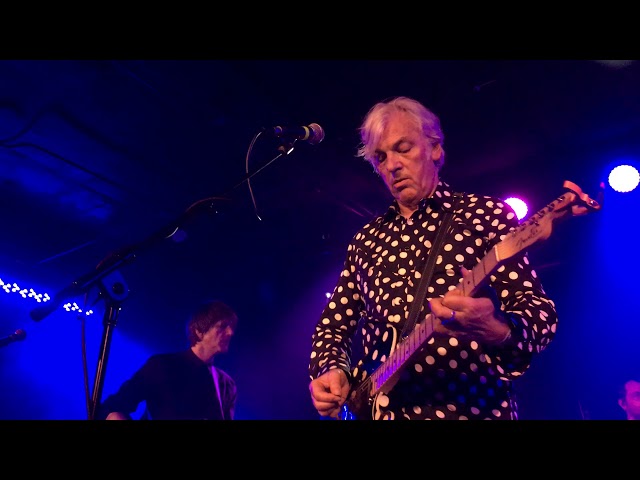 3. The stage banter was minimal but characteristically hilarious.
Hitchcock didn't gab as much Friday night as he usually does—probably because he was on stage with a full band—but he still managed funny moments like an imagined conversations with James Bond and stream of consciousness commentary on mortality. Hitchcock is a poet of the esoteric, as his solo moments in the show reveal. Ultimately his catalog hits its highest notes when talking about raw emotions. The sparkling solo encore opener "She Doesn't Exist" showed off his penchant for great ruminations on love and desire. He tapped into the profound moments found following rage on an especially rocking "I Wanna Destroy You," and reflected on life in general on the masterful "Goodnight Oslo." Whatever part of Hitchcock's oeuvre you appreciate, it was all there in some form or another on Friday.
4. Opener Tristen showed off a penchant for emotional complexity and showmanship.
"Glass Jar" and "Psychic Vampire" were definite highlights. Though she will be most remembered on this night for joining Hitchcock late in his set for a particularly satisfying cover of "All the Young Dudes."