Brilliant folk rocker Laura Veirs played a humid set at Boot & Saddle on Saturday that included a solid band and superb selection of new songs from 2018's The Lookout. Here are some photos and highlights from the evening.
1. The show opened with The Lookout's first track "Margaret Sands."
A song about the merging of humankind with nature, it was an apt beginning to a night that spans the flavors of Veirs' emotions. There is the valuable look at females in music history in "Song for Judee"—from the awesome collaboration between Veirs, k.d. lang and Neko Case—and the masterclass in love-song writing that is "Galaxies." Veirs' voice and guitar skills were front and center, though when she stepped to the keyboard for "The Meadow" and "White Cherry," her band's talents bloomed into full view. The violin and viola work of Alex Guy, guitar and bass of Eli Moore and drumming of Matt Berger bring Veirs's sound to expansive highs.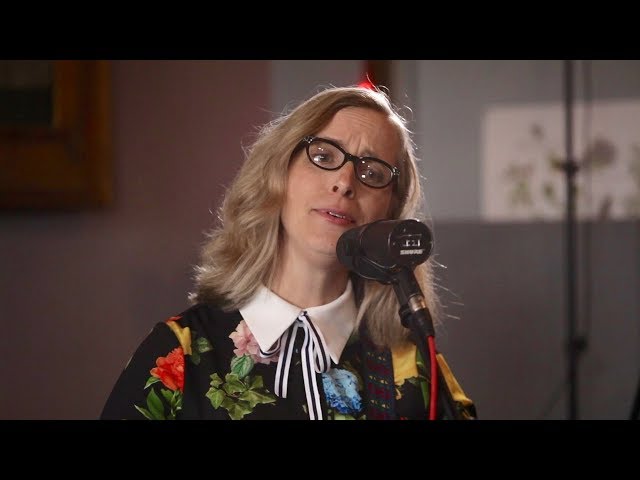 2. There are many standouts on The Lookout, but "The Meadow" shines live.
The stunning sense of hope that lies within the lyrics carries this song. "No hate, just spring's young light green leaves/ Showing us what life can do/ We went to the meadow." The sharing in this experience set in nature, far from the song's distractors of walls, ads, fear, confusion and hate, is only temporary, as are many of the moments in Veirs's works. "We knew it wouldn't last." Thankfully Veirs continues to show us new paths to these truths, however sad they can be.
3. The heat was its own special guest.
With projections of animated llamas, leaves, stars and other patterns piercing the dark stage of Boot & Saddle, Veirs and company let the music rise from the shadows and fantastical backgrounds. The heat eventually hit Veirs, who scrambled for towels and tissues. But the comfort of the art carried her, the band and the crowd through a 20-song set. that, thanks to covers by the Grateful Dead and Daniel Johnston, truly had something for everyone.
4. The Hackles opened with a stirring folk set.
Setting themselves close to a microphone, the duo of Luke Ydstie and Kati Claborn harmonized while exchanging guitar and banjo riffs. Playing cuts from their debut, The Twilight's Calling It Quits, they were an awesome musical discovery.