I'm always nervous about interviewing people who are known for being funny. Can I ask funny questions?
Well, the nervousness is on both sides. I also worry about being funny. I don't interview people that much. I'm not the best interviewer in the world, because my anxiety is like, "Am I going to have to make up the quotes, because I lost the recording?"
How do you feel about chatting with critics like me?
I feel very comfortable about it. I hate opinions, but I love feedback. When people say nice things, they—you critics—are my favorite people. When they don't, I pretend I can't hear you. Criticism is just a dialogue, right? It's like a dialogue with the playwright. With the audience. I'm definitely not somebody who says, "Ban them!" I'm like, "Let everybody in!"
How did you become a journalist and playwright?
I always aspired to do many things. When I was in college, I thought I'd be a playwright… and also Toni Morrison. Yes, I specifically wanted to be Toni Morrison, but I discovered that position was filled. But the easiest road was through journalism, so I wrote theater reviews and I found that to be a good stepping-stone.
How did you get the columnist gig at Elle?
The magic of Facebook. I had a post that went viral, and my editor saw it and reached out to me on Facebook asking, "Do you want to do this every day?" I responded that, "This isn't how anything works," and she was like, "Yes, I'm going to pay you money to write," and I was like, "That's insane." In the future, I'll tell my kids, "Yeah, the internet will buy you a house, that's how things work," and they'll be like, "That doesn't make any sense." But really, I feel like I got very lucky. It's the perfect synergy. They were looking for someone with my perspective, and I was looking for an audience. Because I need a lot of attention. Pretty much constantly.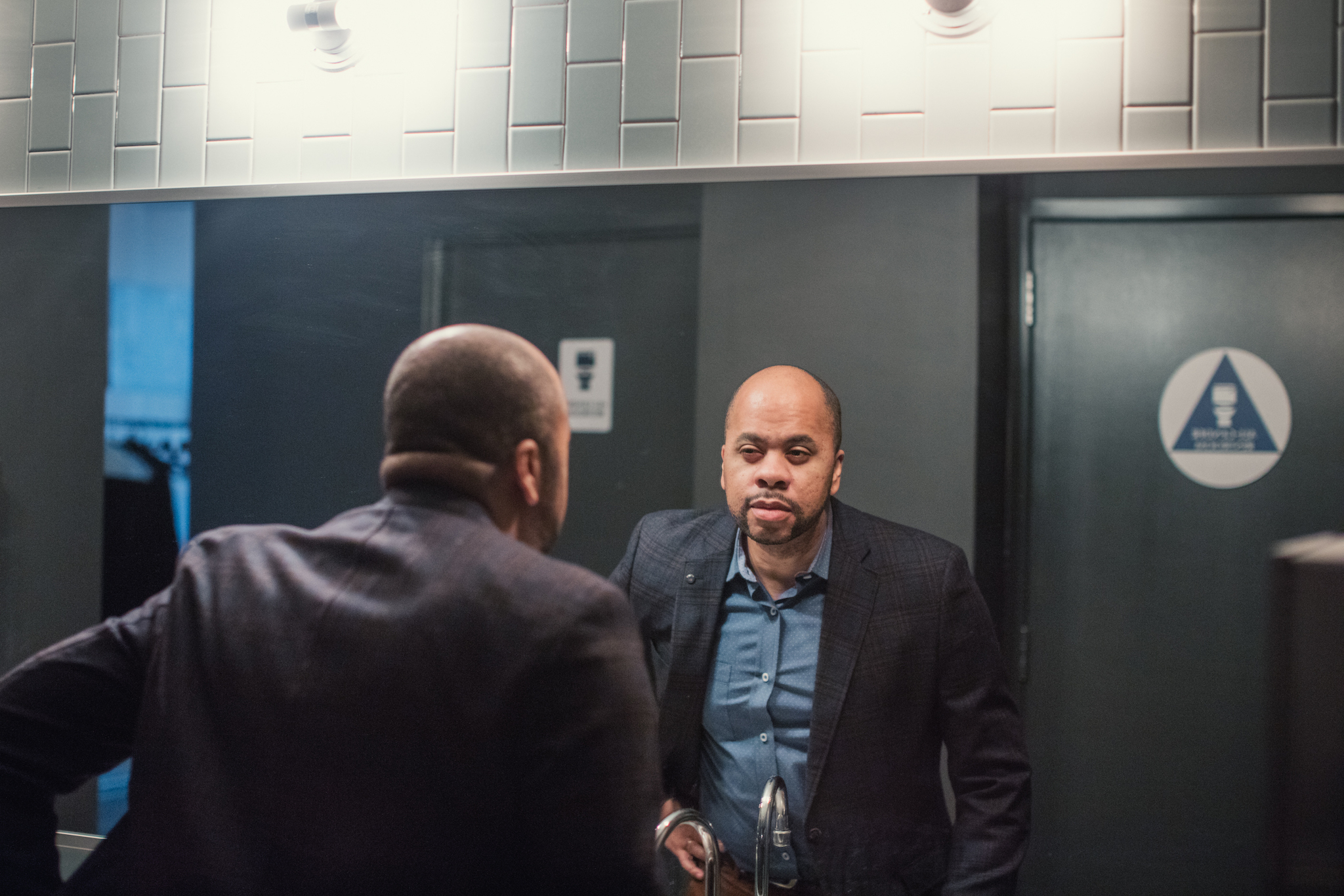 Is the pressure of writing daily hard to deal with?
On the very best days, I'll wake up knowing what I want to write about it… or I'll go to bed with an idea. But the news cycle is so quick! I've been doing this for two years, and it has sped up even in that time. I spend a lot of time stressed out of my mind.
What playwrights and writers have influenced you?
Most people know me from the column, and that's a character I do. It's a version of myself, but a bigger version. It's pretty much straight-up comedy. I think it would be interesting to try to do a play version of that, but it's resistant to drama. What I'm really interested in is comedy that is couched in real life. I was hugely influenced by August Wilson and Chekhov. I don't know that they have a whole lot in common, but I think there are moments in those plays where you can slip from laughter to tears within a single sentence. And that's what interests me because that's my experience with life. I write this column about, you know, the terrible things that are happening in the world—our atrocious president, the lunatics who are running the asylum—and I wake up every day wondering what awful thing happened on Twitter, and how do I make it funny? Plays for me are an opportunity to reflect a vision of the world that acknowledges that, but allows people to be people.
Would you consider writing a play about Trump?
I would never write a play about him. I find him to be boring. Future generations will write Shakespearean epics—Angels in America epics—about Trump. I might see it if I got a comp, but I'm not really interested in writing it.
Tell me about your fascination with Representative Maxine Waters.
Maxine is my queen! She's such an interesting person. She's been in Congress for years, and she's always been on the right side of history—serving her constituents in California, helping to free Nelson Mandela. But she's not all that well known here. She came out of nowhere for me, but the minute she popped up on my radar, I was obsessed. I'll have the pleasure of interviewing her soon. We met at a rally and had maybe 10 minutes together. She's this fascinating combination of a real person who has an investment in you, but also a celebrity.
Rep. @MaxineWaters is back at it again, snatching every weave in DC. And she brought a LIST. Today on @ELLEmagazine https://t.co/3HYTWqTS5a

— R. Eric Thomas (@oureric) February 22, 2017
Would you ever write about her?
I've thought about it. I have a project in the early stages now, and I'm imagining a main antagonist character inspired by her. I find her a really interesting adversary; she would be very difficult to go up against. In this piece, I imagine her working against a character who is like me. I wouldn't want to be in her crosshairs! She's delicious.
Who would play her?
Angela Bassett. Angela Bassett can play everything. Angela Bassett can play me in my autobiography. Or Viola Davis. Put them together, and they can play it in rep and switch off—like Cynthia Nixon and Laura Linney in The Little Foxes.
Let's talk about your new play, Mrs. Harrison. What's it all about?
It's about comedy, about storytelling. Two women come together for a kind of 10-year reunion: One is black, a successful playwright; the other white, a stand-up comedian. There's a disagreement—a story that the playwright has used is something that the comedian contends is her story. The playwright, I think, is the closest character I've ever written to myself—not just because of what she does, but because she's someone who's interested in having her story seen as central. She's not interested in otherness, in being made to feel like a minority. She's interested in being the central narrative. In fact, what we have here is two people who want to be the center of attention, and that's interesting for a play. I look forward to seeing how audiences respond to Aisha, the playwright character, because she doesn't want to share everything with you. I hope people find that beguiling but also confounding.
What else do you hope people take away from the show?
It's a short piece—a 75-minute one-act—but I want the second act to be the dessert you have afterward, where you puzzle over these people. I hope audiences will take away from it whatever they want. There's actual stand-up comedy, if you want that. But it's also dramatic. If you want to debate which of these people is right, please do! You want to try to figure out which one of the characters is hiding from you? Absolutely do that. Or if you want to get wonky about comedy, that's there, too.
How do you like working with Azuka?
I've been a fan for years. I feel seen at Azuka—as a writer and an audience member, as a queer person, a person of color. Their perspective is to make theater about underdogs, and that's really interesting for me, as a person who both feels that way and is resistant to it. Kevin Glaccum and Allison Heishman latched onto this play early on, and they've been great about developing it and sticking with it. They're a company that really sticks their neck out for the people they work with, and that matters.
Mrs. Harrison is at the Drake May 2–20.
RECOMMENDED: Full guide to the top theater companies in Philadelphia