Starting on Friday, swarms of folks will head like mosquitoes to the Delaware River waterfront, which will glow with the lights, sights and sounds of two of summer's most popular hangouts: Spruce Street Harbor Park and Blue Cross RiverRink Summerfest. Here's what's in store for this year's attractions.
What's happening at Spruce Street Harbor Park in 2018
The beer garden and carnival-like promenade opens for the season on Friday, May 11, with all the tidbits you've come to know and love. The Boardwalk will buzz with food stalls manned by folks like Franklin Fountain, Village Burger, Chickie's and Pete's, Distrito and more selling pizza, tacos, cheesesteaks, fried chicken, funnel cake, doughnuts and ice cream. The floating beer garden known as the Oasis is back with a TBA food and drink lineup, and a whole new display of greenery decorating the barge. Then of course, there are the hammocks, 50 of them to be exact, that hang from light-filled trees throughout the park. Relax there and take in the scene, or take part in some onsite games like bocce, ping pong and shuffleboard.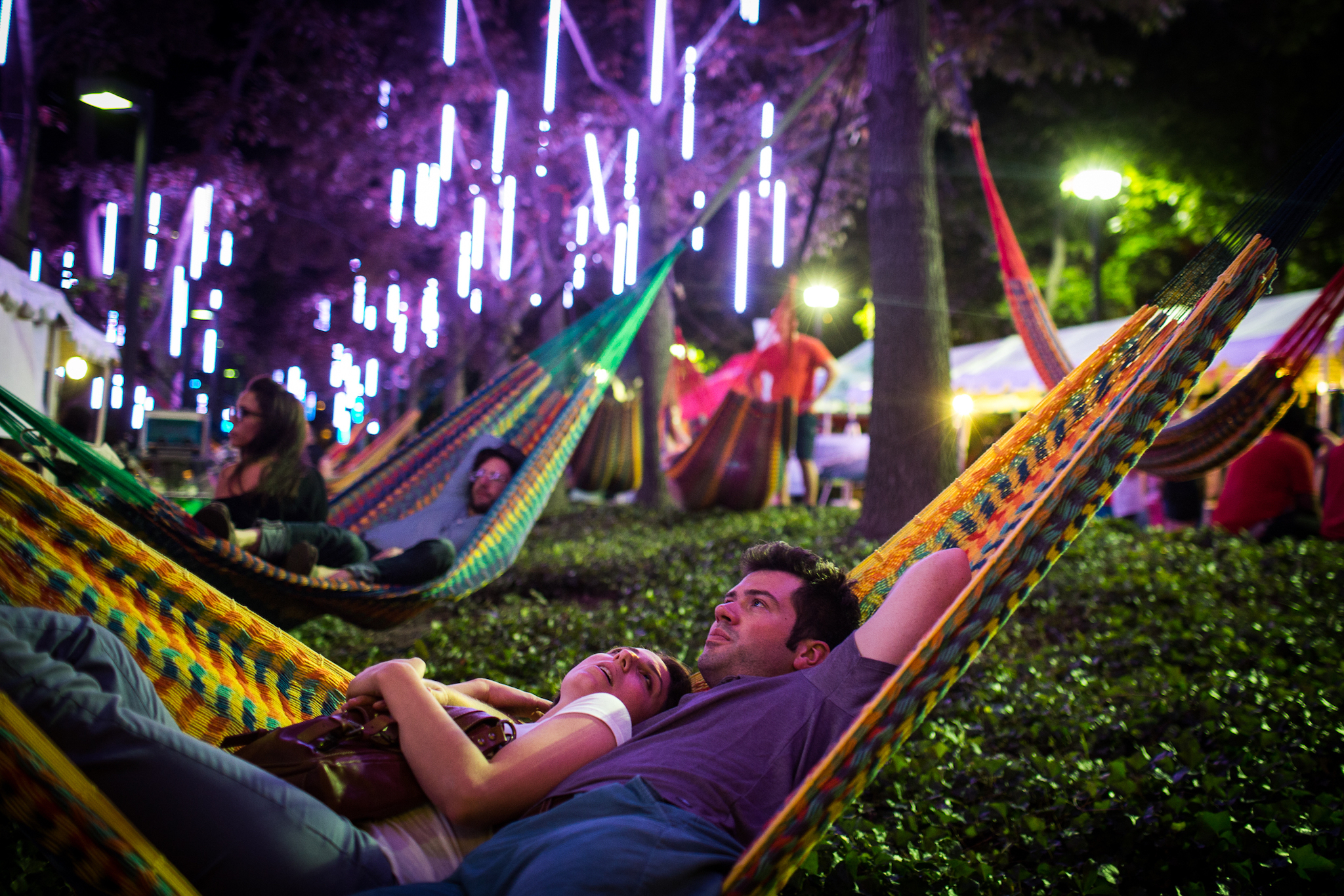 Spruce Street Harbor Park will also play home to a staggering number of events throughout the season, including paddle board yoga, a Jazz in the Park concert series and an event every Friday night called Lights + Flights, which is essentially a beer tasting and light show all in one. The Punk Rock Flea Market and a farmers' market from Greensgrow Farms will also set up on weekends.
Hours are Sunday through Thursday from 11am to 11pm, and Friday and Saturday from 11am to 1am. For the full lineup of activities at Spruce Street Harbor Park, go here.
What's happening at Blue Cross RiverRink Summerfest in 2018
The fun keeps going just down the street from Spruce Street Harbor Park at Blue Cross RiverRink Summerfest. This is essentially a big ole county fair, with a 60-foot-tall ferris wheel, carousel, mini-golf, carnival games and, of course, the outdoor roller rink—all with gorgeous views of the Ben Franklin Bridge.
Hungry attendees can grab grub from onsite food stations such as Chickie's and Pete's Waterfront Crab Shack, where you can get crab fries and other savory treats, while the Franklin Fountain Clubhouse Cabin serves ice cream cones and other frozen goodies. A lineup of bars set up around the grounds will pour up local beers and cocktails.
Blue Cross RiverRink Summerfest also opens Friday, May 11, but will only be open on weekends through May 24, when Sail Philadelphia kicks off the full summer schedule. From then until September 3, the venue will be open seven days a week. Entry to Summerfest is free, though rides, roller skating and games are pay-as-you-go.
For more details on Blue Cross RiverRink Summerfest, go here.
More things happening on the Delaware River Waterfront
Besides all that, the Delaware River Waterfront has tons of other events planned for its other spaces along the river, including live concerts, the Art Star Craft Bazaar, PECO Multicultural Series and massive Wawa Welcome America! fireworks show at the Great Plaza at Penn's Landing. You can also get your downward dog on for free at weekly outdoor yoga classes all summer at Race Street Pier.
RECOMMENDED: Full guide to spring and summer festivals in Philadelphia