Heads up! We're working hard to be accurate – but these are unusual times, so please always check before heading out.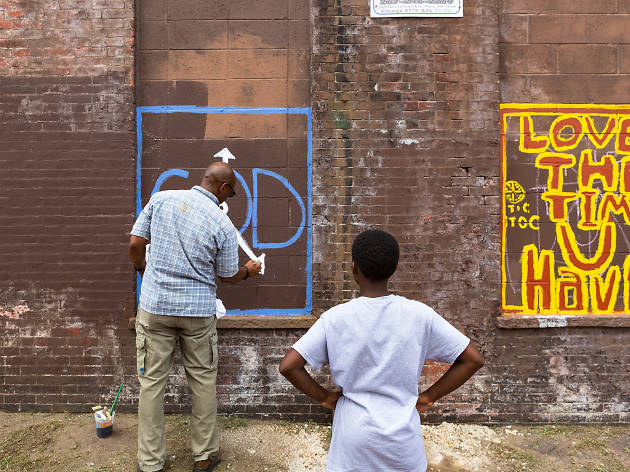 Five Monument Lab projects to seek out in Philadelphia parks
Preview Monument Lab, a new citywide project enlisting 20 artists to create works that reflect every Philadelphian and the issues facing our city.
If you could build a tribute to the city of Philadelphia as it is today, what would it look like? That's the question at the heart of a new Mural Arts Philadelphia project called Monument Lab, which tasks local and national artists with creating shrines to the city to be displayed in 10 public parks around town between September 16 and November 19.
The pieces, according to artistic director Paul Farber, are meant to complement Philadelphia's collection of public artworks while remembering "many of the stories and figures who have not made it into bronze or marble in the public space"—namely, women and people of color, who are represented in only a handful of the 300-plus statues in the city. (The rest pay homage to powerful white dudes.)
The works in Monument Lab come in all shapes, sizes and formats and will not only give voice to overlooked historical figures but also address current social issues facing this city—from education and race relations to the opioid epidemic in Kensington. Here are five projects we're excited about and where to find them.
Monument Lab projects we're excited about
Photograph: Courtesy Mural Arts Philadelphia/Steve Weinik
Tyree Guyton, "The Times"
The Detroit superstar street artist is one of a handful of non-Philadelphians taking part in this experiment, and his work will stick around long after Monument Lab ends. His contribution is a 3-D mural on the wall of an old carpet-company building at A Street and Indiana Avenue in Kensington, an area experiencing some of the highest rates of opioid-related deaths in the city. Guyton plans to add dozens of colorful handmade and painted clocks to the building—some broken, some with lots of hands; others upsidedown and with no hands at all—to tell a story about where the citizens of Kensington are right now. "These people are going through all kinds of changes," says the artist, who has lost two brothers to heroin addiction. "They're broken down, beat up. Through this project, we want to get people to lift up their heads and see what possibilities might exist simply by looking up."
Photograph: Courtesy Mural Arts Philadelphia/Steve Weinik
Marisa Williamson, "Sweet Chariot: A Journey to Freedom Through Time"
Lovers of scavenger hunts will dig this local artist's project, essentially an app you download on your phone that leads you on a journey to uncover forgotten moments in Philly's African-American history. The trek covers a three-mile area, starting in Washington Square and winding through Old City and Society Hill; along the way, players come across sites like an old African-American burial ground and the location of an abolitionist meetinghouse that was burned down by a mob. "I hope that people come away learning to look closely at things that may be hidden in plain sight and engaging their curiosity even as it may be challenging and painful and difficult," says Williamson. The app is available starting September 16 here. Technologically challenged? Pick up a paper map at the Monument Lab hub in Washington Square.
Photograph: Courtesy Mural Arts Philadelphia/Steve Weinik
King Britt and Joshua Mays, "Dreams, Diaspora and Destiny"
Philly producer and DJ King Britt says his involvement with Monument Lab began with a simple tweet about his favorite artist, Oakland muralist Joshua Mays. The post caught the attention of Mural Arts Philadelphia, and a collaboration was born. Britt and Mays are working with students in West Philly to build a gazebo in Malcolm X Park (5100 Pine St) that will serve as a stage for a free, one-night-only performance on October 14 from 4 to 8pm. The kids worked with Britt to create the set list, recording noises around the neighborhood and then manipulating them with his computer synthesizer to make the sounds more futuristic—a process he hopes will have a lasting effect. "By giving them a different point of view and access to ideas and processes that they may not have had access to before, we hope to get them thinking differently about what their futures could look like," he says.
Photograph: Courtesy Mural Arts Philadelphia/Steve Weinik
Kaitlin Pomerantz, "On the Threshold (Salvaged Stoops, Philadelphia)"
Throughout Monument Lab's nine-week run, a collection of approximately 12 stoops—yes, actual Philadelphia stoops—replace the benches along the eastern quadrant of Washington Square (at 6th and Washington Sts). Pomerantz collected the stoops from home demolition projects around the city and rebuilt them with the help of a local masonry union. She says their location in the green space—a former public burial ground—has multiple meanings. They'll serve as seats where passersby can rest in a public space, but their placement, side by side like tombstones in a graveyard, will honor the homes and traditions being lost in this moment of rapid redevelopment in Philadelphia. "I'm astounded by the number of structures coming down that are being replaced by buildings that don't retain the same character," she says. "I'm hoping this project will be a way for people to think about what is lost during a time of development and inspire them to come up with strategies to preserve all culture, history and folklore that's embedded in local architecture."
Photograph: Courtesy Mural Arts Philadelphia/Steve Weinik
Kara Crombie, "Sample Philly"
The very first Monument Lab project—which is now up at Franklin Square—allows you to step inside an oversize sound studio to mix your own tunes from a database of 300 Philadelphia songs and sounds—from hits by local music stars like Patti LaBelle and Schoolly D to quirkier additions like the Action 6 News theme and snippets of the creepy kid from The Sixth Sense. Crombie's monument serves a dual purpose: It's an homage to all of the great music that's come out of this city and a statement about the need for more arts programs in our schools. "Nobody wants to live in a society without art and music," she says. "It's important for kids to have this outlet to express themselves…because who else is going to be making music in 10 years?"
Hungry for more art in Philadelphia?
Find a little bit of everything in the top Philadelphia museums—from art and history to head-scratching medical oddities