The best free things to do in Porto
Put your money away! You won't need it at any of these attractions: these are the best free things to do in town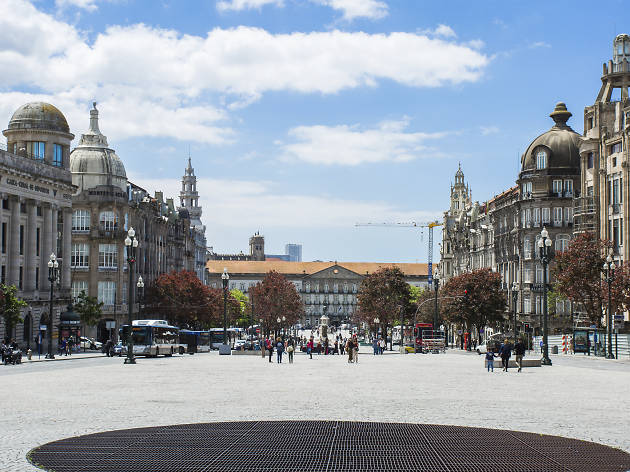 If you're on a budget or just believe that the best things in life – great parks, stunning views, art and culture, and… erm… knitting – are free, follow our guide to the best free stuff to do in town. Also, check out our list of great cheap places to eat
The best free things to do in Porto
This club was created in Porto in 2006 and puts on debates about the economy, politics, society and education. Joaquim Jorge is this event's main organiser, which has already had politicians Pedro Passos Coelho, Francisco Assis and Alberto João Jardim as guests. Both entry and participation are free. Meetings are held at the Holiday Inn Hotel, at 9.30pm.
For more information please click here.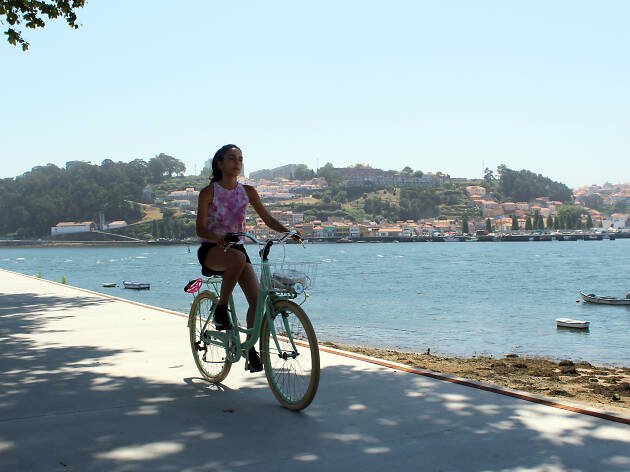 ©DR
Pedal around town with Bicicletada
'Ride a bicycle every day… celebrate once a month.' This is the motto of the Portuguese version of Critical Mass, a worldwide movement that claims the bicycle as its only weapon. The goal is to promote the 'healthy mind, healthy body' idea. So, on the last Friday of each month, at 6.30pm, bikes will go through Porto making a statement. The aim? To promote the use of non-motorised vehicles in town. The ride takes two hours, anyone can participate and people pedal according to the slowest rider.
Check their website here for more information.
Attractions, Parks and gardens
Porto's Botanical Garden is the city's most cosmopolitan and literary place. Cosmopolitan because every trail has a tree and plant species come from all over the world. Literary because it's inherently connected to Sophia de Mello Breyner's and Ruben A.'s best literary works. It's completely free to go in and stroll around the garden; you only need to make a few mandatory stops at some of the thematic gardens located there like Jotas, which now has a statue of Sophia, Rapaz de Bronze and Roseiral (also known as Xistos). The most interesting visiting point, however, is the camellia area, which has 500 metres of Japanese camellias.
Do you have a bicycle lying around the house and you've stopped using it because there's a belt drive or a pedal missing or because you have a flat tyre? It's now time to do something about it, which is how Cicloficina came about. It's a recent invention in Porto but is actually pretty common in other European countries. When Sérgio, Daniel and Hugo met at the Portuguese Critical Mass gathering (a non-motorised vehicle run), they decided to create a shop for bikes. 'We're not being mechanics for free', they say. 'The goal is to be proactive, bring bikes back to the streets and teach the owners how to solve simple problems.'
Things to do, Walks and tours
Here you'll get an important opportunity to learn about Porto's historic trails via unique cultural and historic routes. You can choose from five: Romantic Porto ('Porto Romântico'), Taking Advantage of the Water ('Aproveitamento da Água'), Rural Archaeology ('Arqueologia Rural'), Industrial and 'From Gólgota to Massarelos' ('Do Gólgota to Massarelos'). All of these trails have informative signs to go by whether you're alone or part of a small group, on foot or by bicycle. If you join a group of ten you can get a guided tour that will explain you the importance of each monument or stopping place. Book in advance and enjoy that free two-hour walk.
Bars and pubs, Cocktail bars
Whoever attends a poetry session at Penguin Café will be hooked. Picture a basement with dimmed lights, filled with people reciting poems, with musical breaks that include guitar and trumpet solos or a capella voices. These sessions take place every Monday, are free and if you don't feel like drinking or eating anything that's fine, though the wines and beers are super tempting. Penguin's first poetry session took place in 1988 and was organised by Joaquim Castro Caldas. He suggested the previous owners give these nights a chance for at least a year: they were a huge hit. In 2008, 20 years of poetry was celebrated. Poetry had come to life again.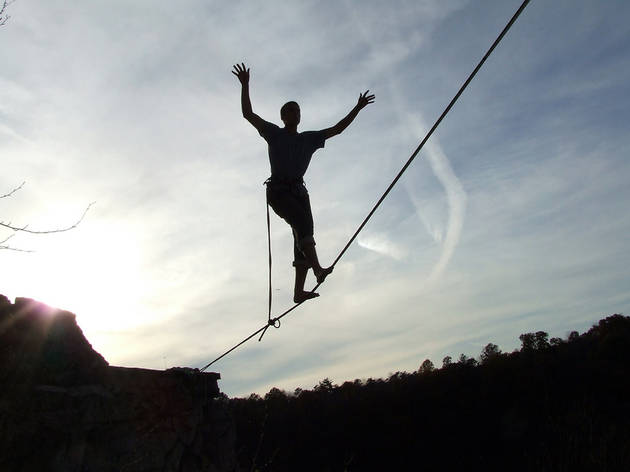 ©DR
Practice parkour, speedminton and slackline
Parkour, slackline (basically tightrope walking) and speedminton (speed badminton) are great recreational sports. Are there rules? Yes. Limits? Not a chance. The motto is 'anytime, anywhere'. All you need to do is keep that in mind and Porto will find the perfect gym for you. In parkour nothing gets in the way and there are no obstacles. Slacklining, on the other hand, is a well-known sport that consists of walking or balancing along a suspended length of flat webbing. If you'd rather have your feet on the ground you won't be able to resist speedminton. It's an alternative to badminton and you improvise by laying ribbons on the ground. There's even a nighttime version called blackminton, which will make you laugh in the dark. With fluorescent accessories, the game just continues. Places where you can practice these sports? The experts suggest Parque da Cidade, Palácio de Cristal, Santa Maria da Feira's church and Senhora da Saúde Park (Carvalhos, Gaia). Why are you still sitting down? Call your mates, organise a meeting using one of the official forums and enjoy Porto's limits.
Things to do, Cultural centres
On Sundays, Serralves promotes free family activities. They organise workshops and exhibitions so you can experiment, create, play, rest, relax and take tours. They also promote picnics, conversations about art and artists, and activities where children have to go on treasure hunts, which lets them appreciate the ambience, biodiversity and landscape. All you need to do is visit their website and find activities you and your family can enjoy.
Fnac – a store that sells DVDs, books, electronic devices and all sorts of cultural items – also offers freebie events in every department. Start with books, leaning in on one of the sofas while reading 'War & Peace'. Then head over to the home theatre rooms in the DVD department and watch one of the movies playing. In the gadget section, you'll need to nag all the kids who are glued to the iPads or better yet: head over to the kiosk area and grab a copy of Time Out (you'll see you won't be the only one reading it).
Things to do, Classes and workshops
The milonga dance phenomenon has become so big in Porto that there are now hundreds of places all over town where you can dance the tango pretty much every day. However, few of the classes are free. But if you head over to La Galeria Ideal, at Galeria de Paris' bar, they won't charge if you want to participate in this open dance session. The meeting takes place every Sunday at an old ballroom, decorated with candles and paintings, which evokes authentic Argentinian tango nights. The name of the school, La Galeria Ideal, actually draws inspiration from a Buenos Aires' milonga, La Confiteria Ideal, which is located just above a candy shop. You'll get carried away with this milonga's charismatic ambience.
Show more