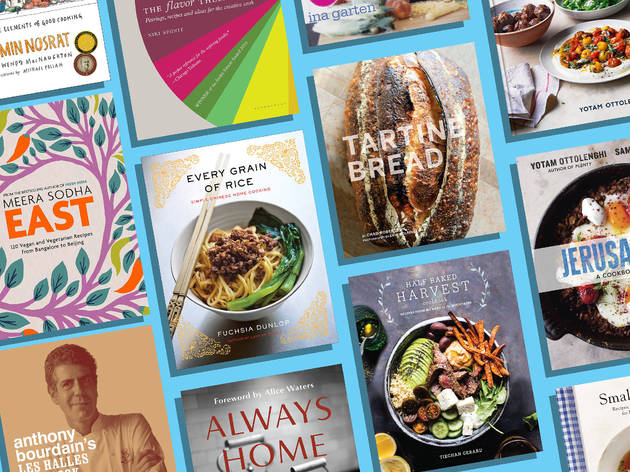 The 17 best cookbooks to buy in 2020
Time Out staffers reveal the one cookbook that got them through this year
This year, more than ever, we opened our pocketbooks to support local restaurants through takeaway and delivery. But when we weren't conquering a pile of pad thai or sipping to-go cocktails, many of us had to learn how to cook. Some of us for the first time. As we near the end of the year, we asked Time Out staffers to tell us about the best cookbooks they relied on to get them through 2020. As a surprise to no one, many of us leaned heavy on baking, learning how to craft the perfect sourdough loaf, killer banana bread and fudgy chocolate cake. Others quenched their wanderlust in the kitchen, trying their hand at dumplings, bibimbap, chai masala and fattoush. It's never too late to pick up one of the best cookbooks of 2020 and hunker down at home with some of the world's best cooks.
Best cookbooks of 2020, according to Time Out staff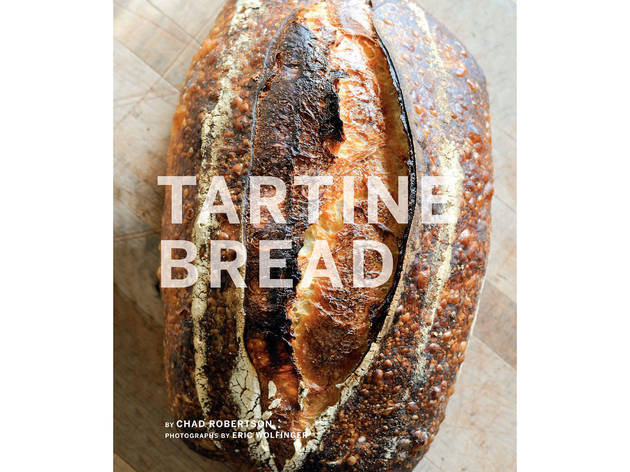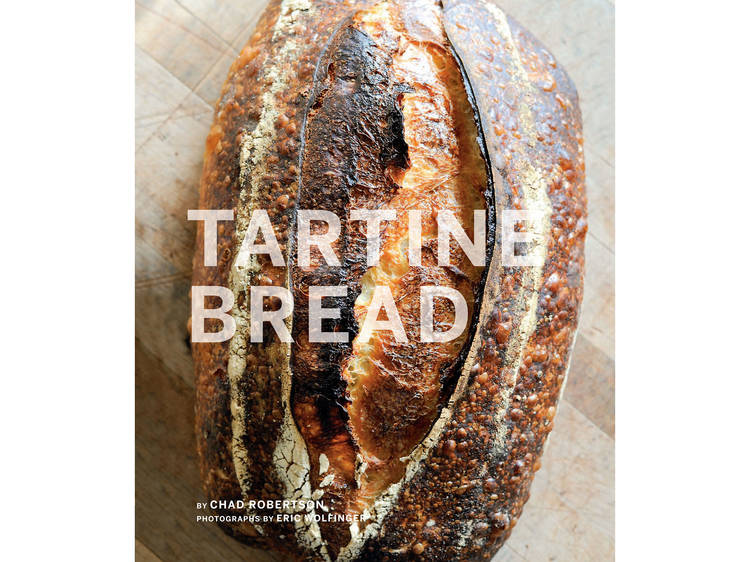 Photograph: Courtesy Chronicle Books
'Tartine Bread' by Chad Robertson
'For all the people who started making their own sourdough in 2020 – not to mention those who've been doing it for years – Tartine Bread is the baking bible. I used it to make delicious crusty loaves throughout lockdown, carefully following the method that author Chad Robertson has spent a lifetime researching and perfecting, learning about things like bulk fermentation and baker's percentages. And, like all good cookbooks, I slowly started to find that the real enjoyment was not in the crisp slices of toast that I'd made, but in the opportunity to slow down, unplug and take a bit of time for myself. That's been more important than ever before this year.' –Alex Plim, director of digital content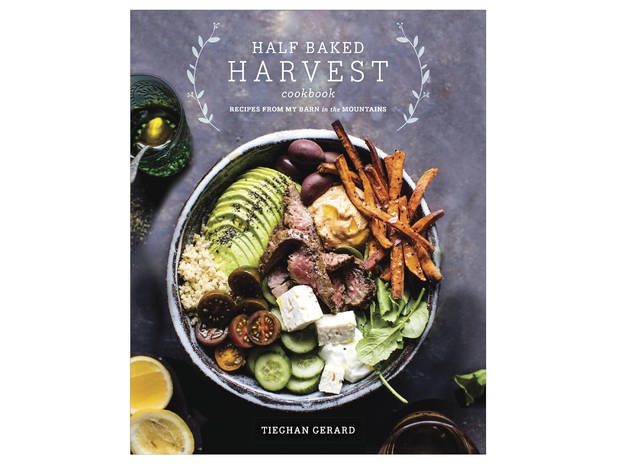 Photograph: Courtesy Clarkson Potter
'Half Baked Harvest Cookbook: Recipes from My Barn in the Mountains' by Tieghan Gerard
'Toward the beginning of lockdown, I pored over my cookbook collection and earmarked all of the recipes I wanted to try. When I got to Half Baked Harvest, I flagged just about every other page – it's a total feast for the eyes. Since then, I've found early-morning meditation in Gerard's salted brioche cinnamon rolls and late-night therapy in ice cream banana bread (yes, that's banana bread made with melted ice cream). But I lean on this cookbook most around dinnertime: The Thai butternut squash and peanut soup is a phenomenal meat-free option, and the garlic-lemon butter shrimp is a weekly staple.' –Morgan Olsen, Chicago editor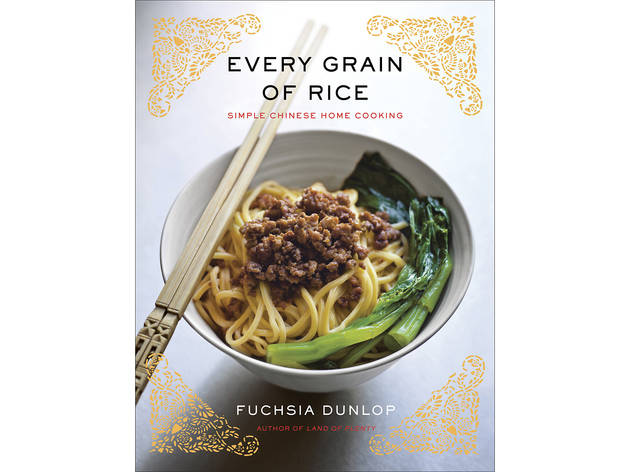 Photograph: Courtesy W. W. Norton & Company
'Every Grain of Rice: Simple Chinese Home Cooking' by Fuchsia Dunlop
'Fuchsia Dunlop spent lockdown in London being an absolute hero, cooking hundreds of meals for the NHS (National Health Service). Her most laudable act, however, was teaching me to cook Chinese food properly. As far as I'm concerned, her classic tome, Every Grain of Rice, is the Alpha and the Omega of English-language Chinese cookbooks. The author has one hell of a pedigree, being, as she was, the first foreigner to ever graduate from Chengdu's ultra-prestigious Sichuan Institute of Higher Cuisine. The book covers loads of cast-iron classics and was responsible for me purchasing a possibly superfluous spun-iron wok and a square cleaver. Semi-related: My pork belly intake has increased by at least 500 per cent this year.' –Joe Mackertich, London editor
'Secrets From My Indian Family Kitchen' by Anjali Pathak
'There's something wonderfully affable about Anjali Pathak, and it comes across in her recipe books: Unpatronizing and informative, with a pinch of humour and a dollop of history, there's a real range of dishes – all of them delicious, colourful and relatively easy to create (if you know your way around your spice cupboard). In the haze of lockdown madness, her personal, nostalgia-driven takes on traditional dishes were life-affirming; I felt safe with Anjali.' –Anne Gerrish, receptionist
Photograph: Courtesy Bloomsbury
'Anthony Bourdain's Les Halles Cookbook' by Anthony Bourdain
'No one writes about recipes or the process of cooking quite like Anthony Bourdain. Learning knife skills and the key to French stock with a side of snarky humor is certainly one way to give time at home a bit of a thrill. I never had the chance to dine at Les Halles in New York before it closed in 2017, so a cookbook full of insight about the place was certainly transportive when we couldn't dine out. The best part, though, is that the book is brimming with valuable wisdom from Bourdain. He reinforces the importance of confidence and not cutting corners. Here's a quote that sticks, about normalizing making mistakes: "You can read about breaking a butter sauce all you like; until you've actually broken it—just when you needed it—you won't understand it on an instinctive, cellular level. Screwups are good. Screwups—and bouncing back from screwups—help you conquer fear. And that's very important. Because some dishes know when you're afraid."' –Collier Sutter, New York associate editor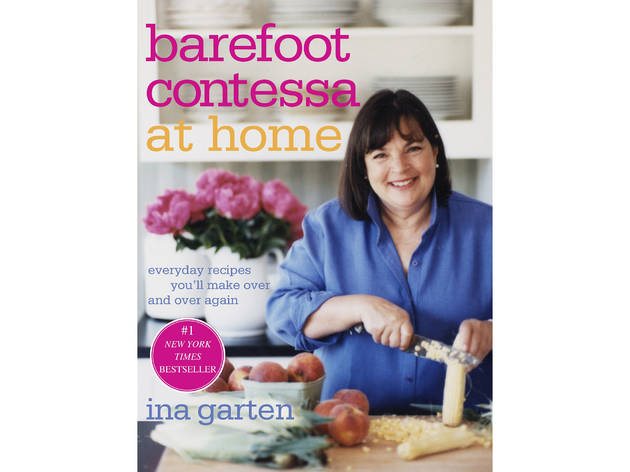 Photograph: Courtesy Penguin Random House
'Barefoot Contessa at Home' by Ina Garten
'Ina Garten has a delightful summer pasta recipe in her At Home cookbook. Any combination of tomato, carbs and cheese is a source of comfort food for me, and I've prepared this easy dish more times than I should probably admit. Provided the tomatoes at the grocery store don't look like they're from last year's batch, I'll continue to prepare it well into the winter. And eventually, I'd like to tackle the roasted pepper and goat cheese sandwiches.' –Danielle Valente, New York Kids editor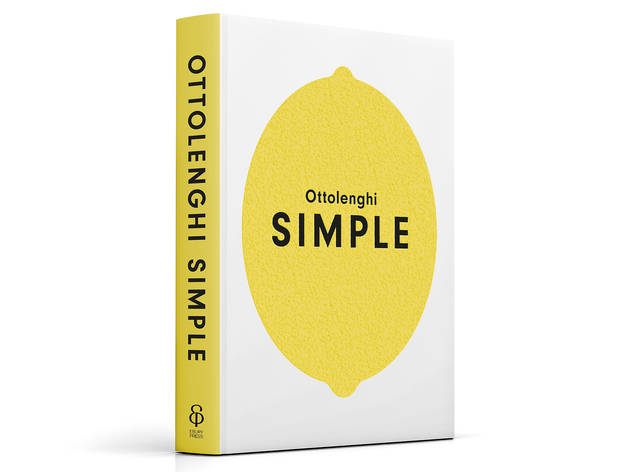 Photograph: Courtesy Ottolenghi Group
'Ottolenghi Simple: A Cookbook' by Yotam Ottolenghi
'During this very Groundhog Day year, Simple brought joy back into my cooking routine. Recipes are sorted into categories including "lazy," "easier than you think" and "short on time" but are still tasty and impressive enough for those post-lockdown dinner parties. My favourite dishes in the book include the baked rice with tomatoes and 12 (!!) cloves of garlic and chips with feta cheese that was inspired by Ottolenghi's visit to a Melbourne restaurant. I challenged myself to not repeat recipes, but I'm still making the whole roasted cauliflower at least once a month.' —Delima Shanti, Australia audience development manager
'The Dumpling Sisters Cookbook: Over 100 Favourite Recipes From A Chinese Family Kitchen' by Julie and Amy Zhang
'The Dumpling Sisters really opened my eyes to how fun it can be to cook Chinese food yourself rather than defaulting to the local takeaway. The book has a huge range of delicious recipes – I particularly like the dim sum, sharing and banquet sections. I love spending a Saturday afternoon cooking up an absolute feast, which will be handy when dinner parties start up again. There are also loads of helpful tips for making restaurant-standard dishes, like using bicarbonate of soda and cornflour to create the melt-in-your-mouth texture of meats coated in velvety sauces – an absolute game-changer.' –Charlie Woods, product manager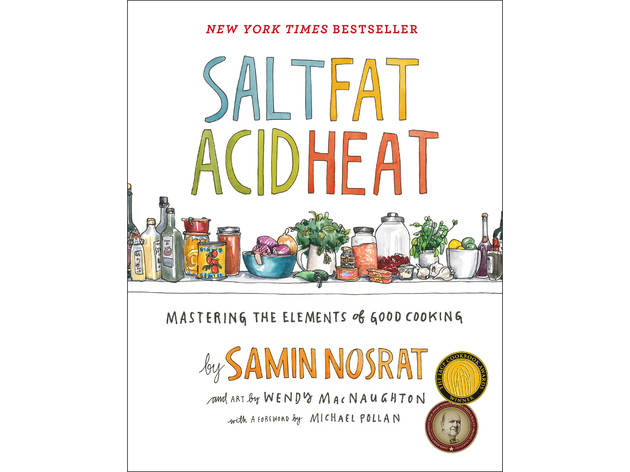 Photograph: Courtesy Simon & Schuster
'Salt, Fat, Acid, Heat: Mastering the Elements of Good Cooking' by Samin Nosrat
'If you're going to be trapped in your home, at least every meal can be delicious. And if you're going to be alone, at least the cheery prose of Samin Nosrat is there to remind you that you'll eat with your friends again soon.' —Emily Lloyd Tait, Australia Food & Drink editor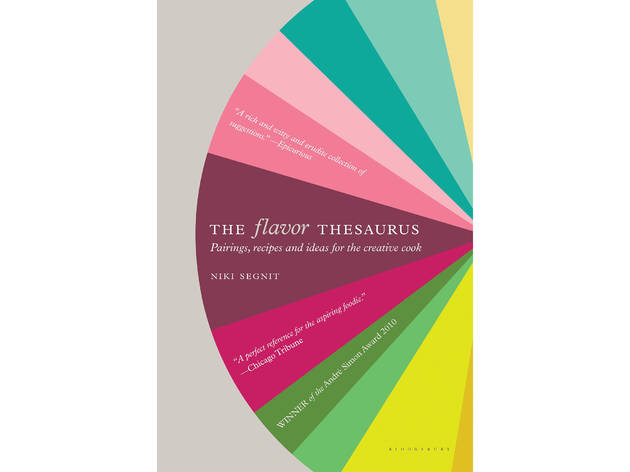 Photograph: Courtesy Bloomsbury
'The Flavour Thesaurus' by Niki Segnit
'It's not a cookbook, per se, but The Flavour Thesaurus is a great resource for experimenting in the kitchen. While it's a compendium of ideas, pairings and recipes, it provided a lot of food for thought (#sorrynotsorry) when it came to creativity in the kitchen, where I could take an ingredient I had on hand, look it up, and start planning from there. With a little bit of ingenuity and the occasional hop, skip and jump to the store for something I might be missing, this book helped me explore new avenues, rediscover old tricks and cut down on food waste. For example, this book resulted in the following: Pan-seared duck breast on roasted miso cauliflower polenta with roasted hazelnuts. 'Nuff said.' –JP Karwacki, Montreal editor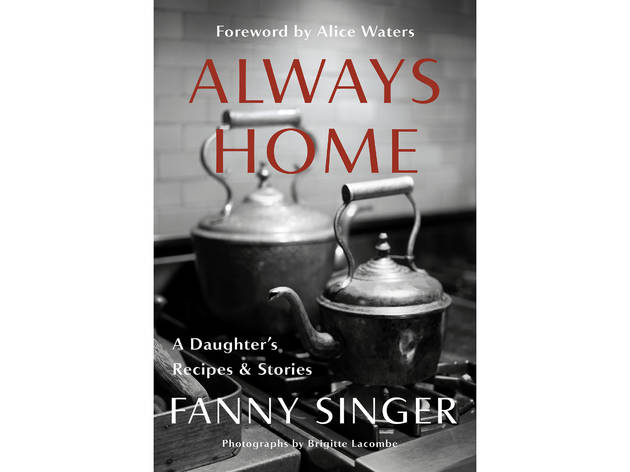 Photograph: Courtesy Penguin Random House
'Always Home: A Daughter's Recipes & Stories' by Fanny Singer
'I'm a huge huge Alice Waters fan, and this book by her daughter is amazing. It's beautifully written with so many recipes and accompanying stories. I love that she treats cooking as not just a process but a ritual – the enjoyment is in the journey. I made my first of many roast chickens and batches of stock from this book. Her galette recipe is so easy and fun with lots of creative freedom depending on the season. I also finally dipped my toes into making homemade aioli following her recipe step by step (I haven't quite perfected it, but we are getting there).' –Kathryn Vaughn, creative solutions strategist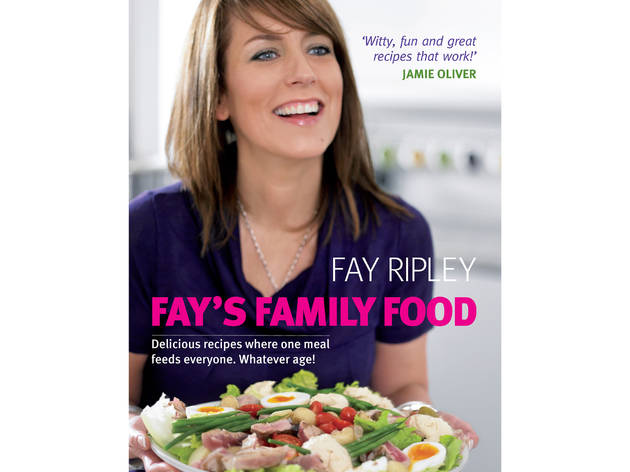 Photograph: Courtesy Michael Joseph / Penguin Random House
'Fay's Family Food' by Fay Ripley
'I own about 30 cookbooks, 29 of which serve as pristine kitchen-dressing. The one that doesn't, Fay Ripley's Family Food, is falling apart from overuse. The recipes are so quick, easy and un-mess-upable – not to mention reliably tasty – that I started a family specifically to use it. An actress IRL as well as a recipe wizard, Fay is a familiar face on British TV. I'd give her lemon thyme chicken an Emmy.' –Phil De Semlyen, global film editor
'East: 120 Vegan and Vegetarian Recipes from Bangalore to Beijing' by Meera Sodha
'Lockdown seriously disrupted my normal eating habits – instead of being able to dine out across the whole of Asia within a five-mile radius of my house, I found myself stuck at home, doomed to eat whatever I could cook myself (also known as 'not much'). Meera Sodha saved my bacon with these veggie and vegan takes on staple dishes from across the world's largest continent – bibimbap, mapo tofu, ramen, pad thai and loads more. Most of the ingredients are lurking somewhere in your local Asian deli, the instructions are clear and the pictures are hella inspiring (and unusually close to the actual results). I'm actually going to go make her Keralan beetroot rice as soon as I finish writing this." —James Manning, international editor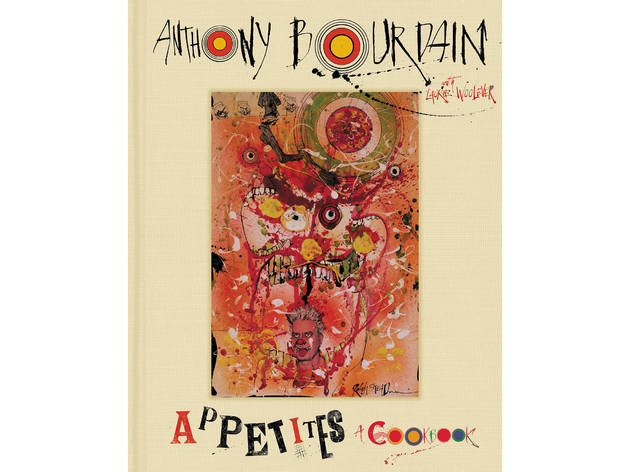 Photograph: Courtesy Ecco
'Appetites: A Cookbook' by Anthony Bourdain and Laurie Woolever
'Appetites: A Cookbook by Anthony Bourdain is on my nightstand – I read it before sleep like it's an airport novel. We have the same disregard for breakfast, and his chicken satay marinade has led me to actually enjoy chicken breasts.' –Rocky Rackovic, director of brand activation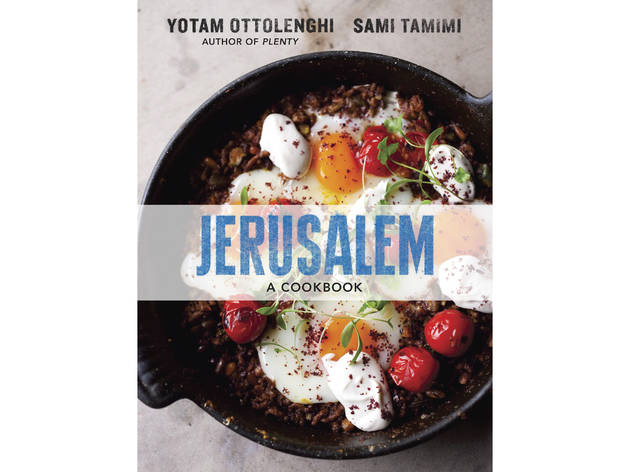 Photograph: Courtesy Penguin Random House
'Jerusalem: A Cookbook' by Sami Tamimi and Yotam Ottolenghi
'Aside from being a visually stunning cookbook, Jerusalem contains the cuisine of so many cultures inside its pages. I didn't realize that the city has such a rich "tapestry of cuisines," as the book says. With its help and ingredients I'd never used before, I've created incredible meals, including turkey and zucchini burgers with green onion and cumin with a ridiculously refreshing sour cream and sumac sauce.' —Shaye Weaver, New York Things to Do editor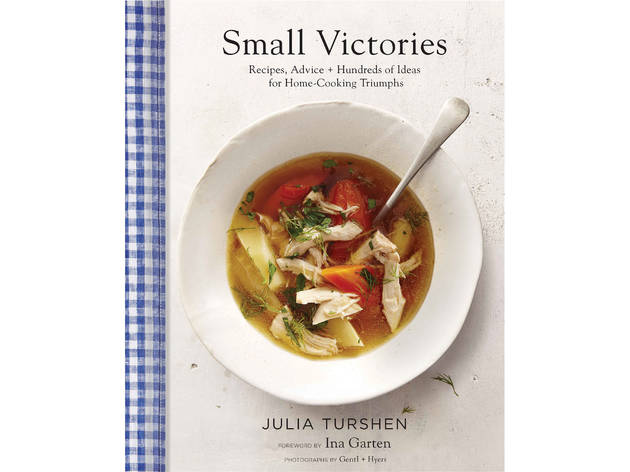 Photograph: Courtesy Chronicle Books
'Small Victories: Recipes, Advice + Hundreds of Ideas for Home Cooking Triumphs' by Julia Turshen
'I found out about Small Victories from a Time Out competitor. The post focused on one of the book's desserts, the Afternoon Cake (an orange and almond olive oil cake), and raved about how simple it was to make and how it was the perfect afternoon pick-me-up. I bought the book that night (cake for lunch really appealed to me during early quarantine) and made the signature cake that weekend. It was simple, flavorful, not-too-sweet (you could even pass it off as breakfast) and yet still decadent. Since March, I've made almost every dessert in the book – from the truly lush Happy Wife, Happy Life chocolate cake to the apricot upside-down skillet cake, which became a summertime staple – and quickly became my family's go-to pastry chef for quarantine birthday parties and bubble get-togethers alike. A role that has given me sweet memories and bigger biceps – creaming sugar and butter by hand takes some muscle!' –Sarah Medina, global content editor
'Baking School: The Bread Ahead Cookbook' by Justin Gellatly, Louise Gellatly and Matthew Jones
'I've never been a good baker: I don't really like following instructions, and I prefer to make it up as I go along. Of course, that's only ever ended in disastrous creations, which go straight in the bin. During lockdown, I decided to give bread a bash, and with the help of the easy instructions from Bread Ahead, I've been able to turn out some pretty decent sourdough. My first attempt at crumpets turned out like frisbees, so still quite a way to go before you see me in the Bake Off tent.' –Lucy Christopher, lead UX/UI designer
Something to drink?
You look like you could use a drink – and no, we're not talking about a can of hard seltzer. To help stir some inspiration, we asked Time Out staffers to spill their go-to cocktails, the drinks they know how to make from muscle memory.