Heads up! We're working hard to be accurate – but these are unusual times, so please always check before heading out.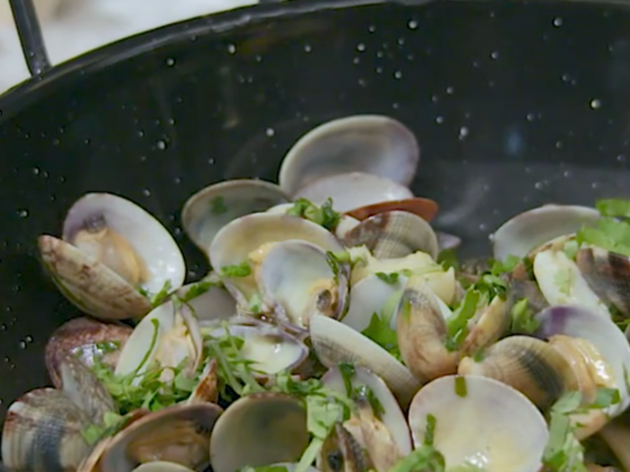 Simple dishes from the world's greatest chefs
Professional dishes, simple enough to make at home.
Miami
Giorgio Rapicavoli's grown up dirt cup
Shopping List:
Salted caramel
Vanilla Ice Cream
Nutella Mousse
Crushed Pretzels
Chocolate Cookie Crumbs
Mint leafs

Step-by-step:
Grab a plant pot and start with a layer of crushed pretzels, followed by a layer of vanilla ice cream. Drizzle over the salted caramel and follow with a generous helping of Nutella mousse. Cover it with cookie crumbs and plant a little mint on top then eat it up!
Vegan mac and cheese by Diego Tosoni
Shopping List:
1 cup of cashews
4 teaspoons of lemon juice
6 tablespoos of nutritional yeast
1 tablespoons of agar agar
6 tablespoons of tapioca starch
4 teaspoons of salt
2 cups of refined coconut oil
6 cups of water
2 tablespoons of maple syrup
1 cup of spinach
1 pack of lentil macaroni
Step-by-step:
Combine everything but the spinach and pulse until smooth. Gently blend in the spinach and then transfer to a pan to thicken, stirring gently on low. Add gluten-free lentil macaroni. Top with cashews and nutritional yeast. Enjoy!
Key West pink shrimp in 'salsa of life' by Norman Van Aken
Shopping list:
For Salsa of Life:
1 large tomato, halved, seeds removed
1 jalapeño pepper, halved, seeds removed
2 red bell peppers, halved, seeds removed
1 small Spanish onion, peeled and halved
6 piquillo peppers, drained, (pimentos are not as good)
1 cup freshly squeezed lime juice
1 cup lemon juice
1 cup freshly squeezed orange juice
1 cup tomato juice
1 cup sugar
1 teaspoon kosher salt, plus more to taste
1 teaspoon freshly toasted and ground black pepper
Tabasco, to taste

For Marinade:
3 oranges, juiced
4 limes, juiced
4 lemons, juiced
1 cup extra-virgin olive oil
1 tablespoon kosher salt
Freshly ground black pepper to taste

For garnish:
1 cucumber, diced small
2 yellow peppers, diced small
1 red onion, diced small
1 chayote, diced small

Step-by-step:
Make the marinade by adding all of the fruit juice and whisking in some olive oil, before throwing in the prawns and putting them in the fridge to cure. Roast tomato, red pepper, spanish onion and jalapeño and then blend them all together with your fruit juices, seasoning and piquillo peppers. Now your salsa is done! Chop the shrimp and then combine them with the salsa. Garnish with diced pepper, onion, cucumber and popcorn.
Abuela Maria ice cream by Suzy Batlle
Shopping List:
Guava paste(cubed)
Guava syrup
Cream cheese
Maria biscuits
Step-by-step:
Layer your Maria biscuits in the bottom of an ice cream tin and add cubes of guava paste on top. Add chunks of cream cheese and some guava syrup on top of that. Smooth over a layer of vanilla ice cream. Keep adding layers until the tin is full to the top. Freeze until firm enough to scoop and serve!
Grilled peach salad by Michael Beltran

Shopping List
2 peaches
Charred scallion
Endive
Toasted pistachios
Mint
Endive
Radish
Croutons
For the dressing:
Blue cheese
Apple cider vinegar
Chives
Shallots
Salt
Black pepper
Step-by-step:

Section and grill the peaches. Then, soak the radishes in water for 20 minutes. While the radishes are soaking, make the dressing by combining all dressing ingredients together in a bowl and stirring well with a spoon.
Layer the peaches, endive, charred scallions, croutons and radishes on a plate and drizzle with the prepared dressing.
Garnish with mint leaves.
Lisbon
Bulhão pato clams by Marisqueira Azul
Shopping List:
¾ lb of clams
Olive oil
4 crushed garlic cloves
¼ cup of white wine
1 lemon
Cilantro

Step-by-step:
Pour olive oil in a large pan and soften the garlic over a medium heat. Add clams and white wine and bring to a boil. Once boiling add the lemon juice and freshly chopped cilantro. When all the clams are open, remove from the heat and transfer them to a platter. Pour over any juice left in the pan to serve.
Yuppie prego roll by O Prego da Peixaria
Shopping List:
¼ lb beef tenderloin
3 slices of pancetta
Parsley and basil
3 slices of cheddar cheese
Kosher salt
1 garlic clove
4 tablespoon mayo
3 tablesppon butter
1 cacao bread roll

Step-by-step: To make the basil mayonnaise, finely chop some basil leaves and stir them through a bowl of mayonnaise. Put to one side. To make the parsley butter, finely chop some parsley, add it to the butter and fold in minced garlic cloves. Put to one side. Slice the bread in half. Tenderise the steak with your hands and then sear in a very hot pan for three minutes on both sides. Remove and put to one side, then crisp up pancetta in the same hot pan. Grab your bread and butter the bottom half. Add your mayo to the top. Assemble and enjoy.
Onion and goat cheese croquettes by Croquetaria
Shopping List:
½ lb goats cheese
4 onions
Olive oil
½ cup brown sugar
½ cup balsamic vinegar
3 tablespoon butter
½ lb flour
2 quarts milk
Nutmeg
Breadcrumbs
Cooking oil

Step-by-step: Heat up oil, onions, brown sugar and balsamic vinegar in a large pan and simmer until soft. Using a sieve and a bowl, separate the onions from the stock you've created. Using another large pan, melt butter and stir in flour, milk and your onion stock. Stir until smooth and thickened and add nutmeg, onions, breadcrumbs and goats cheese. Refrigerate for two hours before rolling the mixture into balls. Roll the balls through breadcrumbs until they're completely coated. Fry in 180°C oil until brown and serve!
Asian beef tartar by Tartar-ia
Shopping List:
⅓ lb of beef tenderloin
1 tablespoon vegetable oil
1 tablespoon sesame oil
1 tablespoon sweet chilli sauce
Cilantro
Salt and pepper
½ tablespoon Tabasco
¼ oz pickled daikon
½ oz baby shiitake mushrooms
4 wasabi peas
1 tablespoon dashi
¼ oz foie gras

Step-by-step:
Thinly chop your beef and then do the same with the cilantro. Add both to a large bowl, along with vegetable oil, sweet chilli sauce and sesame oil. Season with ground pepper, salt and Tabasco to taste. Give everything a quick stir before potting up with shitake mushrooms, daikon and shizu, then add dashi. Use a blow torch to sear the foie gras until brown, then season. Place the seared foie on top to serve.
Cod fritters by Chef Marlene Vieira
Shopping List:
1 roasted red pepper
3 garlic cloves
1 cup mayonnaise
¾ lb of shredded cod
1 onion
Parsley
¼ corn starch
¼ lb flour
¼ tbsp salt
1 egg
Sparkling water

Step-by-step:
To make the dipping sauce, add roasted red peppers, garlic and mayo to a blender and blend until smooth. Set aside.
To make the fritters, mix flour, corn starch, salt and egg in a large bowl and then slowly stir in sparkling water. Add cod, onions, garlic, parsley and ground pepper. Preheat oil in a heavy frying pan over medium heat. Once the oil is hot enough, spoon the batter into the oil, working in batches. Cook, turning as needed, until golden brown. Drain on a paper towel, serve and dip!
Want more from Time Out Market Chefs?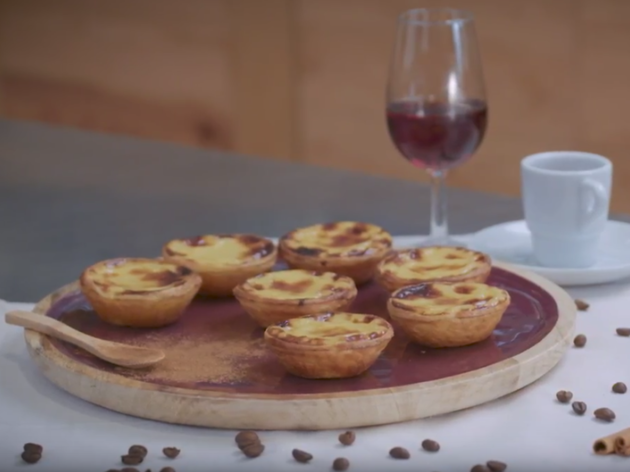 Discover the secrets behind the dishes of Time Out Market chefs.