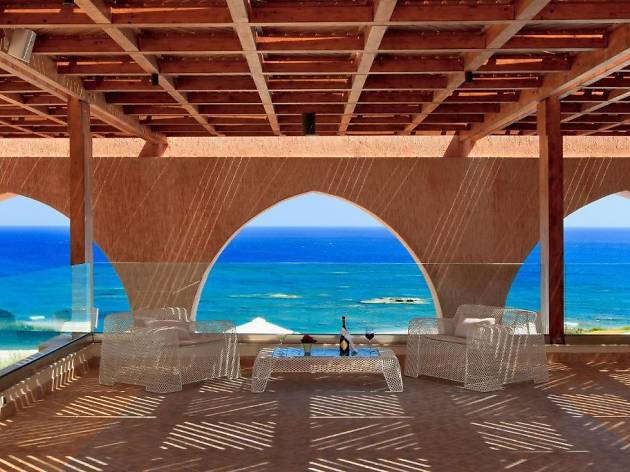 The 10 best hotels in Rhodes
Plan an unforgettable island escape with our selection of the best hotels in Rhodes
Often brushed aside as being just another cheap-and-cheerful package destination, Rhodes, the largest of the Dodecanese islands, has an alter ego. For history, Rhodes Town is (quite literally) the Holy Grail – the Knights Hospitaller polished the cobblestones of its citadel in the 14th century. Dip into the Unesco World Heritage Old Town today for places to stay that are big on medieval charm, with heavy doors pushing open into courtyards paved with sea pebbles and perfumed with frangipani.
We've searched every corner of this idyllic island to bring you the very best that Rhodes has to offer, from boutique bolt-holes in the shadow of Lindos' acropolis to seriously stylish sea-facing spa resorts. Read on for our favourites.
Best hotels in Rhodes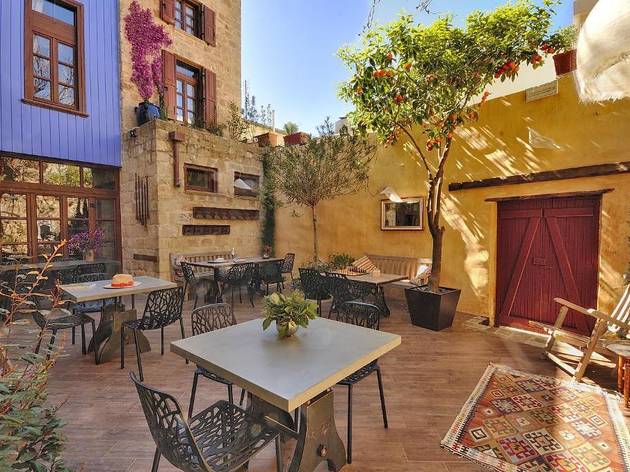 Booking.com
Watched over by the imposing medieval fortifications of Rhodes Town, this unique hotel is as welcoming as it is wonderful. Owners Nikos and Angela have poured love and labour into revamping a ruined townhouse, keeping its history intact – from the creaking floorboards, antique furnishings and exposed stone walls to the ancient mulberry tree shading the garden. Naturally, every effort is made to make sure their guests enjoy a stay to remember, with above-par touches like free minibars in the six guest suites, homegrown herbs pepping up clean, bright Mediterranean dishes, and glorious Greek breakfasts.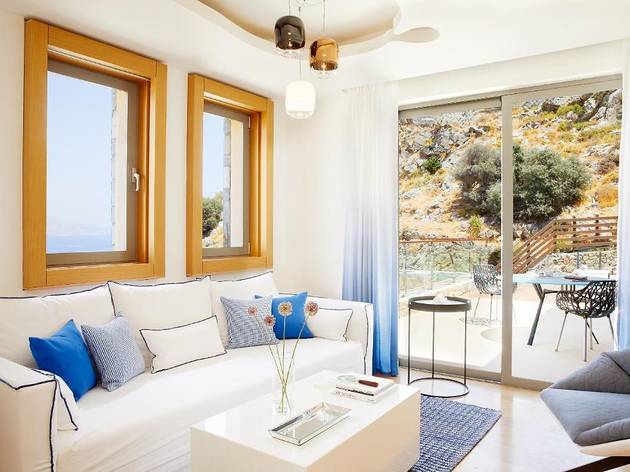 Booking.com
The sea and the sky are laid out before you in a tapestry of blues at this adults-only hotel in what is a serious contender for the best looking town in Rhodes, topped off by a whopping great acropolis. Staggering down a hill to the Aegean, this Zen-style retreat offers a clean and simple look, with glass-fronted, light-drenched rooms that make the most out of the gorgeous backdrop and compliment the chilled-out vibe. This hotel has earned its five-star ranking, with luxuries from a private beach and infinity pool to gourmet breakfasts (meze, pancakes, the works…) and a spa that uses handpicked Greek herbs in its treatments.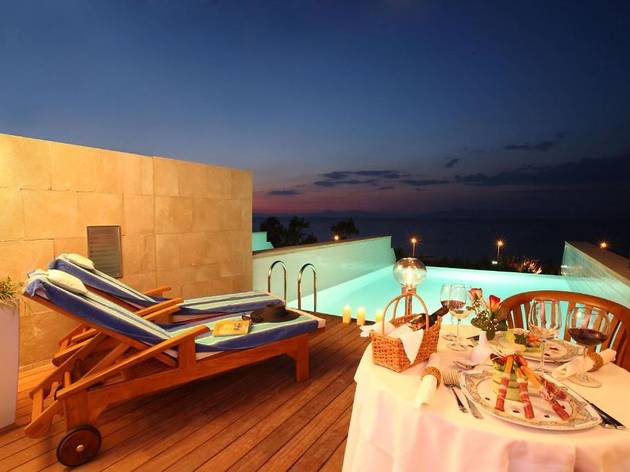 Booking.com
If you're looking for a real five-star experience, this stylish boutique hotel if the place for you, with its glass-fronted, wood-floored interiors, tucked-away pools and jaw-dropping views over the azure of the Agean. The hotel looks out over the sweeping Ixia Bay in northwestern Rhodes. Prepare yourself for some serious pampering at their top-notch spa, with detoxifying treatments like thalassotherapy, Vichy showers and algae wraps. After taking relaxation to a whole new level, expect intimate dinners under the stars, and lush gardens peppered with pops of hot-pink bougainvillaea. This place is a hotspot for honeymooners or anyone seeking a splash of contemporary romance by the coast.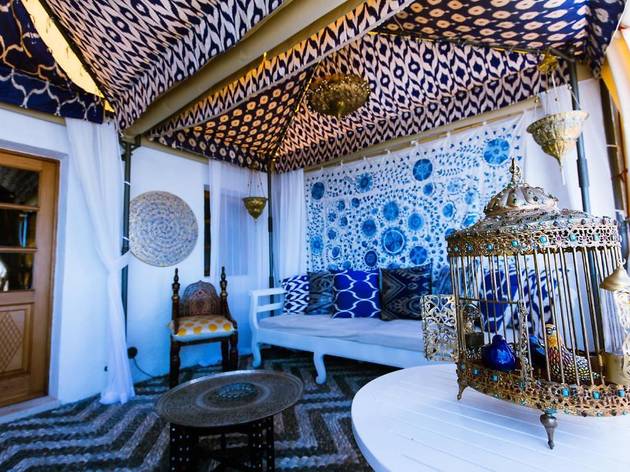 Booking.com
On an eyrie-like perch above the Aegean near Lindos' mighty acropolis, Melenos is something else. It's not by accident that this paradise often finds itself near the top of the best lists. Low-slung sandstone walls give way to interiors that are an ode to Byzantine, Arabic and Ottoman craftsmanship, with intricately hand-carved cedar, painted ceilings, lanterns, mosaics, and fountains splashing in gardens fragrant with jasmine and frangipani. The hospitality is impeccable, the sea views sublime and the terrace one of the island's most romantic for sampling Asian-inspired dishes cooked with homegrown produce.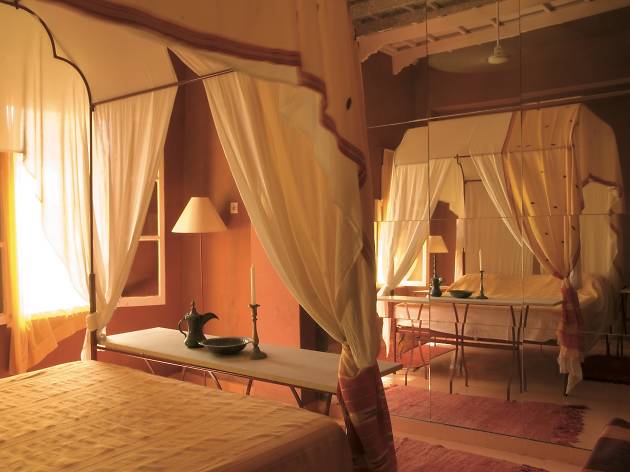 Photograph: Marco Polo Mansion
With uplifting views of the minarets and palms of Rhodes Old Town, this secluded 15th-century Pasha's palace has a dash of magic about it. Owners Efi and Spiros have created a unique hideaway here made up of seven stylishly rustic, high-ceilinged rooms and suites with Moroccan overtones, lime-washed walls, rustic beams, patterned fabrics and rich colours. They've even kicked the romance up another level with gorgeous four-poster beds. Seasonal Greek cuisine and super-fresh seafood are dished up in the garden restaurant, and it's hard not to love the boho vibe and location, a five-minute walk from the sea.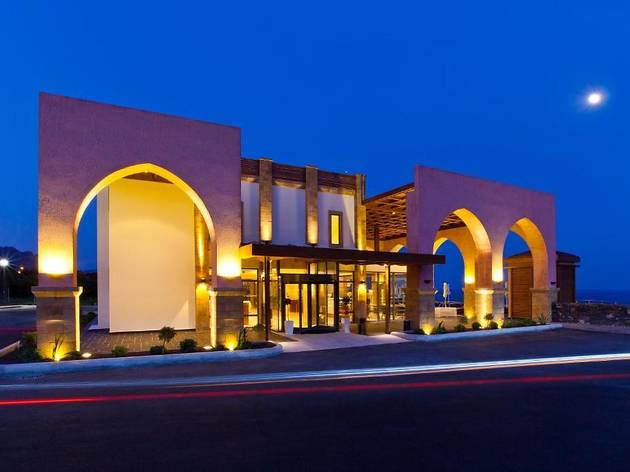 Booking.com
6. Boutique 5 Hotel & Spa
Overlooking Kiotari beach, this design-minded, adults-only boutique hotel keeps the look and feel slick and contemporary. Rooms emphasise minimalist luxury, with spectacular sea-view balconies, muted colours and marble bathrooms (if you can splash the cash on a suite you'll get a private pool too). Cocktails by the pool are the perfect prelude to refreshing Greek and Med-style dishes in the à la carte restaurant. Besides a Jacuzzi, hammam and heated pool, the aptly named Bliss Spa offers signature treatments from Cretan massage to cryo-time freeze facials.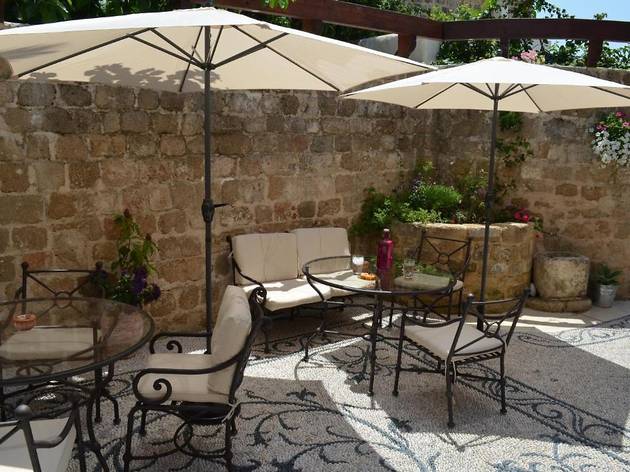 Booking.com
Nestled in a side street in Rhodes Old Town, this revamped 14th-century townhouse has a dash of historic flair, with pebble mosaics, thick stone walls and an inner courtyard. Make sure you book well ahead if you want to get your hands on one of the four rustically elegant rooms (you do, trust us), with oak flooring, antique furnishings, pops of bright colour and (hurrah!) free minibars. Attention to detail shines in fabulous breakfasts which include locally made preserves and homemade Greek yoghurt drizzled with local honey. It's a romantic pick, with kind owners and a cracking location – just five minutes' stroll from the Archaeological Museum.
8. Atlantica Imperial Resort & Spa
On the island's north-east coast, this sleek spa resort boasts a top spot on Kolymbia's lovely arc of golden sand. Standing tall over the bay is hilltop Panagia Tsambika monastery, an hour's walk away (but well worth it). That's if you can force yourself to climb out of the garden-rimmed pools looking out across the true-blue Aegean, the Imperial Spa, and the sundown cocktails on the Sky Bar terrace. Sea-view rooms are worth the upgrade, but the ultimate splurge for those on a big budget has to be a swim-up suite with private loungers.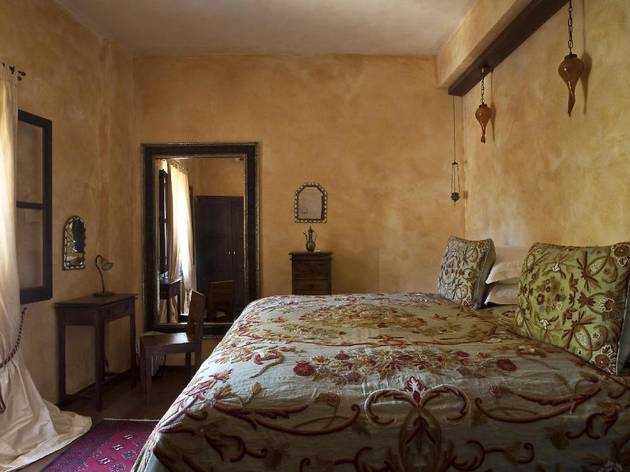 Booking.com
9. Spirit Of The Knights Boutique Hotel
Tucked into Rhodes Old Town's labyrinth of medieval lanes, this boutique hotel lodges in a 14th-century knight's house below the ramparts. Local craftsmen were called upon to preserve this building's one-of-a-kind history and character, with pebble mosaics and stone arches segueing into rooms with timber beams, stained glass, antique furnishings and lustrous fabrics. Bougainvillaea drapes the hidden courtyard, with a hot tub that's perfect for a post-sightseeing unwind. And whether you want yoga, aromatherapy massage or a guided walk, just say the word and the fantastic team will make it happen.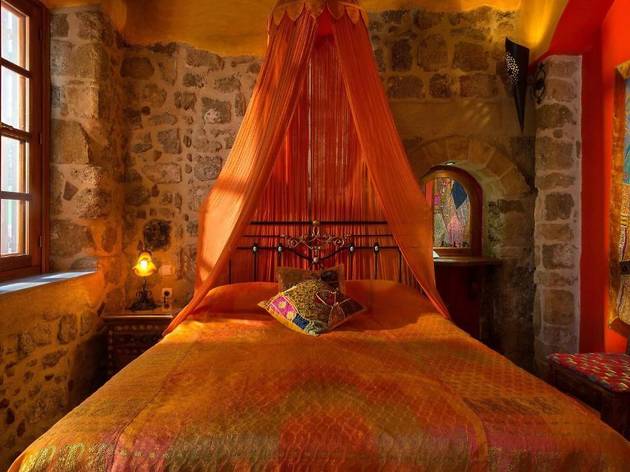 Booking.com
10. Nikos Takis Fashion Boutique Hotel
At the height of their careers, fashion designers Nikos and Takis dressed the likes of Sophia Loren and Elizabeth Taylor. Now they've turned their hand to this historic Italian building in Rhodes Town, just steps from the Palace of the Grand Master of the Knights, and the resulting hotel does not disappoint. It's filled with hidden nooks, Arabian Nights-style eccentricities and rooms revealing a razor-sharp eye for detail in their lavish silks and embroidered fabrics, burnt-orange walls and arched doorways. The Tzami King Suite is hit with couples looking to up the romance factor, with a gorgeous four-poster bed.