Heads up! We're working hard to be accurate – but these are unusual times, so please always check before heading out.
13 Best Airbnb Venues in Rio de Janeiro
From to beach-side penthouses to hidden villas, here are the best Airbnb venues in Rio
For a slice of local Rio life, there's nothing quite like an Airbnb. Not only are the venues unique, but they're pretty cost-effective too. Plus, if you hire out an entire place, you won't have to sneak past other hotel rooms when you come back from a long night of partying. Winner.
So whether you're taking a much-needed break or visiting for Carnival, we've gathered up some of the best places to stay in south-east Brazil. Make your trip a little more comfortable and a lot more stylish with the best Airbnb venues in Rio de Janeiro.
Photograph / Courtesy Airbnb
A villa hidden in a forest
Any globetrotter will tell you that the beauty of Airbnb is discovering one-of-a-kind venues just like this one. Disguised amongst a leafy backdrop, this stunning, slightly off-grid villa is not only magnificently grand, but it's located amongst Santa Teresa where you can enjoy a bucket-load of art and culture. The 150-year-old restored building has space for 15 guests, comes with a housekeeper to ferry you around and even has an overwhelmingly ornate interior for indulging all of your gold-gilt fantasies. Ok ok, we know that budget chain hotels have their place, but it's definitely not here.
Photograph / Courtesy Airbnb
A family flat near Ipanema beach
Surrounded by charming greenery, this flat is both cosy and light, with soothing blue accents and must-have amenities. A gentle stroll away from one of Rio's loveliest beaches, the space is perfect for those who want a wallet-friendly stay near the sea. Plus, if you fancy an afternoon snooze beneath the sunshine, you can always sway your way towards sweet dreams in the window-side hammock. (Just remember to load up on the sunscreen first).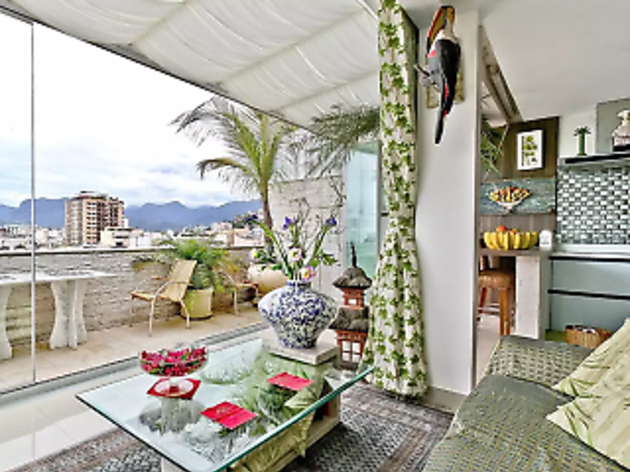 Photograph / Courtesy Airbnb
A tropically inspired penthouse in Arpoador
Bringing the outside inside, this leafy penthouse is inspired by lush Brazilian wildlife. Not only are plants growing absolutely everywhere, but you'll find green and wooden features scattered throughout. It's light, bright and breezy and since it sleeps four, it's a great spot for a small group breaks. Oh, and did we mention the rooftop solarium, where you'll get 360-degree views across the city?
Photograph / Courtesy Airbnb
A budget-friendly flat in Leblon
Simple, comfortable and chic, this flat sleeps four and makes the most of its space by incorporating mirrors and glass into it's design. Head out onto the balcony for sparkling sea views or take a wander around the building to enjoy the pool, sauna, steam room and gym. As for its location, this Airbnb is a mere two blocks walk from the beach and Dias Ferreira, where you can source tasty delights from trendy delis and bakeries.
Photograph / Courtesy Airbnb
A luxury penthouse with sauna in Copacabana
Rio has penthouses galore, but this luxury Airbnb is one of the best buys for your money. The chic, neutral interior is styled with effortlessly cool accessories including particularly impressive light-fittings and greenery galore. The entire place is pretty spacious, too, sleeping up to six people. As if that wasn't enough, throw in a whirlpool, steam sauna, barbeque and jacuzzi bathtub and pretty soon you'll be turning your trip into a penthouse staycation.
Photograph / Courtesy Airbnb
A nano apartment in Ipanema
Nestled within the fashionable neighbourhood of Ipanema, this adorably named 'nano-apartment' is made to measure, which means that the layout makes the very best of a small space. Each corner is utilised brilliantly, giving you access to all the utilities you could possibly need (TV, Wifi, bed, storage space and heating are all included). While this apartment may not have the grandiosity of some of the other B&Bs on this list, it certainly shouldn't be overlooked - especially since the price is low, leaving you with more pennies to spend on mouthwatering feijoada.
Photograph / Courtesy Airbnb
A beachfront home in Casablanca
Beach lovers rejoice. This Airbnb is situated in the heart of sunny Casablanca, where you can enjoy some spectacular sea views. A tranquil space that's only a few minutes walk from Leblon, it couldn't be easier to explore the city - whether you fancy sunbathing or just picking up groceries. Day out complete? Head back to the hot tub and slip into some steamy waters.
Photograph / Courtesy Airbnb
A comfortable condo in a bucolic area
Although the name 'studio flat' conjures up images of tiny, claustrophobic rooms, this bright and airy apartment bucks the trend. Thanks to stylish decor, clever partitioning and light colours, the space feels more relaxed than cramped (and can even sleep four people). Once you've packed your beach bag, step outside and take a look around you - the building is a picturesque art deco condo surrounded by fresh palms. Bliss.
Photograph / Courtesy Airbnb
A bright palace penthouse in Copacabana
There's a reason that this 2-bed penthouse is called a palace. With spa-esque, marble decor, this Airbnb is a soft and calming space where you can totally chill out. For the ultimate morning rejuvenation, slink out of the bedroom and head straight into the pool, where you can start your day beneath the flowing water fountain.
Photograph / Courtesy Airbnb
If you've got four guests and a limited budget, this loft is an absolute steal. For the fraction of the cost of a hotel, this contemporary crashpad includes free valet parking, a pool and some quirky yellow features reminiscent of scandi decor. Plus, Icaraí Beach is only a two-minute trek away, so make sure you pack your speedos.
Photograph / Courtesy Airbnb
A spacious mansion near a mountain
For those who enjoy a trek amongst verdant views, this mansion can be found on the slope of the Pedra de Gávea, Tijuca Forest. With four separate suites that sleep up to 14 people, there's enough space for everyone to lounge by the pool, feast on pizza oven treats and get dipping in the bubbly hot tub. And although holidays should mean leaving the laptop behind, there's a handy workspace so you can stay on top of your emails when they start pinging in from jealous colleagues.
Photograph / Courtesy Airbnb
A hilltop home in Vidigal
If you're looking for a sanctuary of peace and quiet, or simply somewhere to retreat to after the colourful extravagance of Rio carnival, this hilltop home is perfect. Based in the heart of Vidigal, you'll be treated to stunning views of Ipanema and Copacabana whilst being able to head to the party faster than you can shake a maraca. And although Rio's weather is known to be hot hot hot, there's an indoor fireplace to account for the days where the temperature drops. But the best bit? The whole thing's surprisingly affordable. Kerching.
Photograph / Courtesy Airbnb
A contemporary studio in Copacabana
For a quick couples getaway, this monochrome studio is quite the charmer. There's a roomy queen size bed, air conditioning (phew) and it's only a quick jaunt away from Copacabana beach, where you can soak up the sun amongst other Rio residents. Based in a simple, traditional building, a stay at this studio will not only give you an authentic living experience, but it'll keep your bank balance happy too. Win win.