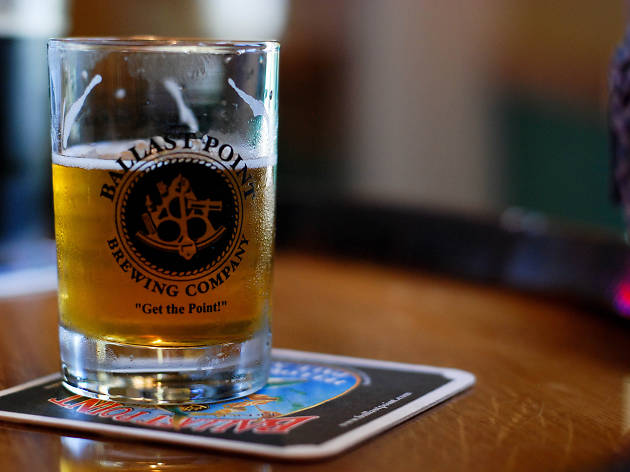 Ballast Point's Big Eye IPA can be found in liquor stores nationwide, but it's not the big kahuna from this brilliant San Diego brewery. That honor is shared among a trio of seasonal brews that get the most growler traffic at the site: the punchy, peppery Habanero Sculpin IPA; the hoppy Dorado Double IPA; and the Madras curry–boosted Indra Kunindra Curry Export Stout. For something a little straighter, the classic Longfin lager is a popular California favorite, as is the Wahoo white and the original pale ale that kick-started the company in 1996. Ballast Point also boasts two of the top reds in the country—the Piper Down Scottish Ale and the Tongue Buckler Imperial Red—and has in recent years been distilling top-shelf spirits and pushing out a kick-ass Bloody Mary mix.
More
Less
Ballast Point Lighthouse says
Ballast Point Lighthouse was a lighthouse in California, situated on Ballast Point, a tiny peninsula extending into San Diego Bay from Point Loma, San Diego, California. The lighthouse was torn down in 1960; the site is now on the grounds of Naval Base Point Loma. Ballast Point Lighthouse was the last lighthouse displaying a fixed light on the Pacific Coast. An automated light is left in its place and operates on a piling in the water off of the original site.HistoryHistorical information from Coast Guard web site:By Harmon Lougher, Photographer's Mate First Class Ballast Point is a tiny peninsula extending from Point Loma into the channel entrance to the harbor of San Diego. The point derived its name from the fact that the early Yankee skippers would have stones gathered from Ballast Point to serve as ballast in their ships during their returns around Cape Horn to their home town, Boston.Juan Rodríguez Cabrillo sailed from the Port of Navidad (now Acapulco) in 1542 and, after bucking head winds and seas for five months, sighted the Coronado Islands. As he continued on, the headland of Point Loma rose from the sea. Working his way past the kelp beds, he dropped anchor in the quiet waters inside the present Ballast Point on September 28, 1542. Cabrillo tarried for six days in this spacious harbor which he named San Miguel. Sixty years passed before the placid waters around Ballast Point were again disturbed by deep-sea keels, when Sebastián Vizcaíno anchored on November 10, 1602. He renamed the harbor San Diego in honor of that Saint's day. In 1769, Spain decided to occupy the vast territory by converting the Indians to the Catholic faith and teaching them domestic pursuits. By this time little transports were coming with supplies on a haphazard schedule, and when the Clipper ship Aranzaya arrived in 1795, she brought three workmen and the necessary timber to build a fort at Ballast Point, or as it was known at that time, Point Guijarros.
More
Less
Venue name:
Ballast Point Lighthouse
Contact:
Address:
9045 Carroll Way
San Diego
92106

Price:
$ (0-10)
You may be interested in: