The 20 best restaurants in San Diego
Eat and drink your way through San Diego's vibrant food scene with our guide to the best restaurants in town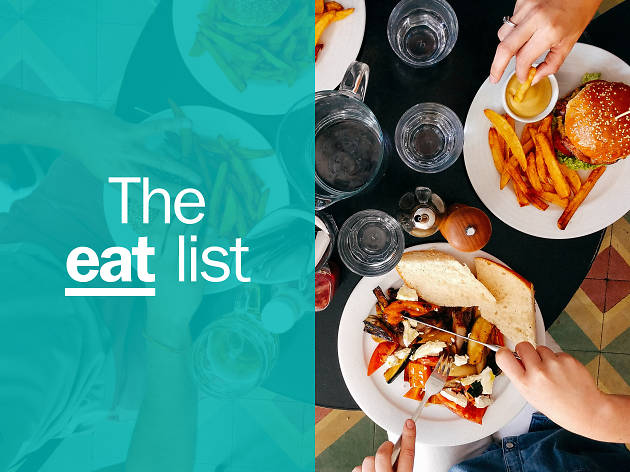 While beach towns are often regarded more for surf, sun and things to do than savvy dining, San Diego proves to be the exception. From stylish dining rooms to hip beachside eats, the local food scene is exploding with creativity and bonafide kitchen chops. If a signature cuisine exists, it's the happy amalgamation of the city's sunny cultural influences.
Locals are well accustomed to carnitas bao buns, spicy tuna tacos and quail fried rice. Not only that, its renowned craft beer destinations are complemented by a flourishing craft cocktail scene (worth exploring if you're looking for fun nightlife in San Diego), and a gloriously sunny climate means dining al fresco or in chic, open-air interiors. So if you're headed to San Diego, make sure to bring your beach towel and your appetite.
Best restaurants in San Diego
1
Photograph: Courtesy Yelp/M.
What is it: All hail seitan at this singular cocktail bar with exceptional vegan dishes, Victorian elegance and ravishingly sinister heavy metal flourishes.
Why go: Mixing equal parts heaven and hell—pink toile wallpaper, devilish wolf sculpture—Kindred serves divine vegan dishes such as char-grilled seitan skewers and battered hearts of palm tacos alongside exquisite cocktails blackened with activated charcoal and served on pentagram coasters. A trip to the bathroom yields a virtual art gallery of malevolent dudes and their cats.
Price: Average
2
Photograph: Courtesy Yelp/Austin E.
What is it: This lively upscale restaurant from a Top Chef regular is the centerpiece of San Diego's food and drink-obsessed Little Italy.
Why go: The airy dining room here continues to be packed out by locals, thanks to chef Richard Blais' continually shifting, inventive menu. We're talking delicious small plates and culinary-inspired cocktails. Recent standouts include a spicy tuna hand roll wrapped in shiso, carne cruda asada—a clever Mexican take on steak tartare—and Filthy Rich cocktail with foie-gras fat-washed Japanese whiskey, Sauternes and sea salt.
Price: Pricey
3
Photograph: Courtesy Yelp/Elissa T.
What is it: Spirited, eye-candy space bustles with cocktails and bold, wood-fired dishes.
Why go: A former rubber band factory, this cavernous space bounced back as a striking open-air dining room with vaulted ceiling, flickering gas lamps and enough potted plants to fill a greenhouse. Seasonal dishes are informed by wood-fired oven such as clams with rich adobo sauce and gnocchi with oxtail, roasted garlic and Parm. During the day, hit the casual adjacent cafe Herb & Eatery for grab-and-go bites.
Price: Pricey
4
Photograph: Courtesy Yelp/Jack M.
What is it: The best snack in town, direct from Mission Beach.
Why go: As far as snack foods go, bao have got to be one of the best. Soft, fluffy buns filled with Japanese fried chicken, Mexican braised pork and baked tofu? Yes please. They also serve rice bowls, bulgogi street fries and edamame. Sit in at this modest little restaurant or order to take away from the window.
Price: Bargain
5
Photograph: Courtesy Yelp/Stephanie C.
What is it: Classy bistro serving modern American cuisine.
Why go: Situated within The Pendry hotel, this bright and airy restaurant combines big, bold decor with big, bold dishes. Pick up a thin-crust wood-fired pizza like the Italians make 'em, or the jidori chicken breast. And if you're not sure what you want, plump for the chef's tasting menu for $40 a head (available 5-7pm).
Price: Average
6
Photograph: Courtesy Yelp/Chris W.
What is it: A stylishly casual restaurant that has a loyal following given its beautifully plated, rustic dishes.
Why go: The fragrant wood stacked in front of the open kitchen is the first hint of the meal to come. Chef-owner Brad Wise melds a farm-to-table ethos with wood-fired hearth for deeply flavorful dishes such as smoky cauliflower, lamb meatballs and braised oxtail raviolini. Grab a pre-dinner drink at a sister whiskey-forward cocktail bar, Hundred Proof, a few blocks up the street.
Price: Average
7
Photograph: Courtesy Yelp/Mimi H.
What is it: Hip seafood house buzzes with blingy, Vegas-worthy interiors and expert cocktails.
Why go: Boisterous Little Italy spot might not be the seafood restaurant your grandparents had in mind—shellfish platters range from Big, Bigger to Holy Shit—but groups of stylish youngins keep things humming with Mai Tais and plates of local uni, grilled octopus and buttery lobster rolls. Swing by the marquee bulb-lined bar during the weekday happy hour for $1 oysters and $7 Paloma cocktails.
Price: Average
8
Photograph: Courtesy Yelp/D.E.
What is it: Mid-century mod fave features poolside dining and movie nights.
Why go: Set within the bamboo-shrouded poolside courtyard of the retro-mod Pearl Hotel, this effortlessly cool restaurant has atmosphere for days. Sip bright cocktails and share platters of oysters, chorizo pasta and must-order kushiyaki skewers. On summer Wednesday evenings, the restaurant throws "dive-in movie" parties with classic flicks such as Ferris Bueller's Day Off screened above the pool.
Price: Average
9
Photograph: Courtesy Yelp/David G.
What is it: This stylized outdoor coop slings fried chicken and good times.
Why go: The adorable setting features picnic tables and red farm chairs set under strung Edison bulbs, a lively al fresco bar and kitchen housed in a modern barn structure. Yet, there's some serious brawn behind all the playfulness. Owned by chef Blais of Juniper & Ivy next door, the Crack Shack serves guests fried Jidori chicken—tucked into sandwiches or splayed on paper-lined metal trays—along with sides such as a mango-and-papaya Border Slaw, and house condiments including Sriracha Thousand Island and kimchi BBQ sauce.
Price: Bargain
10
Photograph: Courtesy Yelp/Alan B.
What is it: This cheery Ocean Beach spot perks up mornings with friendly service and killer breakfast grub.
Why go: The inclusive menu has something for everyone, from the healthy to the hungover. A full bar sends out bacon Bloody Marys and draft kombuchas, while kitchen serves breakfast hot dogs and vibrant veggie bowls. The dessert-for-breakfast crowd can indulge in banana split French toast, churro pancakes and the Mr. Presley—French toast with peanut butter, bananas foster and bacon. You'll find locations throughout town, but the Ocean Beach locale—with kitchen housed in a vintage Airstream—is a fave.
Price: Average
11
Photograph: Courtesy Yelp/Lisa W.
What is it: A taqueria in historic Barrio Logan that offers so much more than the humble taco.
Why go: You can get homemade tortillas morning till night at this flagship Salud. Look out for their daily specials too, because you can save loads. During happy hour you can get free chips (Mon-Fri, 2-5pm), on Tuesdays you can get three tacos for $6, while at the weekend you can bag the Taco Shop Burger with fries for $11.
Price: Bargain
12
Photograph: Courtesy Yelp/Phil N.
What is it: Sleek hotel restaurant overlooking Pacific Beach that's a go-to spot for sushi and weekend brunch.
Why go: Set within the sleek Tower 23 boutique hotel, the recently refreshed dining room features cool grey, concrete interiors and enviable beachfront patio alongside the bustling Pacific Beach boardwalk. Weekend brunch hosts a lively scene, while a new raw and sushi bar lures daytime and evening diners with fusion rolls such as the Surf + Turf with wagyu beef carpaccio, spicy scallop, yuzo-miso and a sesame-kale crumble.
Price: Pricey
13
Photograph: Courtesy Yelp/Tiffany T.
What is it: Bright, tile-lined space dishes fish with Baja vibes.
Why go: Set amidst Old Town's many touristy Mexican restaurants, this modern eatery is a breath of fresh air—and seafood. Chef-owner Juan Carlos Récamier crafts not just exceptional ceviche such as big eye tuna with soy sauce, lime and blistered serrano peppers, but also Mexican-inspired seafood including blue crab al pastor and coconut porter-battered fish tacos. Wash it down with homemade agua de jamaica and spicy Micheladas.
Price: Average
14
Photograph: Courtesy Yelp/Les S.
What is it: The average gaslamp restaurant has nothing on Searsucker, where dramatic interiors, New American fare and a flirty bar scene are all on offer.
Why go: An airy dining room with tufted leather banquettes and massive pendants sets the stage for proper sit-down dinners of tomahawk ribeyes and whole grilled branzino. A spirited after-work and weekend crowd clusters around plush couches in the expansive lounge for cocktails and noshable bites including duck fat fries and Philly meatballs.
Price: Pricey
15
Photograph: Courtesy Yelp/Lisa W.
What is it: Wes Anderson would feel at home inside this clubby, atmospheric cocktail bar with fanciful taxidermy and oil paintings of animals.
Why go: Dimly-lit den attracts a cocktail crowd with serious talent behind the bar, but a menu that showcases exotic meats—ergo, the wild animal decor—more than measures up. Highlights include quail-topped deviled eggs, antelope sliders with smoked gouda and braised rabbit hand pies with duck fat crusts.
Price: Average
16
Photograph: Courtesy Yelp/Lyrissa R.
What is it: Not simply a bar and restaurant, but a great hang-out with a big backyard.
Why go: Three very convincing reasons: chunky pork sandwiches, craft beer and tacos. Grab your choice snacks from the shack window, or pull up a chair inside the laidback venue.
Price: Bargain
17
Photograph: Courtesy Yelp/Tong N.
What is it: Modern North Park beer hall is the perfect intro to San Diego's thriving craft beer scene.
Why go: While many places feature umpteen beers on tap, Tiger! Tiger! flexes serious beer geekery with a stainless steel draft system that's cleaned every keg change. Thankfully, they're not pretentious in attitude or on the menu. Crowd-pleasing dishes such as homemade sausages and house-ground burgers are exactly what you want with your tulip-shaped glass of a creamy, hazy IPA.
Price: Average
18
Photograph: Courtesy Yelp/Sara C.
What is it: Delicious tacos for a worthy cause. What's not to love?
Why go: The nation's first non-profit taco joint donates 100% of their profits to local charities. Libertad takes liberty with range of ingredients—pork belly, tempura avocado, octopus—that are char-grilled over embers and stuffed into homemade tortillas. Push through the stainless steel freezer door and discover a hidden cocktail lounge decked with chandeliers and olive trees.
Price: Bargain
19
Photograph: Courtesy Yelp/Jay K.
What is it: This is a sceney Little Italy restaurant that draws a fashionable young crowd with daybeds, cocktails and shareable plates.
Why go: The handsome bi-level space features a ground floor dining room and an upstairs lounge linked by a towering indoor tree, but the best seats in the house are the semi-private cabanas on the rooftop terrace. Wherever you settle into, you'll find an upbeat crowd mingling over tables strewn with roasted cauliflower, kale salads and duck meatballs.
Price: Pricey
20
Photograph: Courtesy Yelp/Beto W.
What is it: This funky Ocean Beach burger joint is a San Diego institution and a welcome throwback to vintage SoCal beach towns.
Why go: Named after what surfers used to call landlubbing poseurs, this neighborhood beach shack on Ocean Beach's main drag is plastered in surf stickers and weathered license plates. The cheap, sloppy, delicious burgers—served from a sidewalk window or at tables dotted with hot sauce and ketchup bottles—have made it a mainstay since 1969.
Price: Bargain
Discover Time Out Market: the best of the city under one roof
Want a taste of the late-night scene?
The craft beer mecca of San Diego seemingly sports one brewery for every hundred residents, yet its nightlife isn't limited to pints of pale ales. Explore the cocktail scene, beachside bars and more with our guide to nightlife in the city.