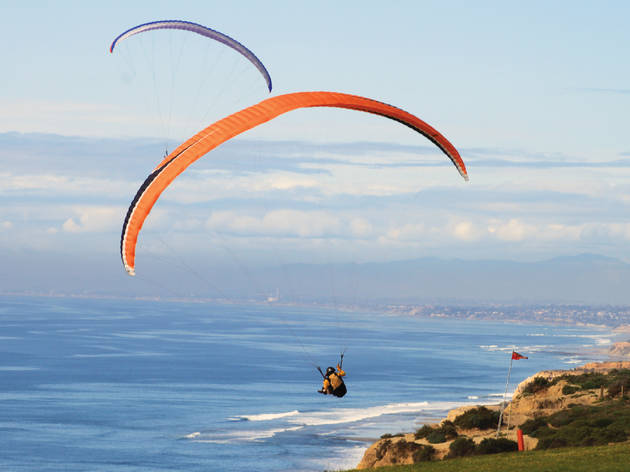 1/2
Photograph: Courtesy SanDiego.org
Torrey Pines State Reserve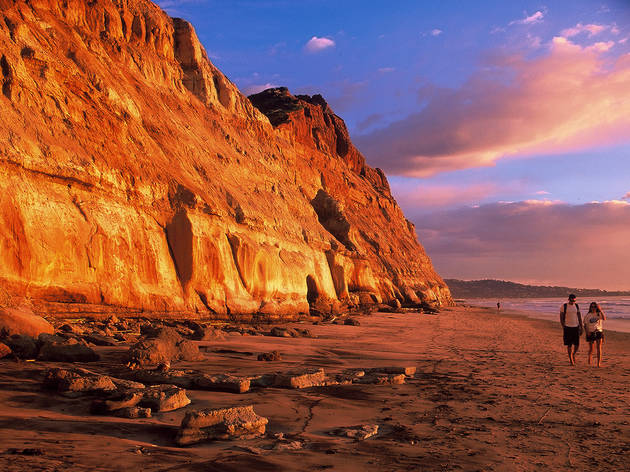 2/2
Photograph: Brett Shoaf
Torrey Pines State Reserve
Enjoy a bird's-eye view of San Diego's exceptional Torrey Pines State Natural Reserve, by swooping serenely overhead in a paraglider. Torrey Pines Gliderport is home to one of the most successful paragliding schools in North America, and flight experiences (10 minutes on the ground and 20-25 minutes in the air) start from $165. You'll be strapped to a qualified pilot so there's nothing to worry about except enjoying the views of the 2,000-acre reserve, its numerous hiking trails and sandstone cliffs beneath you (look ahead and you'll also get an eyeful of gorgeous Pacific).
More
Less
Torrey Pines Gliderport says
OUR MISSION:
We seek to raise awareness for the free flight, and raise the level of free flying skills for pilots and enthusiasts in the United States, and all over the world.

We have the ability to do this because we offer a program that is top ranked in the world, a matured professional instructor staff, a flying site which offers year round flying conditions and a high level of involvement to our students and the sport as a whole.

In addition to training, the Torrey Pines Gliderport hopes to utilize the excitement associated with the sports of Hang Gliding and Paragliding to achieve a higher level of public awareness. We can do this by organizing charitable events, special clinics, competitions, tours, and exhibit local events.


OUR VALUES
To better advance the sport of flying, Torrey Pines Gliderport believes safety is vital during instruction and execution of all flight operations, whether piloting or spectating. For that reason, our training is tailored to meet each student's individual needs. Many of the sports we offer are easy to learn, but take a lifetime to master. In light of this, we envision a training program that continues past the initial certification stage and includes instruction for the intermediate and advanced students.

Knowledge is power, and the more knowledge and skills student attains – the safer he or she is. Because of this, potential enthusiasts will feel compelled to seek the services of Torrey Pines Gliderport with our commitment to your lifetime of education.
More
Less
Venue name:
Torrey Pines Gliderport
Contact:
Address:
2800 Torrey Pines Scenic Dr
San Diego
92037

Opening hours:
9:00AM to 5:00PM daily
You may be interested in: