The most haunted places in the Bay Area
The spookiest, most hair-raising haunted places in the San Francisco Bay Area to hit up...if you dare.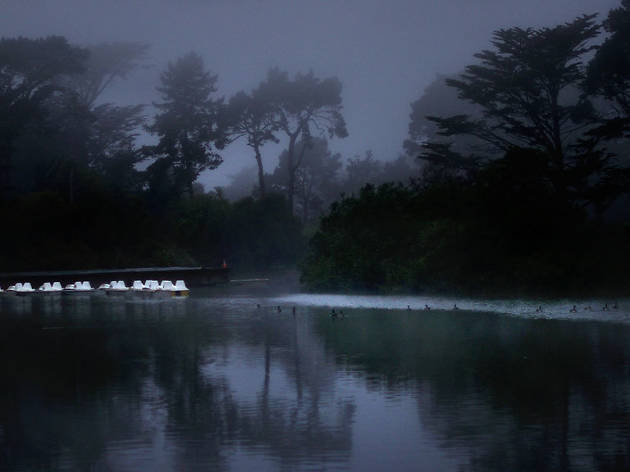 Haunted places in San Francisco
Attractions, Historic buildings and sites
The Bay Area's most famous haunted home, the Winchester Mystery House in San Jose, was once the largest private residence in the United States. The bizarro began when the lady of the house, Sarah Winchester, inherited a vast fortune from her father-in-law, Oliver Winchester, manufacturer of the famous rifle, and she moved from New Haven, Connecticut to San Jose. Winchester came to believe her family and fortune were haunted and started to build a house as a way to elude the ghosts of all the people who had fallen victim to the Winchester rifle. From 1886 until her death in 1922, construction never ceased on the strange new mansion, which at its peak included 200 rooms, 10,000 windows, 47 fireplaces and 2,000 doors, trap doors and spy holes. The house is designed to confuse—staircases lead nowhere and end at ceilings; cabinets and doors open on to walls; small rooms are built within big rooms; balconies and windows are inside rather than out; chimneys stop floors short of the ceiling; and floors have skylights. The best way to experience the haunted house? With a candlelight tour. There's safety in numbers.
Things to do, Walks and tours
If you feel icy fingers on your shoulders as you stroll the former penitentiary, it may be more than just the fog creeping in. Once a military prison for war criminals and later converted into a federal prison for some of the worst felons in history (like Al Capone, Machine Gun Kelly and Whitey Bulger), the island location is now reportedly one of the most haunted spots in the Bay Area—and for good reason. Plagued by deadly riots, tragic escape attempts, murders and suicides, Alcatraz is said to be rife with restless spirits, especially in solitary confinement Cell Block D, where people were sometimes left for weeks without light, sound or human contact. Cell 14D is said to be the most spirit-filled. It's rumored that one night in the 1940s, a man held there was screaming in terror about seeing a creature with glowing eyes; officers later found the prisoner strangled to death. And to this day, many people claim to feel a strange coldness while walking around the area and some say they catch glimpses of a spirit roaming.
During the day, this Golden Gate Park go-to is a great place to boat, walk your dog or visit the waterfall at Strawberry Hill. When the sun goes down and the fog rolls in, however, Stow Lake becomes a walking ground for the Lady in White. Who the hell is that? The popular ghost tale, which dates back more than a century, has two very different beginnings. Some say the White Lady, caught up in conversation, failed to notice that her stroller had rolled away and her baby had fallen into the lake. She spent a day and a night searching the area and asking passersby, "Have you seen my baby?" before disappearing into the lake. Others claim that an unmarried woman decided to hide a pregnancy from her family; once the baby was born, she disposed of it in the lake before also killing herself. But both tales agree, if you decide to walk around Stow Lake after hours, you might see a woman wearing a white dress and asking for her baby. Be careful: If the lady comes up to you and asks if you've seen her baby, say yes and she will continue to haunt you. But if you say no, she will kill you. Um, legend has it.
It's hard to tell now, but Valencia Street in the Mission District was once home to most of San Francisco' mortuaries. Until 1949, a streetcar ran directly from Mission Street to Colma, the Bay Area cemetery town where the dead outnumbered the living by more than a thousand to one. Bodies were prepared near the Mission Street station, then put straight on a car to the cemetery. The Gantner-Maison-Domergue Funeral Home (which would later become the Chapel) would store bodies in the basement, where the incinerator was, below the embalming room. Workers then used a body crank (still visible in the adjacent restaurant) to raise and lower bodies from one room to the other. Employees have reported numerous paranormal activities over the years—bottles exploding, footsteps echoing through the empty building, faucets that turn on and off, votive candles that fly off the mantel—and several musical guests have reported strange experiences in the green room while waiting to perform. Creepiest of all is the ghostly figure of a little girl who is said to be seen haunting the venue at night.
This well-preserved 1890s Victorian may look like a typical San Francisco boutique hotel, but the Queen Anne began as a girls' boarding school (and boarding schools are pretty much always haunted). The institution was run by Mary Lake, the mistress of San Francisco silver baron and Nob Hill denizen James Fair. But when the academy closed in 1896, Mary mysteriously disappeared. Modern-day guests of the hotel swear that her spirit is still present to welcome visitors—particularly on the fourth floor, which was the site of Mary's office. Hotel clients have claimed to feel cold chills and even see a white figure in Room 410. Even stranger? Mary is known to tuck in lodgers' feet during the night.
No stranger to scandal, some of early Hollywood's most notable names haunt Union Square's St. Francis Hotel. It was where actor and notorious lush John Barrymore found himself sleeping it off when the 1906 earthquake struck. Darker forces were at work in 1921, when a party thrown by silent-movie comedian Fatty Arbuckle in suites 1219–1221 got out of hand, resulting in the rape and murder of starlet Virginia Rappe. Arbuckle was acquitted, but the scandal ruined his career. In a creepy turn of events, entertainer Al Jolson collapsed and died in the same suite during a poker game in 1950. Staffers and ghost hunters swear that Barrymore, Arbuckle and Jolson haunt the hallways to this day.
7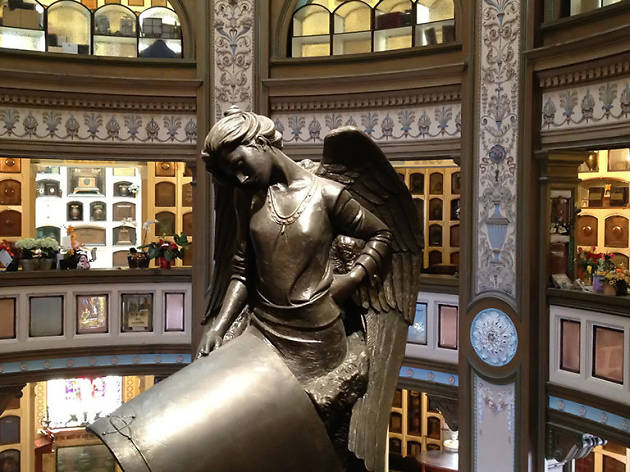 Photograph: Courtesy Creative Commons/Wikimedia/Frank Schulenburg
San Francisco Columbarium
Tucked into an inconspicuous courtyard, the 1898 neoclassical funeral home houses the ashes of more than 8,000 San Franciscans, including the Folgers family (yes, of coffee fame) and many others whose names emboss street signs throughout the city. Tour the architectural landmark and you'll see some very quirky urns made out of martini shakers, tree stumps, Johnny Walker bottles and teapots, along with memorabilia such as baseball caps, reading glasses and theater tickets. If you stick around until the place is empty, you may hear footsteps in the rotunda. According to the site's longtime caretaker, the ghost of a little girl who died in the aftermath of the 1906 earthquake supposedly haunts the niche where she's interred.
Fun pumpkin patches near the Bay Area