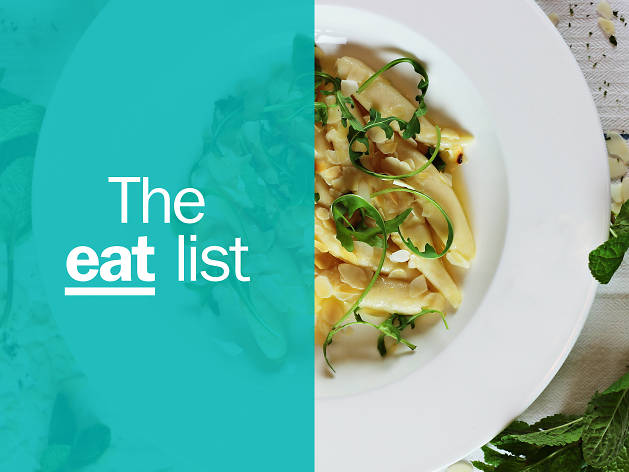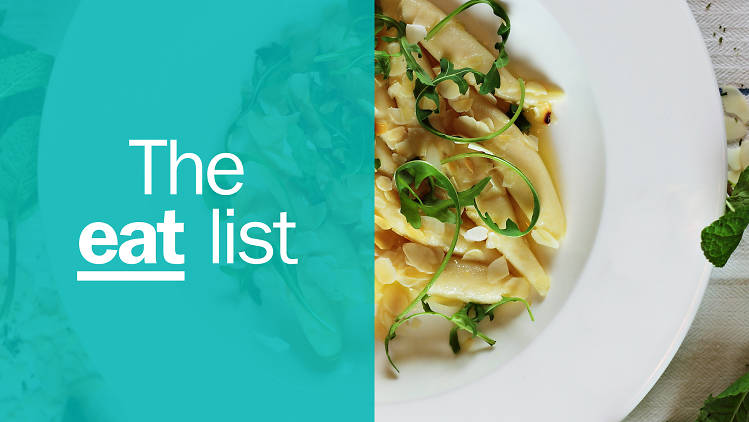 The 10 best restaurants in Sedona
Treat your inner foodie to the best restaurants in Sedona, where local seasonal ingredients meet bold diverse flavors
Sedona's food and wine scene varies from high-end to earthy organic, with a bit of laidback touristy thrown in for good measure. Mexican food is just as common as pizza here, but at the same time you'll be able to find the type of fine dining venue with lengthy wine list you might be accustomed to back home. The trend here has long been a focus on fresh, healthy, local ingredients, so vegans and vegetarians will have no problem finding a good meal. If you're looking for fun things to do in the city, live music is another popular trend, so prepare for some intimate acoustic sets while you eat. Because the town is surrounded by gorgeous red rock formations, great views are almost never a problem, as most restaurants offer a patio for your leisurely meal. Here's a our pick of the best restaurants in Sedona.
Best restaurants in Sedona
1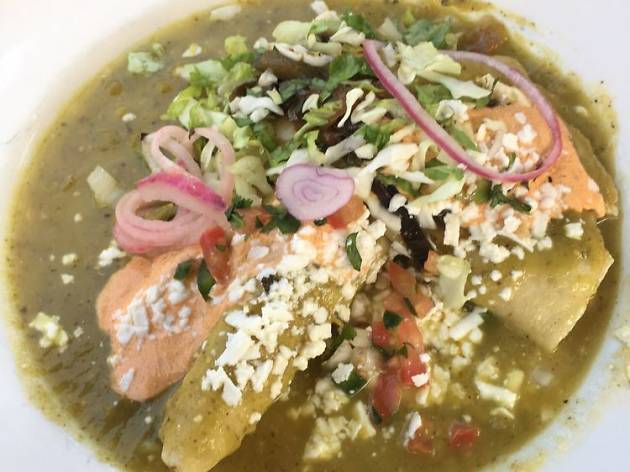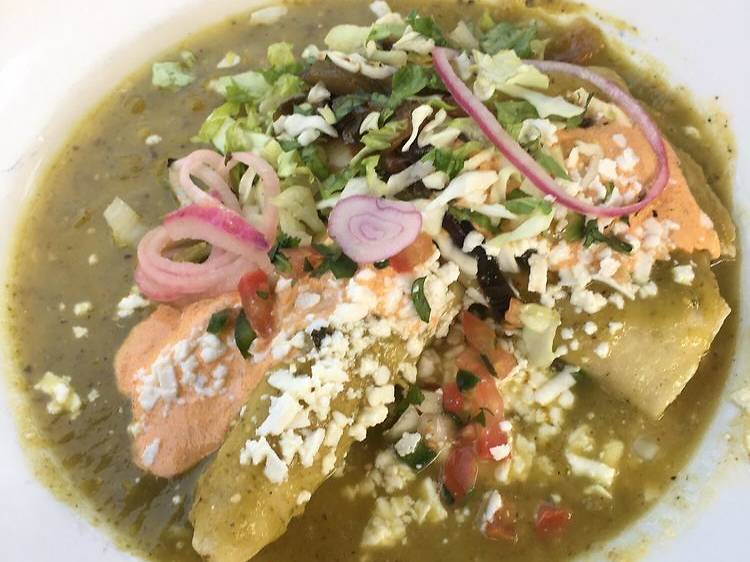 Photograph: Courtesy Yelp/Jessica W.
What is it? Started by James Beard nominee Chef Jeff Smedstad, this destination dining spot is named after a food—street corn—the chef learned about on his travels throughout Mexico.
Why go? The namesake, Elote, is a small dish of fire roasted corn cut straight off the cob with mayonnaise, lime, hot sauce and cotija cheese crumbles. It's the must-try appetizer at this Mexican restaurant. Also worth trying: the cucumber margaritas and any entrée with molé.
Price? Pricey
2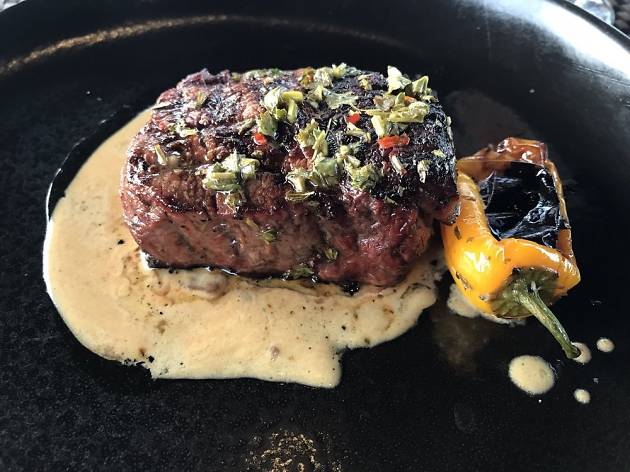 Photograph: Courtesy Yelp/Lauren C.
Marioposa Latin Inspired Grille
What is it? This is the newest of Chef Lisa Dahl's string of fine dining restaurants in town, all of which feature beautifully designed spaces and local, organic and sustainably sourced ingredients.
Why go? Sit down underneath heavy wood beams to try Dahl's wood-fired, handmade empanadas or Australian rack of lamb, while admiring the red rock view through floor-to-ceiling glass walls. The wine list is an impressive 600 bottles strong.
Price? Pricey
3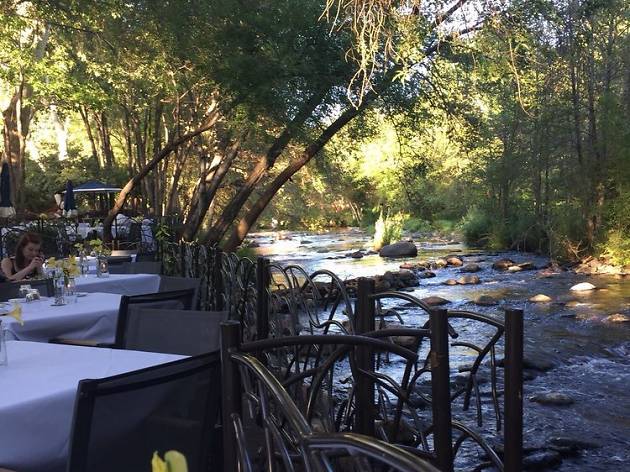 Photograph: Courtesy Yelp/Sherry K.
What is it? Imagine candlelight at dusk, white linens, champagne, and water cascading over rocks along a creek beside you. That is the outdoor dining ambience at the highly esteemed L'Auberge resort.
Why go? It's truly lovely and truly romantic, making use of the gardens on property in recipes that might call for herbs, including lemon verbena, basil and lavender. The restaurant's new chef, Franck Desplechin, creates seasonal dishes, such as game hen with a desert honey glaze.
Price? Pricey
4
Photograph: Courtesy Yelp/April P.
Dahl & Di Luca Ristorante Italiano
What is it? This was the first of half a dozen restaurants opened by aforementioned restaurateur Lisa Dahl. This former drive-through restaurant is one of Sedona's most talked about dining establishments.
Why go? They serve classic Italian cuisine, including pasta, wine and tiramasu. A self-taught chef, Dahl also has a love for art and design that shows up in silk drapery and crystal chandeliers gracing the dimly lit space. You'll dine to the sounds of live piano music in the background.
Price? Pricey
5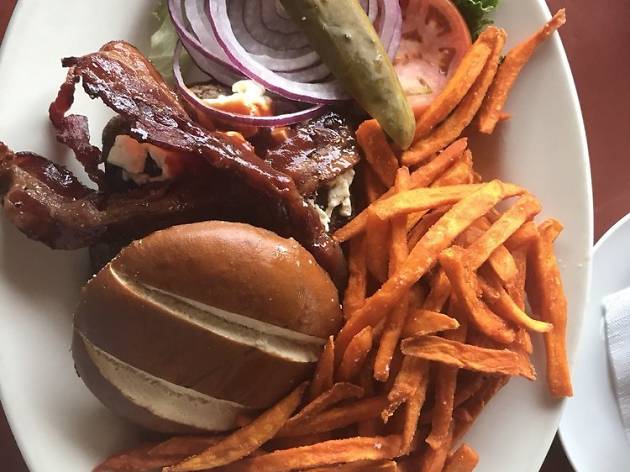 Photograph: Courtesy Yelp/Larry T.
What is it? Located in Uptown, Sedona's busy commercial strip, this intimate restaurant is one of the area's only music venues.
Why go? Find great patio views, hand-cut steak and weekly wine tastings here, as well as a Lobsterfest in July and semi-regular visits from musician Esteban, who comes to play acoustic guitar. Be the first to order the $35,000 burger: The "side" is a commemorative guitar signed by Stevie Ray Vaughn, part of the owners' collection on the Guitar Gallery wall.
Price? Average
6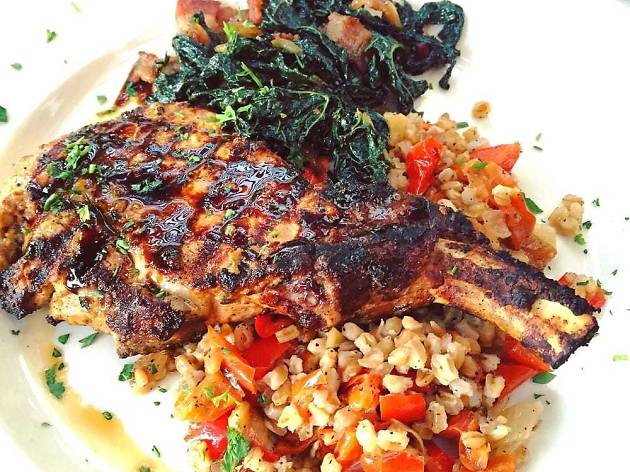 Photograph: Courtesy Yelp/Wenky W.
What is it? One of Lisa Dahl's earlier properties, this Italian-Mediterranean venue is located in Sedona's village of Oak Creek. Its Old-World décor includes arched windows, wooden doors, water features both indoors and out and plaster painted walls.
Why go? Guests can dine al fresco on the patio, where, in the winter, twinkle lights and fire pits keep patrons cozy. Cucina Rustica is open nightly for tapas and signature dishes like antipasti and hearty meat lasagna for dinner.
Price? Pricey
7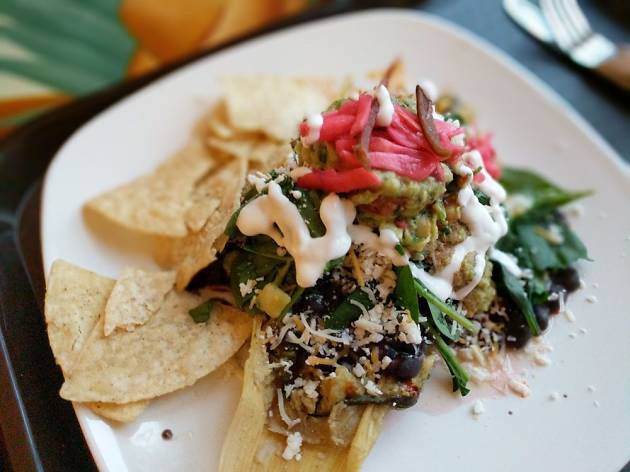 Photograph: Courtesy Yelp/Barnabus L.
What is it? At this house-turned-restaurant, known for its specialty–tamales–the owner grows herbs right on property.
Why go? The ingredients are fresh and the tamales serve all tastes. Simple and authentic, order a la carte or as a platter with sides of Spanish rice and black beans or salad off the limited menu. The vegetarian-style is a favorite, and comes with mushrooms and spinach or beans and cheese. The décor is Mexico-inspired and includes a fun mix of painted wooden chairs and mismatched dishes.
Price? Bargain
8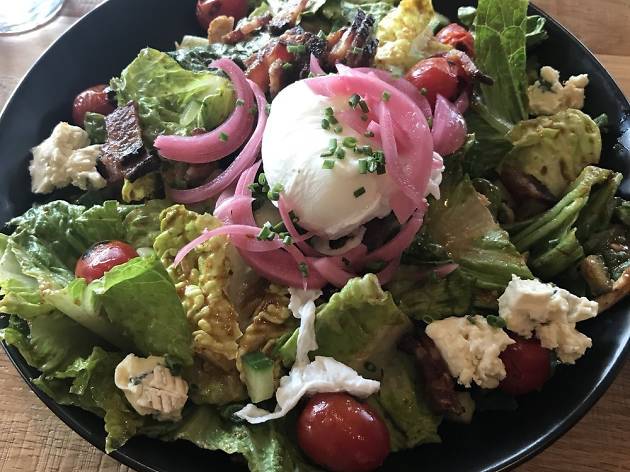 Photograph: Courtesy Yelp/Christine C.
What is it? Guests take advantage of an indoor/outdoor patio at this casual, family-friendly restaurant at the Hilton Sedona Resort at Bell Rock.
Why go? Lounge on Adirondack chairs beside large fire pits on chilly nights or play ping pong, corn hole and other games in daylight. The Southwestern-inspired menu includes burgers, flatbreads and wings, and the bar serves local craft brews. The restaurant also hosts weekly events, such as stargazing and yoga classes.
Price? Average
9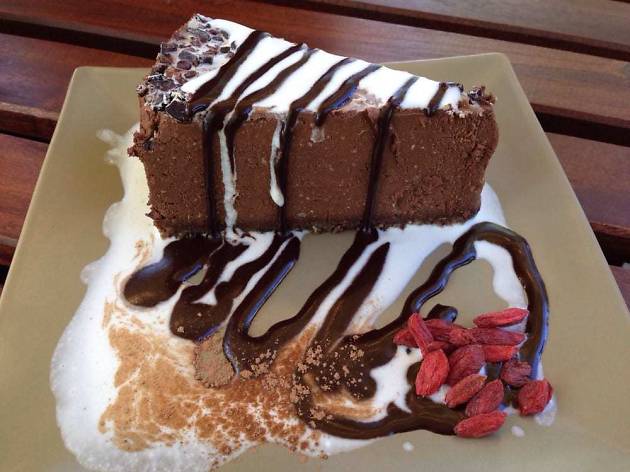 Photograph: Courtesy Yelp/Jen T.
Chocolá Tree Organic Oasis
What is it? A super cool little shop, deli and café off the 89A highway.
Why go? The founders of Chocola Tree care about the Earth, which shows in every inch of their self-professed sanctuary. Their products and ingredients are all locally sourced – if not grown in their own garden – and are free of processed sugar and gluten. Homemade raw vegan and veggie dishes are always available, and the array of irresistible-looking chocolates are all created from their small cacao farm.
Price? Bargain
10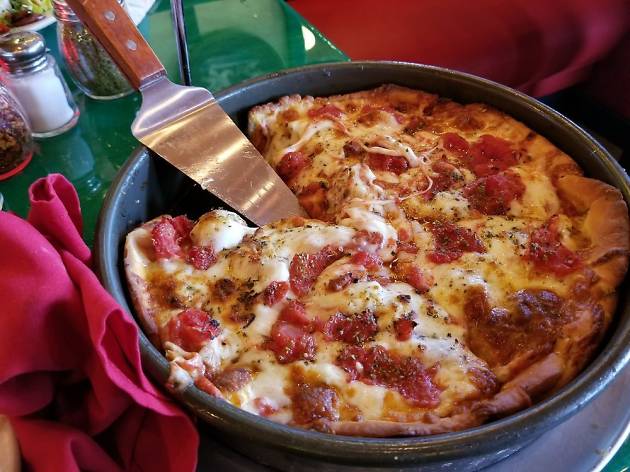 Photograph: Courtesy Yelp/Tony V.
What is it? Go retro at this Chicago-style Italian eatery (a 25-year-old Arizona chain) with 1950s TV shows on screen, menus that look like record albums and zany dishes that promise to "Legalize Marinara."
Why go? Whether it's pizza, pasta, salad, Guac-a-Tony (a guacamole appetizer mixed with hummus, served on top of thin parmesan pizza crust) or pizza cookie, it's all over-sized for sharing. The full-service bar's frozen Bellini is so strong, customers can only order two.
Price? Average
Discover Time Out Market: the best of the city under one roof
Explore the best of Sedona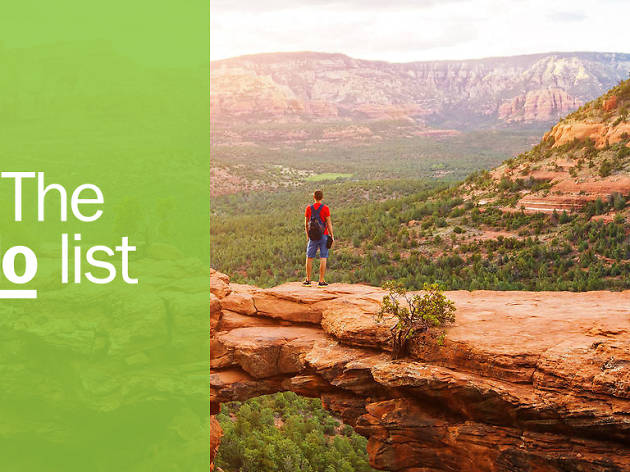 Sedona, the vibrant land of red rocks, verdant landscapes and bright blue skies, is one of America's most beloved cities in the Verde Valley. Explore the landscape, fine art galleries, boutiques, native artifacts, historical sites, creek-side resorts, spiritual and wellness sites and more.