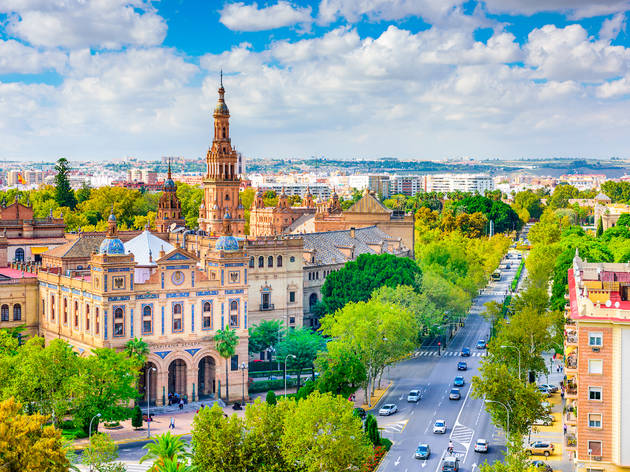 Essential Seville: sunshine, tapas and Moorish sights
Year-round sunshine, tapas feasts and exotic Moorish sights – take in the best of the stirring Spanish city in Time Out's essential travel guide
What's the deal with Seville?
Sun-drenched Seville is a dreamy year-round destination if you're not keen to spend your well-earned holiday rushing from sight to sight ticking off must-see attractions. When visiting this laidback Spanish city, your time is best spent drinking in sunny plazas and skipping between cheap tapas restaurants. Seville also has culture in abundance, from its opulent Moorish architecture to a rich maritime history. Spain's fourth-largest city is visually enchanting too, with its pastel-coloured houses, meandering cobbled streets and tiny flamenco bars. Not forgetting its most prominent feature: the towering gothic cathedral (the world's largest).
The Guadalquivir river in all its glory © Shutterstock
If you only do one thing
Spend some time by the Guadalquivir river – whether that's strolling next to it, kayaking along it or drinking beside it at bar Sojo. Or head across the Puente de Isabel II bridge to explore Triana, the former gypsy neighbourhood once famous for hardy seafarers and flamenco.
Dine in style
Reserve a table at Mariatrifulca so you can indulge in top-notch sea bass while overlooking that hypnotic river. It's always chock-a-block so book in advance, and ask for a table on the terrace while you're at it.
Eat on the cheap
Head to Los Coloniales, a down to earth tapas joint with playful waiters and cheap grub (dishes from £2.25). Try the hearty classic solomillo al whisky – pork in whisky and garlic sauce. Arrive by 8pm to bag a table outside.
View this post on Instagram
Drink like a local
You'll find locally brewed Cruzcampo beer in most bars. It's best slurped down at Plaza del Salvador. Or head to Pura Vida Terraza, a laidback rooftop bar overlooking the cathedral, for a tinto de verano – Andalucía's answer to sangria.
Stay up late
Stop off at Bar Garlochí for a nightcap. Inside you'll find shrines dedicated to the Virgin Mary, statues of Jesus and slightly unnerving portraits of the owner in his younger days. It might have a church-like feel, but you won't find anyone here for Sunday prayers.
Soak up the vibes
Sink a few cold ones at Bulebar Café down at Alameda de Hércules, arguably Seville's trendiest area. The slightly unkempt plaza, bigger than a couple of rugby pitches, is where hipsters booze, flamenco artists jam and kids kick footballs around in the sunshine.
Pretty Moorish: The Real Alcazar © Shutterstock
Get cultural
Tour the Real Alcázar, a Moorish-style palace with maze-like botanical gardens, technicolour flowerbeds and freely roving peacocks. Fantasy fans might recognise it as Dorne from 'Game of Thrones'. Save queuing in intense heat (it can get up to the mid-40s in July and August) by booking online. And for those who like their culture with a slice of chilling, head to Parque de María Luisa, an oil painting of a park with palm trees, winding paths and pavilions. Its home to one of Seville's most popular attractions: Plaza de España, best visited at sunset when the impressive building gives off an ethereal golden glow.
If you want to take a day trip
Jump on the train to Cádiz (single from £10.15), approximately 1 hour and 40 minutes from Seville. One of the oldest cities in Europe, it offers fresh seafood, quaint beaches and iconically colourful buildings.
Hang out in this 'hood
If you're after somewhere local and lively, stay near Alameda de Hércules and its central square. Hotel One Shot is ultra-hip and close to the action, with double rooms from around £89. Or check Airbnb for a range of cute apartments from approximately £50 per night – be sure to get one with a balcony for those beautiful views.
Park yourself in Parque de María Luisa for a few hours of relaxation © Shutterstock
Only in Seville
Hang out at La Feria food market. Visit in the afternoon, from Thursday to Monday, to catch chattering locals knocking back vino on the sun-baked cobbles. The food here ranges from local jamón to pizza slices served at La Tradizionale or falafel at Pitacasso.
The best things to do in Seville
The best things to do in Seville embody every Spanish cliché—and we're not mad about it. The spirit of Al-Andalus lives on in the sinuous alleys of the old town, the spellbinding palaces and secret courtyards, and even in the minaret-cum-bellower of La Giralda, the city's much-loved symbol.