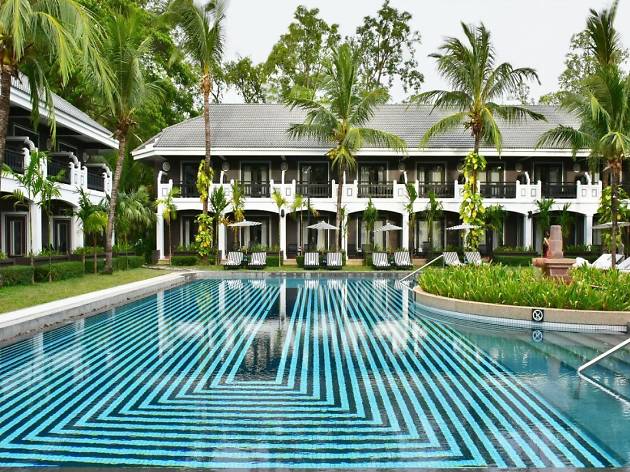 The 10 best hotels in Siem Reap
Look beyond Angkor Wat and Make the most of contemporary Cambodia with the 10 best hotels in Siem Reap
Formerly the stopping-off point for resting your weary ankles while exploring the temples of amazing Angkor Wat, Siem Reap has now flourished into a destination itself. Despite the city having few tourist attractions, there are still lots of things to do, see and discover. A burgeoning creative scene takes in annual film and photography festivals, and the town is also the home to Cambodia's leading contemporary circus. Unsurprisingly, there are plenty of opportunities to spend your dollars (the most accepted currency) too, with first-class shopping and cuisines to suit all tastes and pockets. Accommodation-wise, you'll find the best selection in Cambodia; from many top-end, tasteful spa hotels right down to backpacker hostels. Add in stilt houses, gay-friendly options, eco-chic resorts and social collectives and you've got something for everyone. Here are our favourites.
Best hotels in Siem Reap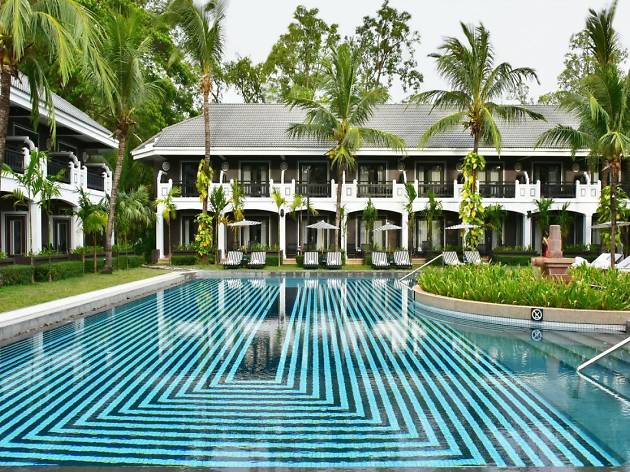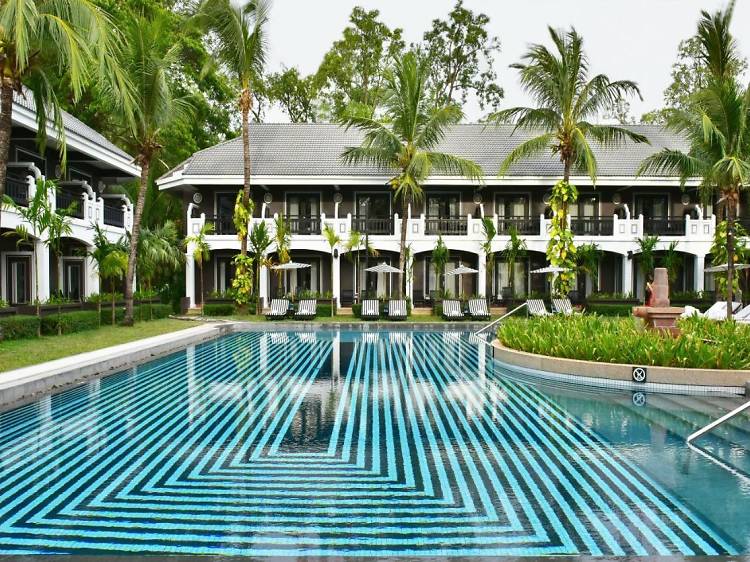 Courtesy of Booking.com
The more reasonably priced of Siem Reap's small Shinta collection is just as tasteful as its more expensive stablemates, and a treat to stay in – 'boutique resort' describes it perfectly. Most of the 62 rooms and suites have a view of the stunning stripe-tastic swimming pool, and you can use the bars and restaurants of the other Shinta properties or dine in-house on International comfort food and local dishes. Perhaps best of all, you can sip your Ginger Khmer knowing that a proportion of your room rate is going towards helping the community and young adults via the Shinta Foundation.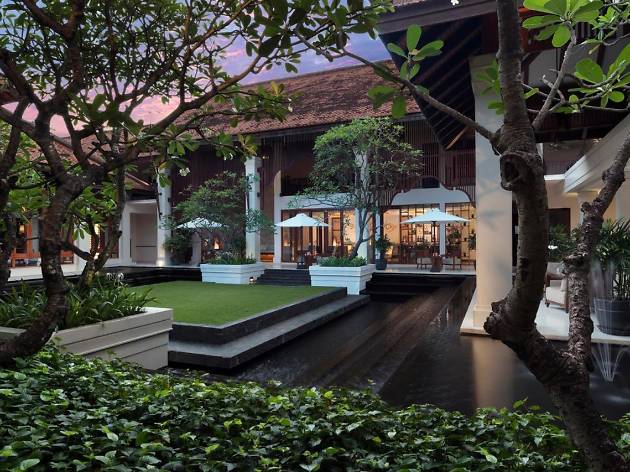 Courtesy of Booking.com
More geared towards couples (but not exclusively), this intimate and peaceful resort exudes luxury, with 39 tasteful suites of varying size and (top) quality surrounding an 18m saltwater pool. The staff and service are particularly stand-out here; from a rejuvenating welcome foot rub to cold drinks and towels on arrival for weary explorers, nothing is too much trouble. They even give you a mobile phone, so you can call them when you're ready for a complimentary tuk-tuk ride home. Slightly away from town, it's well located for the airport and Angkor Wat.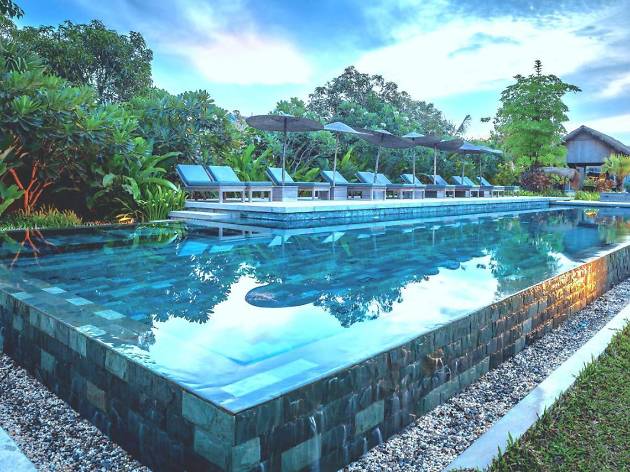 Courtesy of Booking.com
You simply can't get more unique and authentic Khmer than staying in one of these 11 traditional stilt houses rebuilt and arranged to form an idyllic village. Retro-fitted by the Swiss owners to include modern comforts, it's rustic boutique-chic at its best. Air-conditioned rooms all have high ceilings and comfortable beds. Service is truly top-notch, and the restaurant offers an excellent menu which includes local fish from Tonlé Sap lake; enjoy it with a choice glass or two from the great wine list.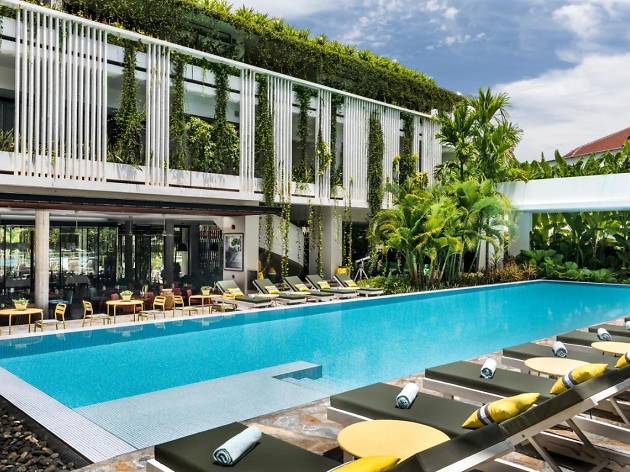 Courtesy of Booking.com
Start with an airport transfer by chauffeur-driven vintage limousine, then enjoy the stylish, 5-star luxury of one of the 35 rooms and suites designed by Bangkok-based hotel designer Bill Bensley; they beautifully blend contemporary features with Khmer antiques and artefacts. The salt-water pool area makes it feel resorty in a good way – a perfect place for a post-temple relax and cocktail, and both the restaurant and bar are chic and brimming with mid-century modernity. It's in a tranquil spot too, but bar-hoppers will be pleased to know that lively Pub St is just short walk away.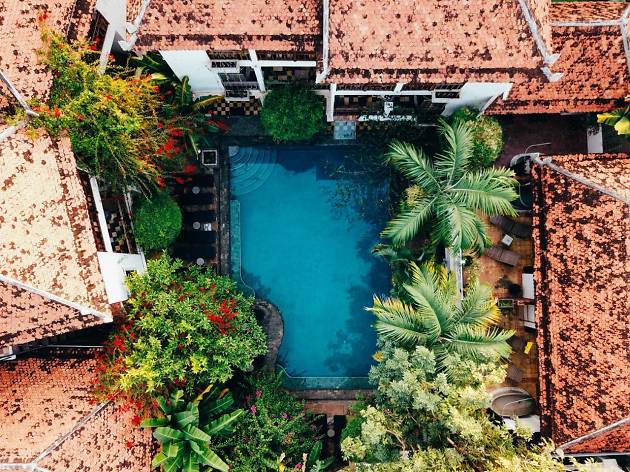 Courtesy of Booking.com
Set in a quiet area across the river from the Old Market, this gay-friendly 4-star hotel and neighbouring resort is cosy yet contemporary. The deluxe rooms in the resort all feature outdoor tubs and showers (watch the mozzies), whilst the villa rooms are spread over two levels. Each property has its own lush tropical garden and courtyard with pools. Guests rate the restaurant and bar and its highly trained staff – don't miss the coconut fish amok. If you're in Phnom Penh try the sister hotel, where the staff are equally charming.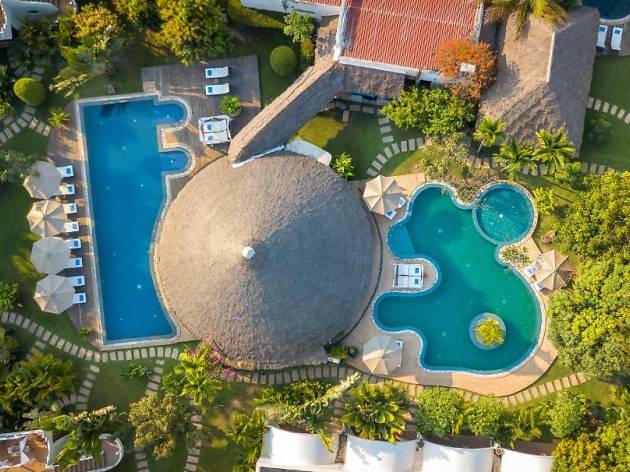 Courtesy of Booking.com
6. Navutu Dreams Resort and Wellness Retreat
Selling itself as an 'upscale eco-chic resort' you can certainly retreat from the throng here as it's located out of town and a good 30 minutes' tuk-tuk ride from the temples. The 18 standard 'Explorer' rooms all feature their own private gardens and views of either the lush gardens or one of the three pools. If you need even more space, retreat to one of the ten larger Grand Tour rooms or suites. Cuisine-wise, there's an extensive menu of Khmer and Italian dishes, with many healthy options, perfect for that post-yoga session or fitness workout.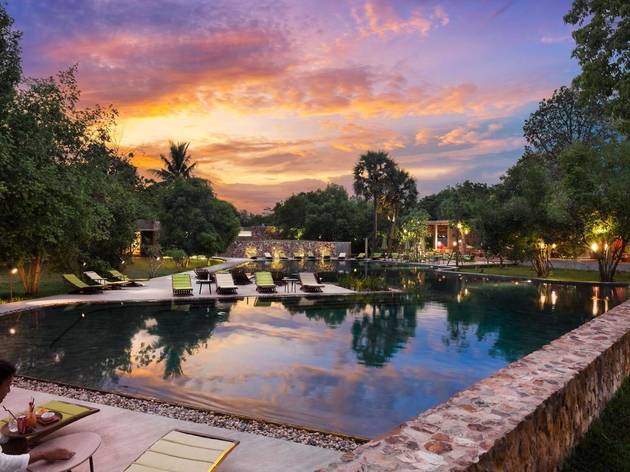 Perfectly located between the City and Angkor Wat, this contemporary property is worth a stay for the ginormous, lake-sized swimming pool alone. Its green credentials are impressive, with extensive solar panels, vegetal roofs and rainwater collection. All 21 detached guest rooms are 12 suites are tastefully minimalist and oriental, with outside bathrooms allowing everyone to bathe or shower under the stars. The sole bar and restaurant serves the usual blend of local and Western dishes; try the signature dragon fruit cocktail, the Banteay Srey.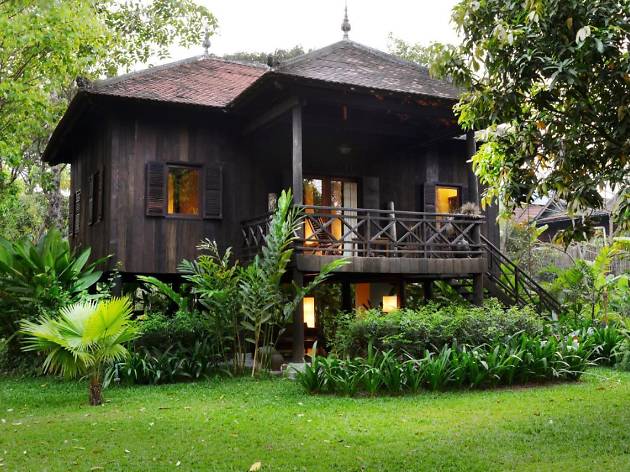 Courtesy of Booking.com
Bijoux and boutique, the five unique rooms here are spread across two traditional Khmer wooden houses. They all have hardwood floors, colonial Art Deco furniture and antiques from France and Cambodia, but no TVs, which makes for a nicely relaxing and 'heritage-style' stay both in your room and in the small pool and spa. Venturing further afield? Polite and friendly staff can arrange anything you need or want to experience, including cooking classes and free hire of vintage bicycles. The in-house chef blends French and Khmer cuisine, with an emphasis on plant and fish dishes.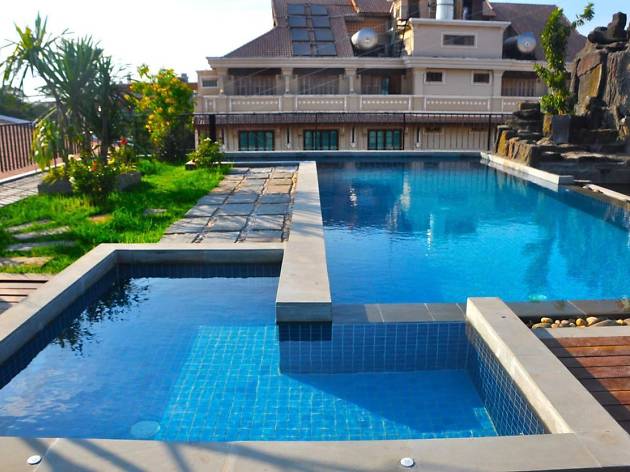 Courtesy of Booking.com
9. Soria Moria Hotel & Spa
Another hotel with a conscience, this newly-built 3-star promotes local causes and community projects, and since 2011 has also been part-owned by its staff. Early birds and sunrise seekers are dispatched with a packed breakfast, those who prefer a lie-in can enjoy a full buffet. After a day of temple action, relax into Sunset happy hour in the roof-top pool or hot tub before dining in the fusion restaurant down below. Rooms are on the basic side but nevertheless spotless, comfortable and fully equipped.
More oasis than bistro (despite the Franglais name), Le Bistrot is made up of several fully equipped and spacious villas set in lush gardens around a Moroccanesque pool. The charming hosts (les Philippes of the Bistrot's name, one a renowned chef) and their team are all super-friendly, helpful and attentive. The hearty breakfast served poolside will set you up for the day, and if you decide not to dine later from the gourmet/fusion menu, the bright lights of the city centre are a short tuk-tuk ride away.