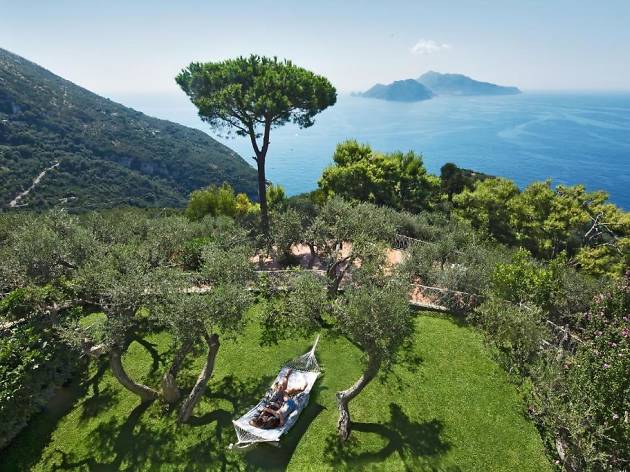 The 10 best hotels in Sorrento
Whether you're in the market for serious luxury or looking for something a little bit more traditional, Sorrento has the perfect hotel for you
One glance at the rugged, rural beauty of the Sorrentine Peninsula at you'd be forgiven for imagining that only the smallest of hotels could find a home here. But dotted among the secluded beaches and sea pool platforms is a surprisingly wide range of places to stay.
If you're seeking a hotel in central Sorrento, check out the stylish Jannuzzi, traditional Antiche, or the grand hotels Excelsior and Tramontano. Or head on up the hill to La Minervetta for a hotel that's brimming with character and provides stunning views across the bay. A little further out you'll find 1960s cool Modernist choices like the glorious Parco dei Principi and Aminta. But if Michelin-starred dining is your thing, try boutique hotel and restaurant Don Alfonso. Finally, the Relais Blu is perfect for a romantic hideaway in the heart of the Punta Campanella marine reserve. Wherever you stay, the gorgeous villas, vineyards and lemon groves of the region are all within touching distance.
Best hotels in Sorrento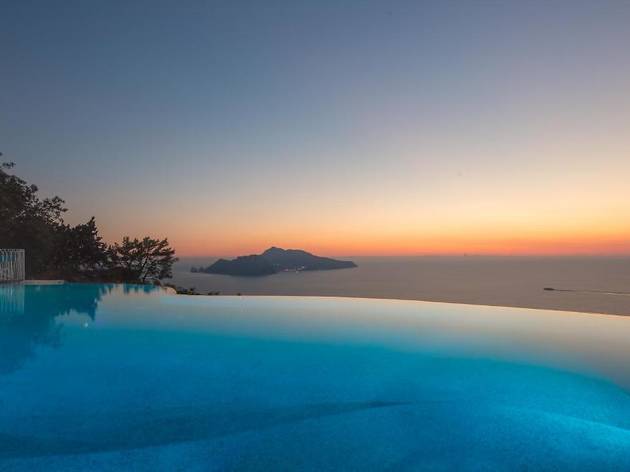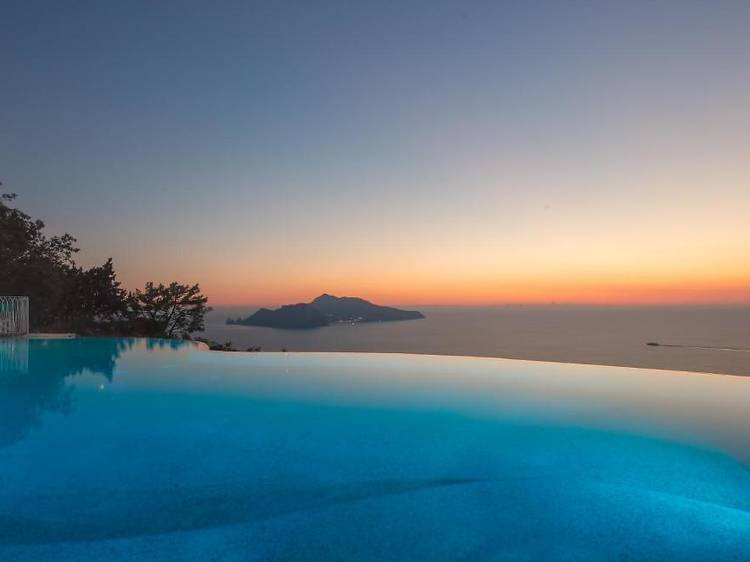 Booking.com
When it comes to location, this boutique hotel really delivers. Located right inside the Punta Campanella marine reserve, visitors are treated to stunning views of Capri, Ischia, Procida and Versuvius. Room interiors embrace a minimalist, marine-influenced aesthetic, combining cool expanses of white with bold flashes of Mediterranean turquoise. You'll also find a chic mix of contemporary and retro furnishings, plus a fine-dining restaurant under the leadership of chef Roberto Allocca. There is a modestly sized infinity pool and modern spa on-site, but for beach-lovers, the Marina Cantone beach is only a short taxi ride away. Hire a boat or simply enjoy a relaxing walk to the delightful La Conca del Sogno restaurant in Recommone.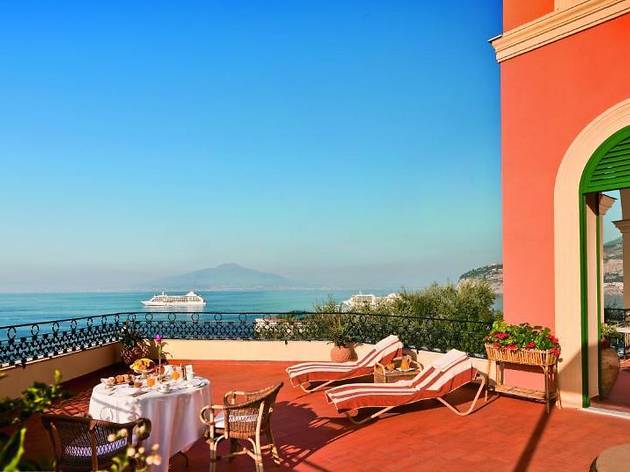 Booking.com
2. Grand Hotel Excelsior Vittoria
The grandest of Sorrento's grand hotels is set in five acres of orange and lemon groves, giving it a wonderfully peaceful atmosphere in spite of its central location. Spacious elegant rooms have period furniture, the occassional frescoed ceiling and 19th-century antiques, and all have terraces overlooking the sea or gardens. A holistic centre is set in the hotel's renovated 19th-century greenhouse, and there's Michelin-starred dining to be enjoyed at the Terrazza Bosquet restaurant, which has spectacular views over the Bay of Naples.
Booking.com
A short stroll from Sorrento's centre, La Minervetta has a spectacular position overlooking the Marina Grande, and it's easily one of the most stylish places to stay on the Sorrentine coast. Run by Marco, an interior designer, and his wife Eugenia, it's brimming with character. Each room is individually styled in bold colours, with a nautical theme, plus books, boats, and other ephemera collected over the years. A dining area serves excellent breakfasts, and beyond it lie a lounge are and sun terrace. Another terrace with a small (unheated) pool, has private steps down to Marina Grande.
Booking.com
One of the best reasons to venture beyond Sorrento is to sample the two-Michelin starred food of Alfonso Iaccarino and his son Ernesto. And to really enjoy it, you might as well book a room. Each has been styled (by the same team behind La Minervetta) in a delicious combination of bright and pastel colours. The garden and pool are very restful, and the reception area charming, but really you're just biding your time until dinner, the ingredients for which are harvested from Iaccarino's organic farm in the Punta Campanella. If you're inspired, cooking classes are also available.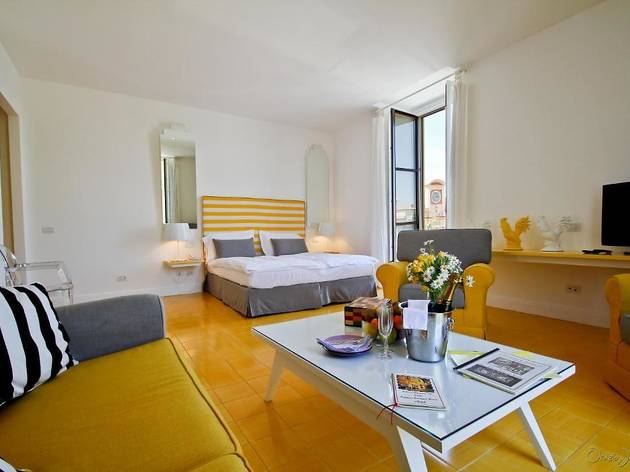 Booking.com
5. Hotel Palazzo Jannuzzi
Slap-bang in the centre of Sorrento, Jannuzzi is a family-run boutique B&B that was designed by local architect/designer Marco de Luca (of La Minervetta fame). With a dazzling palette of yellow, white and black, rooms are stylish and spacious, some with terraces, and there's an apartment complete with its own terrace, kitchen and, er, exercise bike. Breakfasts, including freshly baked pastries, on the terrace are something else. The location is perfect for local shopping, restaurants and bars, and it's a short walk to the port for boat trips.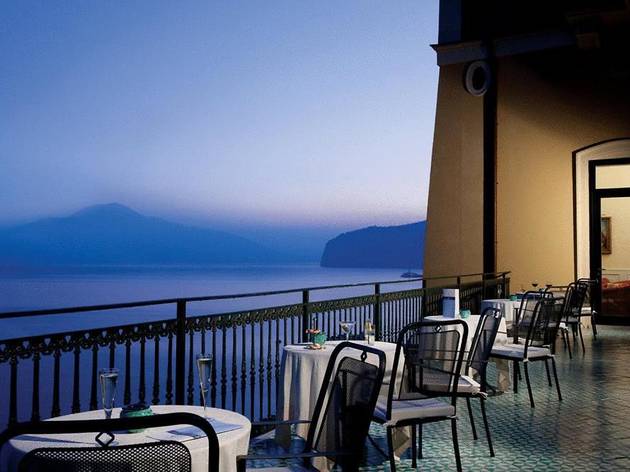 Booking.com
6. Imperial Hotel Tramontano
There are few better views of the sea and Vesuvius than from the terraces of this four-star grand hotel. Public frescoed areas are furnished with oriental carpets, majolica tiles and antique paintings, while elegant rooms have views of the sea or the beautiful Mediterranean gardens. There's a pool, access to the beach via a lift, and the kitchen is under the supervision of Alfonso Iaccarino, of two-Michelin-starred Don Alfonso 1890 fame. There's even a chapel, a frescoed jewel that dates back to 1500 and was completely restored in 1890.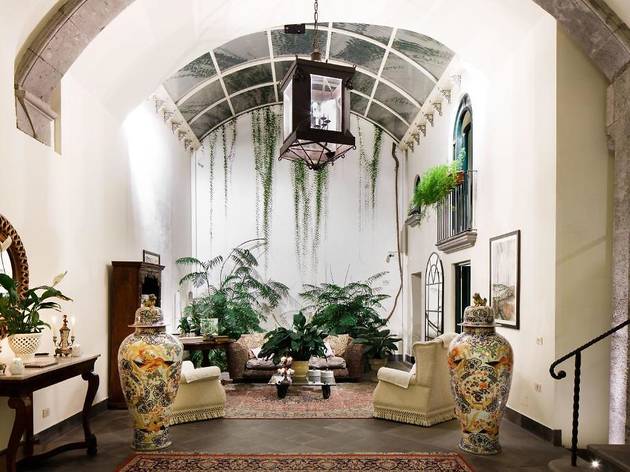 Booking.com
Once the residence of the Savarese family, this 15th-century building has been sensitively converted into an intimate luxury hotel, while maintaining plenty of the original Catalan-Durazzo architectural features in the public areas. The hotel, overlooking the gardens of Piazza San Francesco and not far from the 14th-century San Francesco cloister and Villa Comunale, is located nearby to an abundance of shops and restaurants. Rooms are more contemporary, and the Marziale Suite has its own interior garden patio. Two restaurants both serve traditional Italian cuisine with a modern twist.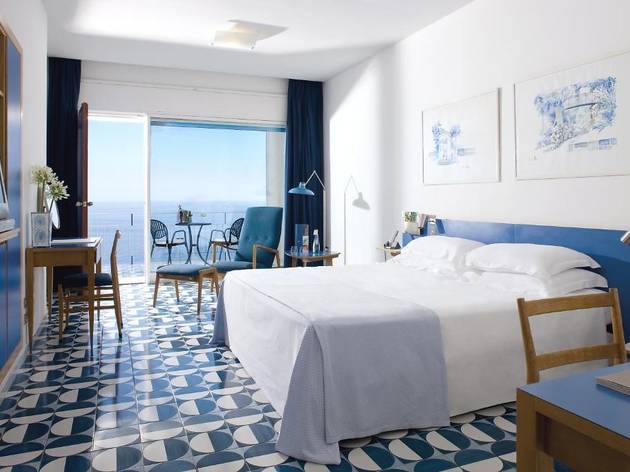 Booking.com
A mile from the centre of Sorrento, this wonderful Modernist creation, set within a park, was dreamt up by Giò Ponti. One of Italy's most important architects, Ponti designed the 'Superleggera' (a 'super-light' chair that a child could pick up) and the iconic Pirelli building in Milan, and here at Parco, he created everything from the furniture to the floor tiles, which are all set differently to create unique designs in each room. A wonderfully fresh palette of blue and white extends throughout, from the simple rooms to the restaurant and the lovely seawater pool.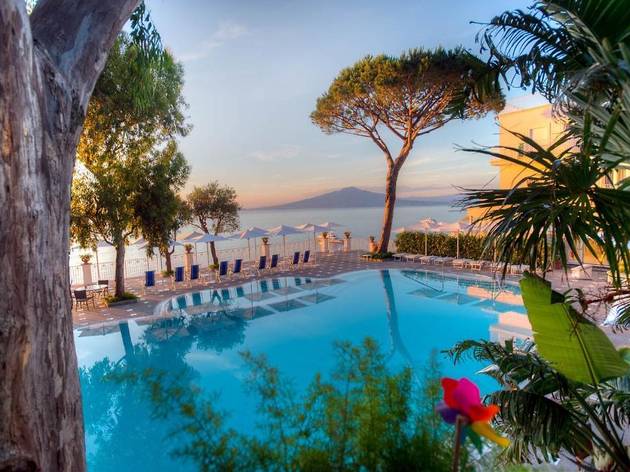 Booking.com
Another very cool looking hotel, the four-star Aminta has retained its 1960s styling in the common areas, including a wonderful curved central staircase, wide windows, and tiled flooring. It's a little way out of Sorrento (there's a shuttle bus) but, perched on a hillside, the hotel has great views of the Bay of Naples and Vesuvius. Rooms, while not exactly cutting-edge, are clean and comfortable. There's an on-site restaurant and bar, and the terraces are lovely for lunch, dinner and cocktails. Around the fabulous heated pool there's summer entertainment, and plenty of excursions are available.
Booking.com
A traditional hotel in the heart of Sorrento town centre, Antiche Mura is situated beside the ancient walls that once protected the city from would-be attackers. Rooms have hand-painted tiled floors and marble bathrooms. Breakfasts are legendary, with a staggering array of pastries and cakes served in a striking Art Nouveau-style dining room. During the summer, simple food is served around the outdoor pool, set within a gorgeous citrus grove garden. Half board is available using an off-site restaurant located in the main square in front of the hotel.