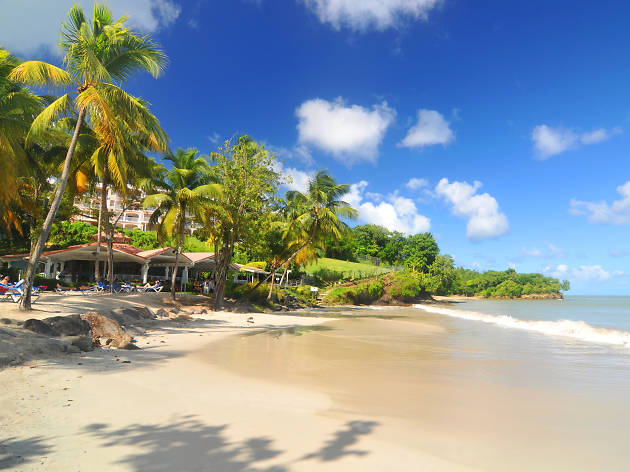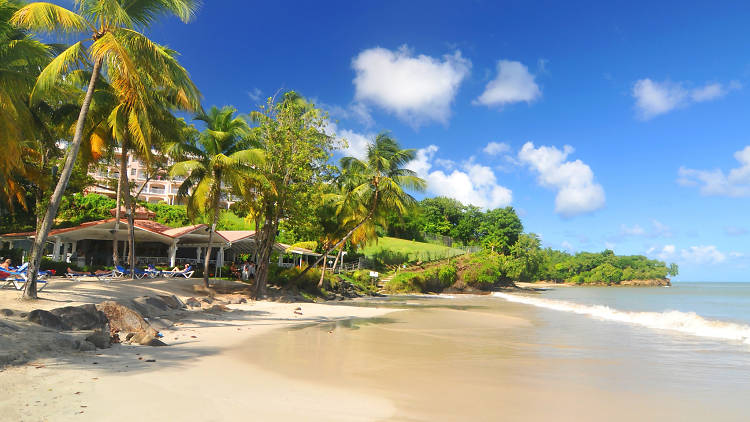 48 hours in St Lucia
Two days in paradise is never going to be enough, but you can still get a lot of out of the Caribbean's lushest island in 48 hours
Covered in a thick blanket of rainforest, the teardrop-shaped Caribbean island of St Lucia is a visual treat. Driving south from the airport you look out onto a dense mass of giant ferns, vines and white milkwood trees with occasional breaks to allow the Caribbean Sea to flash you a blue wink through the foliage.
The iconic Pitons – Gros Piton and the Petit Piton which, together with 3,000 hectares of surrounding forest and nearby coral reefs, make up a Unesco World Heritage Site - dominate the landscape and grace nearly every postcard. But forget pictures, in the end it's best to put the lenses away and just let the beauty of it all soak in. It's going to be two days to remember.
48 hours in St Lucia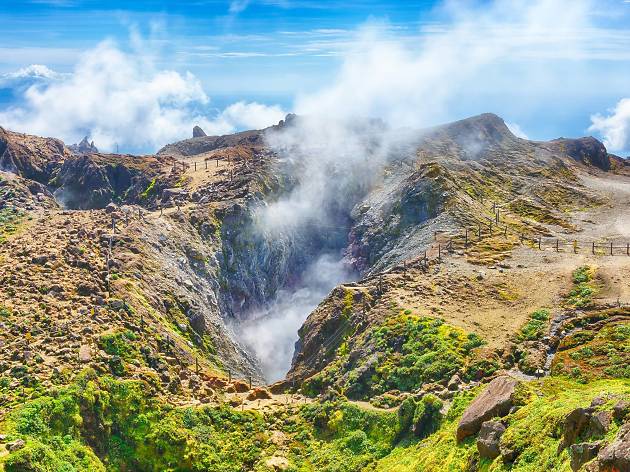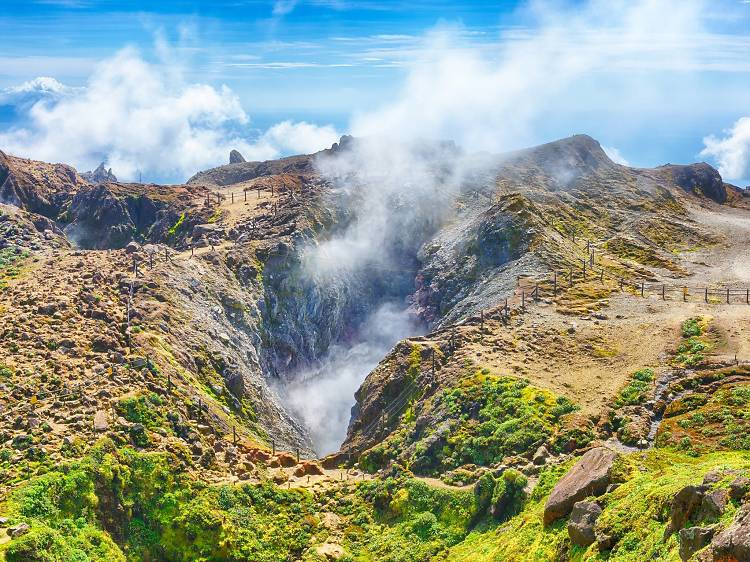 Photograph: Shutterstock
Soak in volcanic mud at Sulphur Springs Park
St Lucia's dramatic landscape comes courtesy of the island's volcanic past and the now dormant crater in the centre is touted as the world's only drive-in volcano. Once through the gates of Sulphur Springs Park, the track takes you past sulphurous fumeroles, hot springs and rock faces marbled with white, yellow and orange streaks. Despite the steam rising up, the water temperature in the spring pools is a very pleasant 38°c, and for a small fee you can enjoy the mineral baths and skin-softening mud.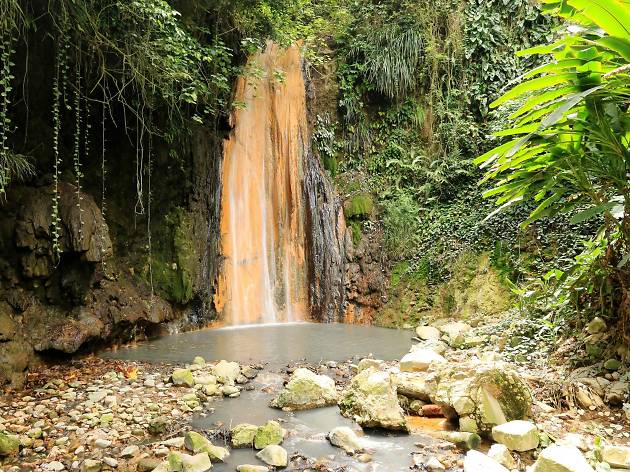 Photograph: Shutterstock
A three-in-one delight at Diamond Falls Botanical Gardens
A short drive from Sulphur Springs, Diamond Falls has three attractions: a lovingly-maintained botanical garden, a small but sweet waterfall and tiled mineral baths, originally built in 1784. There are two sets of baths, both fed by the same sulphuric springs that keep the volcano's pools bubbling. Unless you're particularly shy, the three public al fresco baths offer a nicer experience than the private covered ones. The park promises that both will have you feeling seven years younger, but it's ambling around the tranquil gardens that really puts a youthful spring in your step.
A homely lunch at Martha's Tables
Despite being off the map, at least as far as most tour buses and cruise ships are concerned, a seat at Martha's Tables is still well worth booking in advance. Situated on the home terrace of owner and cook Martha, the tables at this restaurant are coveted and with good reason: Martha's portions are as generous and warming as her hospitality. The spicy catch of the day served with plantains, rice, beans and potato salad is a great introduction to the joys of creole cooking. Main courses are rarely more than a bargain EC$35 (£9.20).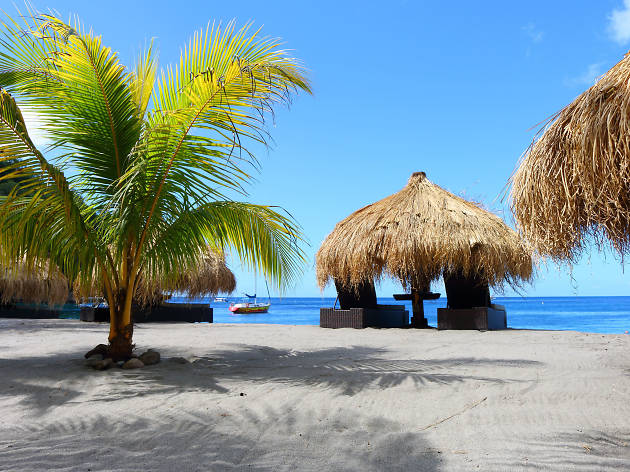 Photograph: Shutterstock
Lounge on a picture-postcard beach
All of St Lucia's beaches are public, so you are free to amble along to any stretch of sand that takes your fancy even if it's surrounded by a resort. Grab a water taxi from Soufrière and take your pick between Anse Chastanet with its buzzing beach bar or the more secluded Anse Cochon. Both beaches boast great snorkelling a short splash from the sands, with parrot fish, octopus, turtles and technicolor coral awaiting. Anse des Pitons, aka Sugar Beach, nestled between the Pitons, is also within easy reach. Much to the chagrin of purists, its fine white sands were imported from Guyana, but are undeniably stunning.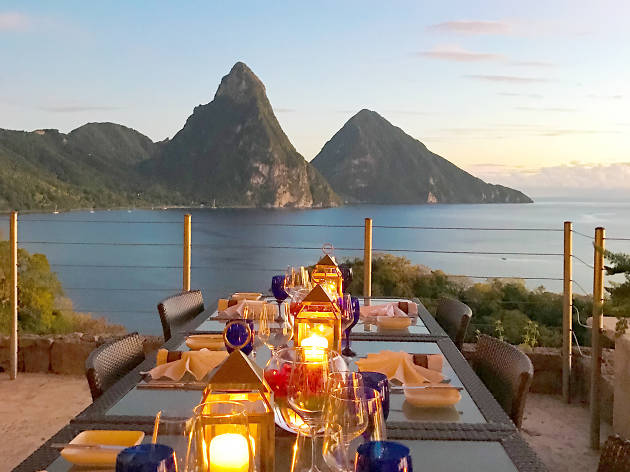 Dinner in the clouds at Jade Mountain Club
Jade Mountain is the most exclusive resort on the island. The brainchild of architect Nick Troubetzkoy, its rooms are wall-less with their own private infinity pools meaning you can swim out into the elements. If it feels a bit too steep to stay the night (rates start from £858), the restaurant is worth a visit. You'll need to book ahead, but you'll be rewarded with stunning views across the island and high-end cuisine using ingredients from the hotel's organic farm situated in the nearby hills.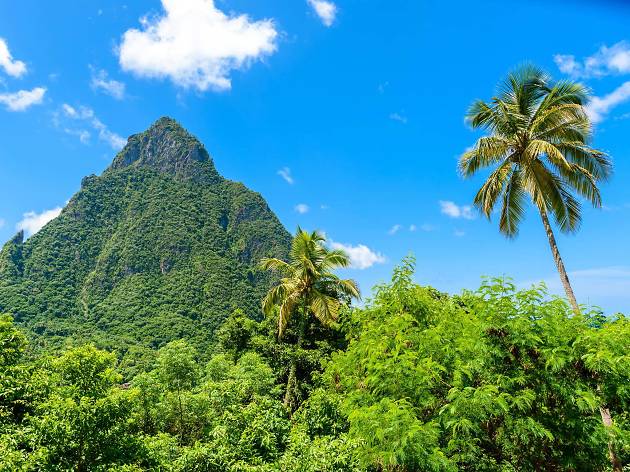 Photograph: Shutterstock
Conquer Gros Piton
If you're up for the hike, the best view in the Caribbean is awaiting atop Gros Piton. It will mean an early start to beat the heat – most people commence the ascent at 7am. You'll need sturdy shoes and a guide from the Interpretive Centre at Fond Gens Libre, who for EC$80 (£21) will lead the way to the summit's stunning panorama which takes in everything from the Caribbean Sea to the Atlantic Ocean on the other side of the island. A round trip takes up to four hours. If that all sounds like a lot of effort on a holiday, you can book less arduous walks through parts of the island's 19,000 acres of rainforest via the island's forestry department.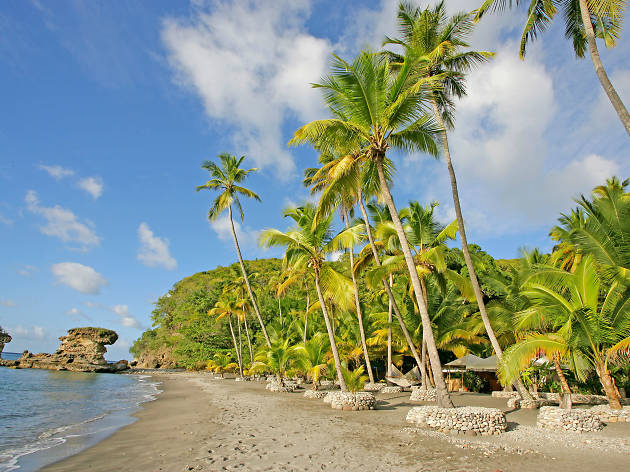 Burgers on the beach at The Jungle Beach Bar & Grill
After all that scrambling you deserve a burger, and the best one in town is available at The Jungle Beach Bar & Grill right on Anse Mamin beach. Everything is cooked up on an old sugar kettle - the giant drums once used to break down the sugar cane grown on the island's plantations. The beef burger with banana ketchup is good, but the fish burger is even better. Both are accompanied by plantain chips, shade from the palm trees and views out across the bay.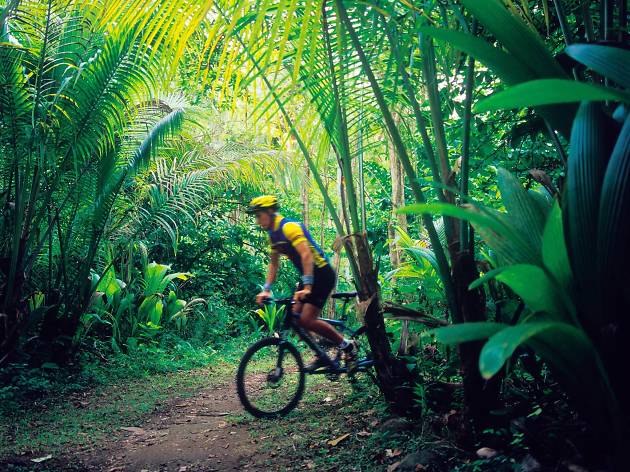 Experience a plantation on foot or by bike
Anse Mamin beach backs onto what was once a plantation but is now eight miles of mountain bike trails of varying degrees of difficulty. You can book a session and hire wheels for EC$150 (£39) from Jungle Reef Adventures, or, alternatively, you can take a more leisurely stroll through the island's history with a tour of Fond Doux Plantation, which sits on 135 acres of land and is still a working cocoa plantation.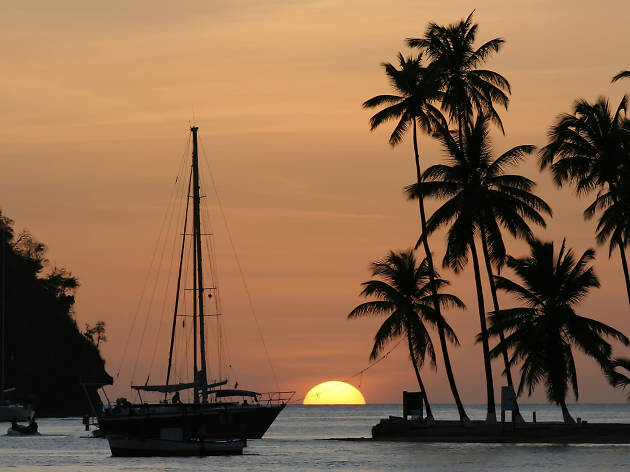 Photograph: Shutterstock
Take to the Caribbean with Mystic Man Tours
For a different view of paradise, head out to sea with a sunset boat cruise. The 52-foot catamaran 'Mystic' leaves Soufrière harbour every Tuesday and Friday, and loops off to the inner bay of the Piton Mountains. If you're lucky you may get a pod of dolphins to escort you there and you can certainly toast the setting sun with a glass of something bubbly.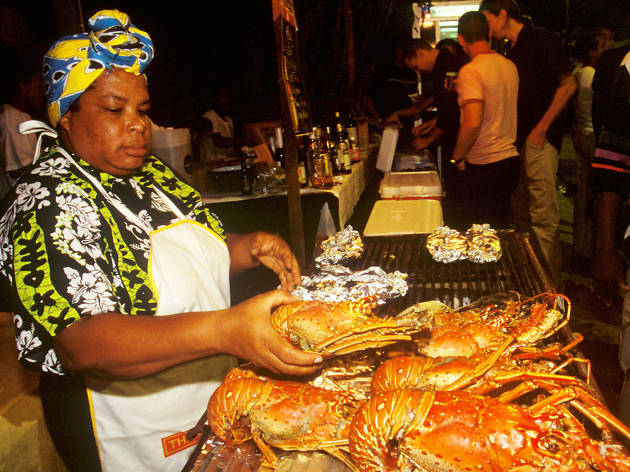 Photograph: St Lucia tourist board
Experience a jump-up
If your trip coincides with a Friday night you are in for a treat. Jump-ups are weekly street parties at which islanders, the yacht crowd and visiting tourists revel in the joys of rum and reggae. A 45-minute drive from Soufrière harbour gets you to Anse la Raye where every Friday stalls sell barbecued seafood, potent cocktails and bottles of the local Piton beer plucked from giant ice buckets. You eat where you stand or at the communal tables, often throbbing with laughter. If you're not on the island on a Friday, Hassy's Waterside Bar - a 10-minute drive and short ferry hop from Anse la Raye - does a good line in chilled vibes and garlic lobster.
Photograph: St Lucia tourist board
Looking for somewhere to stay?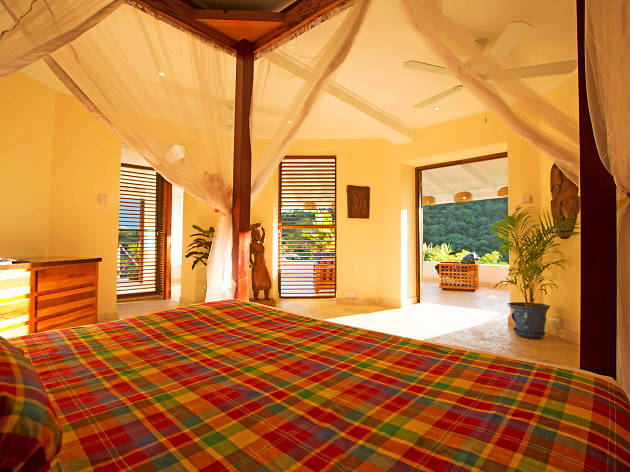 For those looking to experience the natural beauty of the island, the Anse Chastanet – sister resort of Jade Mountain and located up some steep steps from the beach that shares its name – is the best hotel on the island. Each room is unique: one has a tree growing through it, another a swing seat jutting out over the plantation, but best of the lot is the Royal Palm room which is open to the elements on three sides, allowing uninterrupted views of the Pitons, rainforest and beach. In all honesty you could spend two days happily there alone.
Best selling Time Out Offers