Davos - the best things to do in this winter-sport wonderland
Discover some of the best things to do in this famous Swiss ski resort.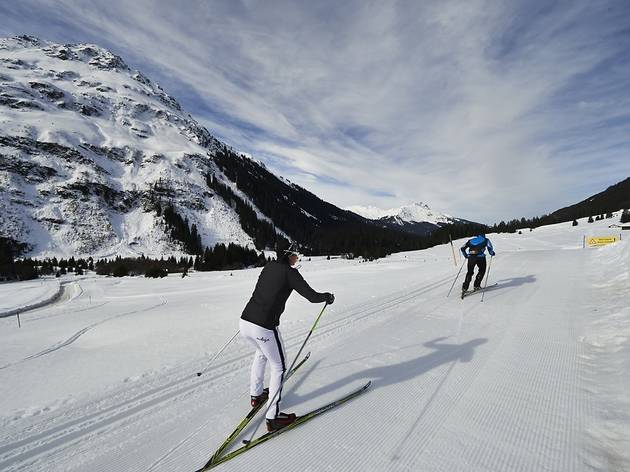 Davos one of the world's finest venues for winter sports. That reputation is based on a long history, because this is the birthplace for several sports on snow and ice. The first winter visitors arrived in 1865 and the resort steadily grew into a classic destination. A milestone came in 1894 when Sir Arthur Conan Doyle made a pioneering cross-country ski trip with two local brothers, Tobias and Johann Branger. A year later four lost British tourists stumbled upon the majestic Parsenn run, marking a mighty stride forward for Swiss skiing.
This was the first resort to install ski lifts and it is where the sports of bobsleighing and sledging began. Nowadays there are six main ski regions with a huge choice of runs. Freeriders find excellent opportunities off piste and snowboarder and freeskiers can take their pick of parks and pipes. Traditional mountain huts offer relaxation after tackling the slopes, while back in town there is outstanding après-ski entertainment in a range of hotels, restaurants, bars and clubs which cater for most tastes and budgets.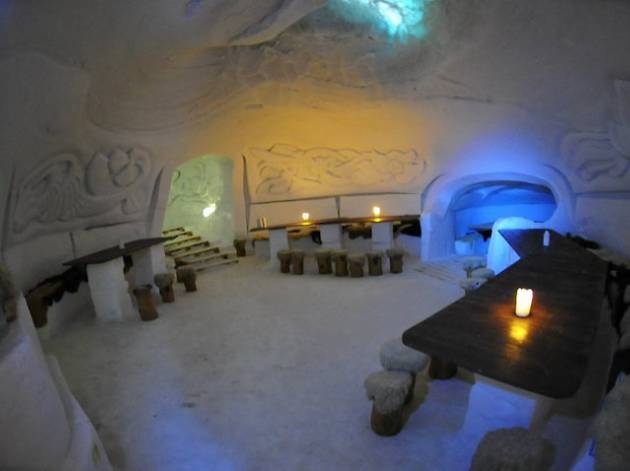 Davos Klosters
How about trying out Alpine accommodation experience with a difference? Davos Klosters has its own specially created igloo village, handily situated in the Parsenn ski area. There are several kinds of igloo to choose from and a menu of events and activities to participate in, ranging from fondue meals to carving ice sculptures. This is unusually luxurious ice accommodation - after dark you can gaze up at the stars from a sauna or hot tub. And staying here means you can have the bonus of hitting the ski slopes before the lift starts so that you get the piste all to yourself.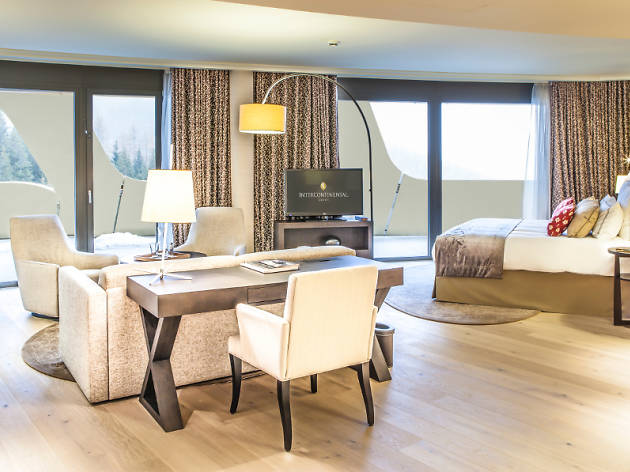 ©Destination Davos Klosters
2. Check into a luxury hotel
For an unabashed luxury hotel experience, check into the five star InterContinental in Davos town, 1,600 metres up in the Graubünden Alps. The hotel has 216 spacious rooms with striking mountain and valley views. The interiors have a contemporary Alpine ambiance, enhanced by tech amenities. There are three restaurants and two bars, with the Studio Grigio restaurant most prominent on the tenth floor.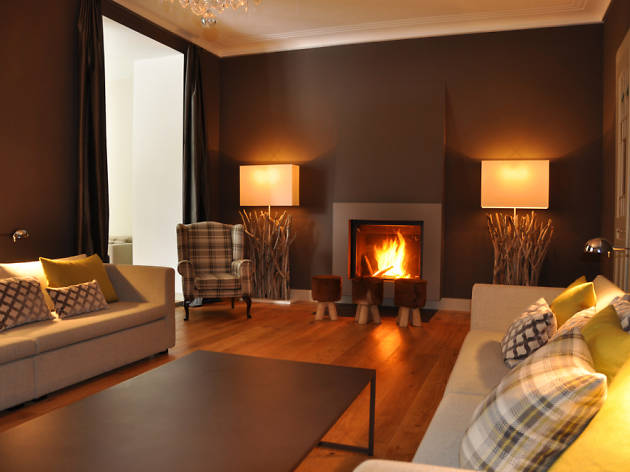 ©Destination Davos Klosters
3. Stay in a budget hotel
Staying in Davos Klosters doesn't mean having to fork out for luxury accommodation. The two star Hotel Edelweiss is centrally located in Davos, but nonetheless very quiet. This stylish hotel is family-run with 35 individually decorated bedrooms. It's a few steps away from the town's amenities including its indoor swimming-pool, ice rink, cross-country skiing trails and the Promenade overlooking the valley. There is handy parking next to the hotel and you can reach the mountain railways easily by the free public bus. The hotel's balcony has inspiring views of the mountains - as you might expect - but as a bonus so does the sauna.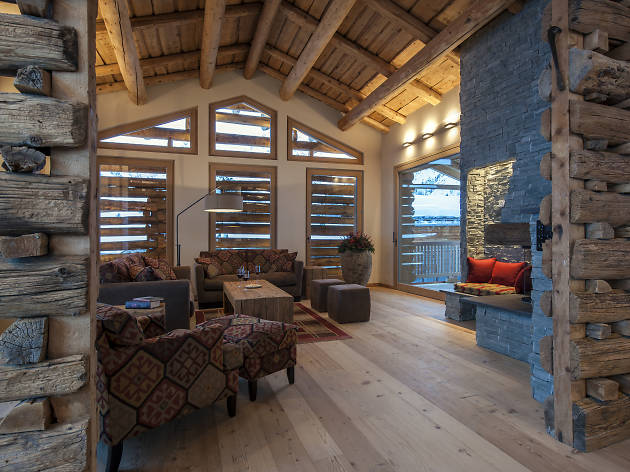 RUPA
4. Stay in a luxury chalet
The Alps are a pinnacle of natural beauty and there's nowhere better to experience them than out in the wilds - with, of course, lots of creature comforts thrown in. Chalet Berghof Sertig is a recent addition to the Waldhotel Davos, sited in the calm splendour of the Sertig Valley. The chalet consists of a pair of spacious holiday apartments with luxurious and stylish interiors. The apartments are great choices for romantic getaways, family holidays and even business trips.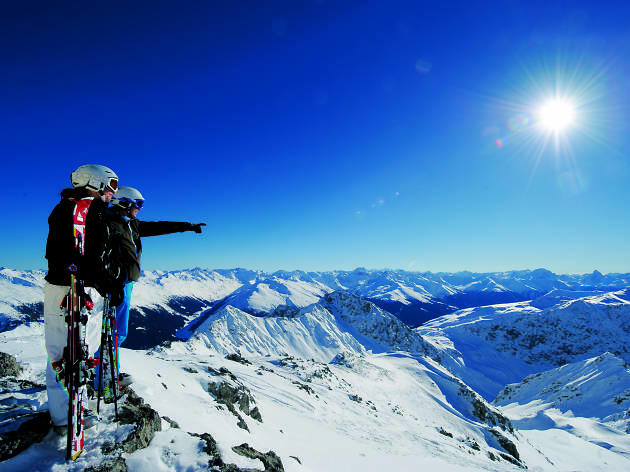 STEFAN SCHLUMPF
Parsenn is the famous 12 kilometre long piste which links Davos and Küblis. It is accessible from Davos by the Parsenn funicular railway and from Klosters by the Gotschna cable car. If anywhere is the true birthplace of ski sports in Switzerland then this is it. Back in 1895, four English visitors got lost on the Weissfluhjoch and finally ended up in Küblis, discovering the long Parsenn descent en route. A funicular railway was built here more than 80 years ago, helping Parsenn to become a classic ski mountain, and Switzerland's oldest ski race, the Parsenn Derby, is an annual event. There are opportunities for tobogganing, para-gliding and hiking too. And as well as the wide and welcoming slopes there are traditional mountain lodges to admire.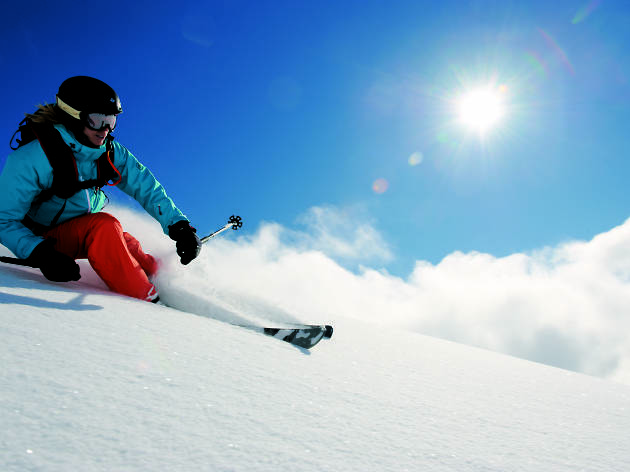 STEFAN SCHLUMPF
6. Freeride on Pischa – the freedride mountain
If you'd like to try skiing the way it was back in the day then head over to Pischa. This is one of Switzerland's biggest freeriding areas. Safety is paramount here, with slopes ear marked and protected from hazards. This is a good choice for families with prepared runs next to the children's area by the the top station. Over in Pischa Kinderland kids can bounce around on a huge trampoline while adults admire the scenery and catch some rays on the loungers (Pischa gets more than its fair share of sun). There's also a snow tubing run which is enjoyable for big and small people alike. Meanwhile, visitors hankering after Alpine peace can explore the marked trails on snowshoes.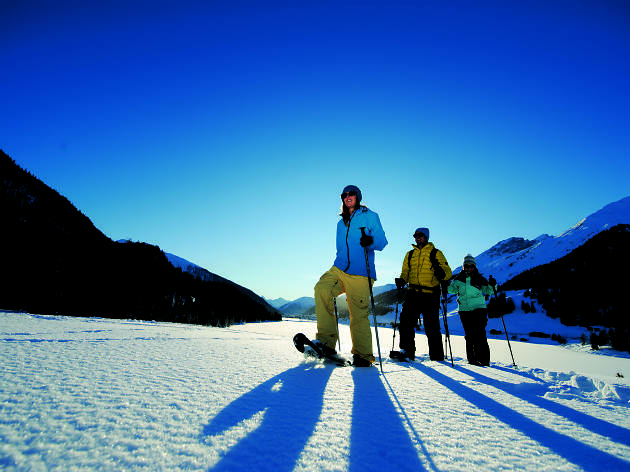 If you want to get away from the well trodden alpine paths around Davos Klosters then strap on a pair of snow shoes. You'll encounter deep snow-laden forests and traverse pristine winter landscapes. Typical guided walks take place along marked routes, which are typically between three and six kilometres in length. Your guide will make sure you have the right equipment and that you don't put a foot wrong. Full moon is a special time for a snow shoe walk and a trip can be combined with an evening meal of local specialities in a traditional mountain hut.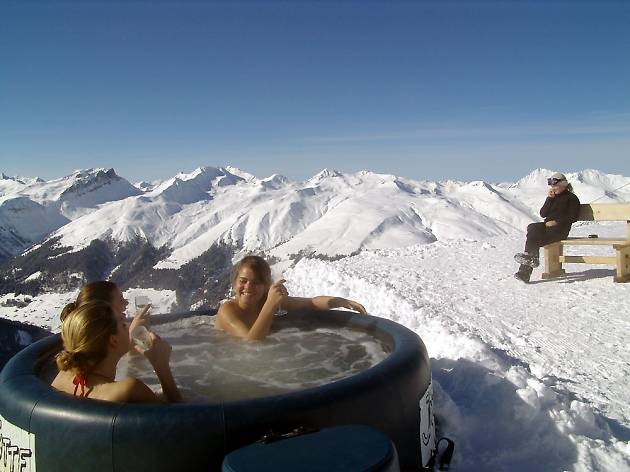 ©Destination Davos Klosters
8. Enjoy the aprés-ski in town and on the mountainside
Even in a town with plenty of choices, the Bolgen Plaza is a great aprés-ski venue. The bar and restaurant is built in traditional Swiss log cabin-style and is sited next to the Bolgenhang slope, at the foot of the Jakobshorn. During the winter season there is a daily 'Snow Apéro' DJ party from 4pm. Or why not stay put on the mountain? When the Jatzhütte appeared more than two decades ago it was the first après-ski mountainside venue. There are daily DJ parties and live acts, as well as a distinctly wacky vibe: as well as over 100 reclining chairs the large terrace has two heated open-air jacuzzis, with palm trees thrown in.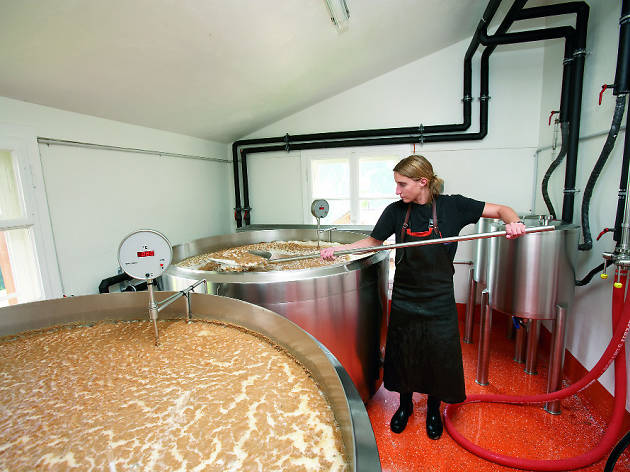 ©Destination Davos Klosters
Cheers! BierVision Monstein is the highest brewery in Switzerland. It is based in the middle of the traditional village of Monstein in the premises of the former dairy. Beers are brewed using mountain spring water, Swiss hops and organic malt. There's also a small whisky distillery on site, and locally produced chocolate and cheese are available too. There are guided tours all year round and you can sample the products in the basement Gambrinus bar. If that is not enough for you there are also weekend brewing seminars and a selection of day trips. Pröschtli!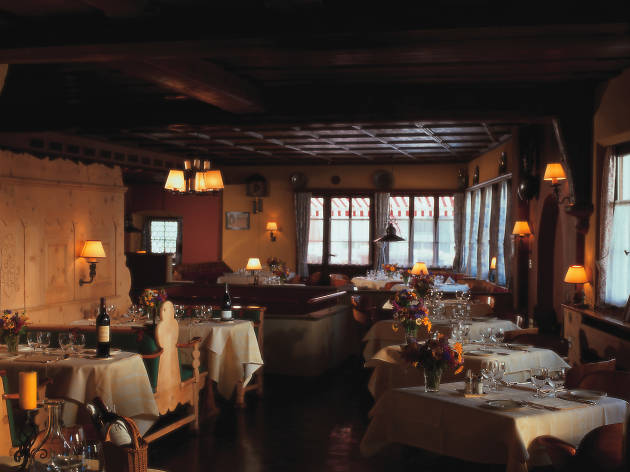 10. Dine at a famous restaurant
The 'Chesa' is a local legend. Right in the heart of Klosters, this luxury hotel and restaurant is an enticing place to dine or stay by virtue of its striking design and history. It has been run by the Guler family since 1938 and it is a showcase for local artisans. The woodwork, metal door fittings and windows were all crafted locally, and are complemented with murals by local artist Alois Carigiet. The Chesa has been the haunt of a lengthy list of celebrities, ranging from Greta Garbo to Princess Diana. And it doesn't end there - the restaurant is justly proud of its international cuisine and extensive wine cellar.
Show more