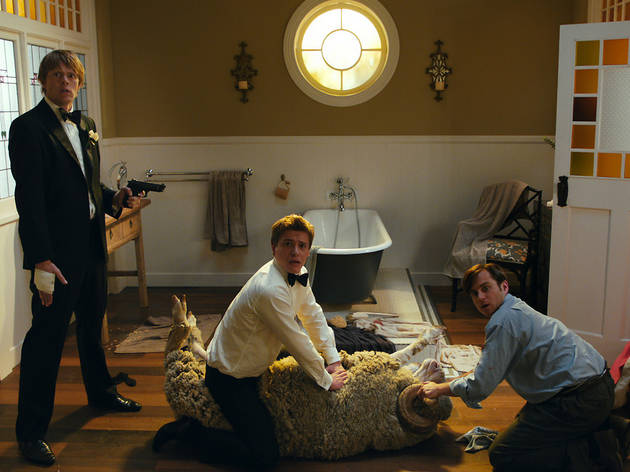 Time Out says
The Australian and British have long shared a sense of humour, a love of the larrikin and a penchant for a bit of slapstick, which is why A Few Best Men, presented by Screen Australia with a host of English comedians, proves to be such a light-hearted delight.
Described as the male version of Bridesmaids – the film follows the preparation for David's (Xavier Samuel of Twilight fame) wedding, including a buck's night that ends in disaster and a wedding where nothing goes right. The special day also features a surprising comic performance from Olivia Newton John playing the coked-up Mother-in-law.
London born David meets Mia (Laura Brent) on an island holiday and the two plan to get hitched after just ten days. When he breaks the news to his friends back home, the controlling Tom (played by Chris Marshall from Love Actually and Death at a Funeral), subservient Graham (Kevin Bishop) and borderline-suicidal Luke (Tim Draxl) depart as his bridal party to Australia – keen to make it a wedding they will never forget.
The film starts off on shaky ground, with a few slapstick fizzers involving doo poo in the first few minutes of the film and the subsequent accidental flashing of the elderly relatives. However, as the film progresses it is hard to keep a straight face as Tom and Graham become acquainted with the homicidal but emotionally fragile drug-dealer Ray, Graham has an accidental encounter with a gimp-mask and, of course, any scene with Rebel Wilson playing the sister-in-law to be.
Directed by Stephan Elliot, famous for The Adventures of Priscilla Queen of the Desert, it is unusual to find an Australian film that merges British and Australian humour so well - it is a comic success. It may not be the next The Castle – but it is bound to make your eyes water and your stomach ache the next day.
Details
Release details
Rated:
NA
Release date:
Thursday January 26 2012
Duration:
97 mins
Cast and crew
Director:
Stephan Elliott
Screenwriter:
Dean Craig
Cast:
Laura Brent
Xavier Samuel
Kris Marshall
Kevin Bishop

Users say