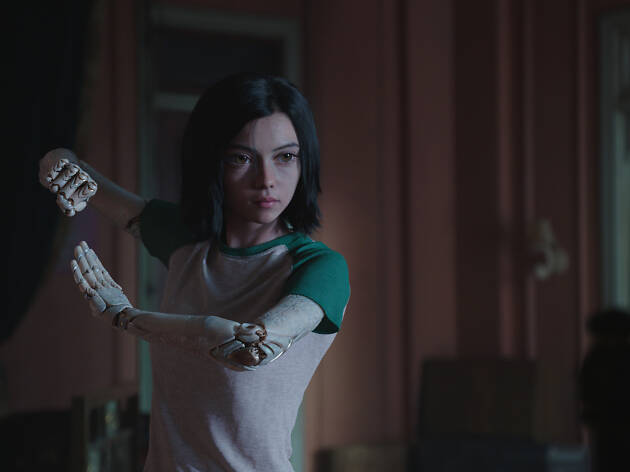 Time Out says
This visually stunning yet monotonous collaboration between James Cameron and Robert Rodriguez is far less than the sum of its slick parts
Moviemaking juggernaut James Cameron doesn't do boring. Loud? Sure. Epic? Definitely. Groundbreaking? Invariably. But boring? Never. But this enervating science-fiction blockbuster that he co-wrote and produced for director Robert Rodriguez (Rodriguez also co-writes, along with Shutter Island scribe Laeta Kalogridis), however, comes pretty darn close. Only its often bravura visuals and some sparky cyberpunk races keep it engaging, until its umpteen story threads and endless mythology-meets-tech-porn jargon finally pound the interest out of you.
Adapted from a manga by Yukito Kishiro and set in 2563 in a post-apocalyptic metropolis called Iron City, the project has simmered away on one of Cameron's many back burners for nearly two decades. It feels like bad timing that it's finally arrived just as dystopian YA sci-fi is starting to feel played out. If you've seen The Hunger Games, Divergent, Mortal Engines or the similarly manga-inspired Ghost in the Shell, there's nothing to surprise you in this story of Alita, a cyborg girl (Rosa Salazar, given an eerie CG makeover and cartoon eyes) reconnecting with her warrior past. Christoph Waltz – who can sleepwalk through stuff like this, and often seems ton– plays a kindly scientist who takes her on as his personal Pinocchio. Meanwhile, a mysterious overlord called Nova rules this venal cityscape from a floating realm above.
Although the story plays out in predictable ways, Rodriguez handles the combat sequences well enough as Alita's killer skill set ramps up. But the dialogue is exposition-heavy and lumpen, especially by Cameron's lofty standards. With none of the usual killer payoff lines or jokey moments, the more-than-solid supporting cast – including Mahershala Ali, Ed Skrein and Jennifer Connolly – are stranded in earnestness. Ali and Skrein do what they can in generic bad roles, but their menace ends up diluted by a surfeit of villains. It's a rare thing to say about a Cameron project, but you come out feeling like you've seen it all before.
Details
Release details
Rated:
M
Release date:
Thursday February 14 2019
Duration:
142 mins
Cast and crew
Director:
Robert Rodriguez
Screenwriter:
James Cameron, Laeta Kalogridis, Robert Rodriguez
Cast:
Christoph Waltz
Jennifer Connelly
Rosa Salazar
Eiza González

Rating Breakdown
5 star:

0

4 star:

0

3 star:

0

2 star:

1

1 star:

0
The Manga comic book visuals are extremely authentic to this sub-genre. ALITA has the same problems with the live action Hollywood Manga film GHOST IN THE SHELL the scripts are simply not well written.
The actress playing Alita is extremely hypnotic to watch as are the visuals. $200 million was spend making a visually stunning piece of film-making and another $100 million in marketing costs. The script is extremely under-developed and the production costs may cripple the studio at the end of the day.