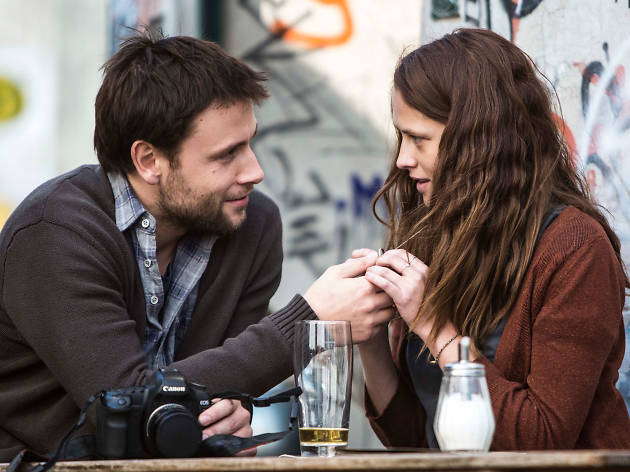 Time Out says
There's more style than substance in Cate Shortland's muted kidnapping drama
Imagine an arthouse Taken with no Liam Neesons in sight and you'll get a sense of Berlin Syndrome – both the backpacker paranoia it trades in, and the frustration it provokes. Clare (Teresa Palmer) has abandoned a real estate career in Brisbane to follow her muse to Germany, staying in hostels and photographing the architecture of the former DDR. Desperately lonely, she's easy prey for Andi (Max Riemelt), a German teacher of English who flirts with her on the street and decides, after a night of passion in his apartment in a sinister, mostly derelict block, that he'd like to have her around permanently.
Australian filmmaker Cate Shortland (Somersault, and the excellent, underseen WWII road movie Lore) specialises in wintry stories of young women whose tremulous steps down the dark path of sexuality compels them toward wolves of various kinds. In Berlin Syndrome, which is based on a 2011 novel by Melanie Joosten, Teresa Palmer gives an arresting portrayal of a romantic cracking up under the pressure of her imprisonment, desperate to escape but reliant on her captor for meagre emotional sustenance.
Tales of men kidnapping women have yielded plenty of tawdry genre flicks and well as some powerful dramas, notably William Wyler's The Collector and Lenny Abrahamson's Room. Berlin Syndrome is neither plot-focused enough to satisfy as a thriller nor original or complex enough to qualify as art. We're offered hints about the source and extent of Andi's psychosis, but Shortland shies away from big, showy reveals. A vague suggestion that Clare's captivity in some way echoes the experience of former East Berliners behind the Iron Curtain doesn't gain any traction.
The movie, like its photographer heroine, remains enraptured with surface beauty – fireworks, Christmas lights, snow resting on leaves – while character and logic remain muddy. It promises an unforgettable journey, but delivers only a slideshow.
Details
Release details
Rated:
MA15+
Release date:
Thursday April 20 2017
Duration:
116 mins
Cast and crew
Director:
Cate Shortland
Cast:
Teresa Palmer
Max Riemelt

Users say