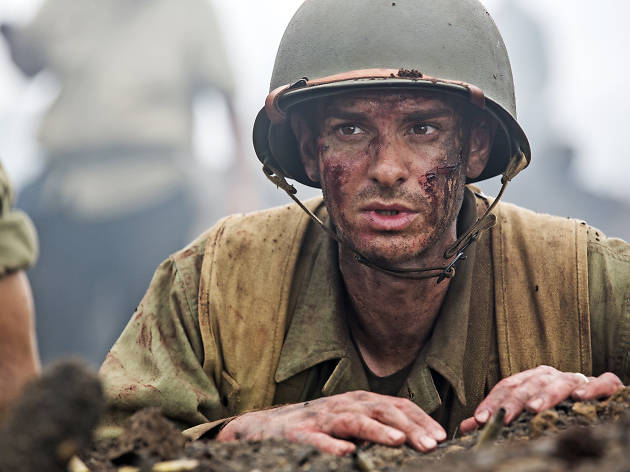 Time Out says
Mel Gibson directs a bloody tale of battlefield heroism starring Andrew Garfield as a conscientious objector
Mel Gibson has returned to directing after a ten-year absence with a brutal war film that has a rousing tale of God-inspired heroism at its heart. This is the true story of Desmond Doss (Andrew Garfield), an army medic and decorated World War II hero who was a conscientious objector, a position informed by his Christian faith. Doss refused even to touch a gun, and Gibson's mission in retelling his story is clear and uncomplicated: he wants to honour Doss's gentle determination to stick to his beliefs and to show how his faith was ultimately vindicated by his selfless endeavours on the battlefield.
Hacksaw Ridge is not subtle, but it is brutally effective, and it contains some of the most justifiably violent battle scenes ever committed to film. Before we get there, it's a more traditional movie. We watch as Doss dodges his violent, alcoholic war veteran father (Hugo Weaving) at home in rural Virginia and meets his future wife Dorothy (Teresa Palmer), a nurse, in the film's most corny scenes. It's only when Doss joins the military, faces a possible court martial and later heads to Japan that the contradiction of his being a soldier and refusing to touch a weapon properly kicks in and gives the film proper dramatic weight.
There are strong scenes in the training camp, where Gibson (Braveheart, Apocalypto) and the script by Andrew Knight and Robert Schenkkan resist portraying Doss's army colleagues as unsympathetic brutes. In turn, they also refuse to treat Doss as a misunderstood messiah. Wisely, he is presented as mostly unremarkable, and Garfield is endearing, playing him as likeable and kind, someone who could easily fade into the background. His permanent smile suggests a guy with a simple, settled approach to life.
But that's all window-dressing compared to the main event: it's the battle scenes that define Hacksaw Ridge. Long, unrelenting, skilfully choreographed and taking up almost half the film, the conflict is masterfully handled. Prepare to see guts and blood. Prepare too for an eye-rolling moment that makes explicit Doss's relationship with his God (though frankly it could be worse; we've all seen The Passion of the Christ). Don't expect any sympathetic treatment of the Japanese: they firmly remain the enemy, and you'd be forgiven for feeling the odd twinge of discomfort at just how vividly their demise is shown and how Gibson steals horror-movie techniques to stress how terrifying their villainy is.
There aren't many shades of grey in Hacksaw Ridge, but it's a movie that follows through its purpose with vigour, confidence and swagger, and those battle scenes are impossible to take your eyes off. - Dave Calhoun
Details
Release details
Release date:
Thursday November 3 2016
Duration:
131 mins
Cast and crew
Director:
Mel Gibson
Screenwriter:
Andrew Knight, Robert Schenkkan
Cast:
Andrew Garfield
Sam Worthington
Vince Vaughn
Rachel Griffiths
Teresa Palmer
Hugo Weaving

Users say