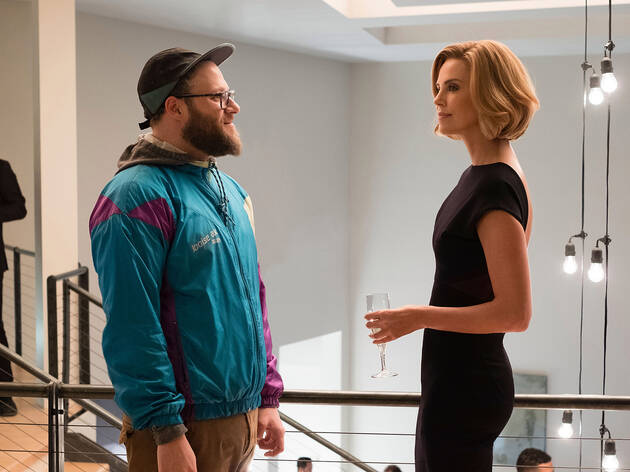 Time Out says
It's hardly Veep, but this political satire-cum-rom-com is elevated by Charlize Theron and Seth Rogen's comic chops
If you're a filmmaker who isn't Armando Iannucci, maybe sit the next election cycle out on the evidence of this toothless, if diverting, political comedy. Its set-up already feels a bit passé: Bob Odenkirk plays a dim US President whose only qualification for the job is having portrayed one on TV (a credential that actually makes him more qualified than the current POTUS). Intending to resign and make the 'more prestigious' shift to movies, he endorses Charlotte Field (Charlize Theron), his workaholic Secretary of State, whose marketing firm ranks her attributes like a Dungeon & Dragons character sheet, giving her low marks for 'humour'. How will this Hillary-esque candidate crack the glass ceiling? By employing the speechwriting skills of Fred Flarsky (Seth Rogen), an unemployed journalist she used to babysit.
Ostensibly verbal and cutting, Long Shot actually works best during its bits of physical comedy. Theron continues to prove herself a genius of ungainly moments: her podium wave has an unnatural elbow wobble that makes Elaine's dancing on Seinfeld seem smooth. And Rogen gets more mileage out of a turquoise windbreaker than you'd think possible.
The central joke, briskly directed by Jonathan Levine (Warm Bodies), is that these two oddballs could somehow fall in love. It's a gag that's somehow insulting to both Theron and Rogen. But when Long Shot has Charlotte dropping MDMA and spacing out in an impromptu war room, it has just the right amount of irreverence. The performances are fun too, including one by O'Shea Jackson Jr as Fred's super-wealthy, deeply serene friend.

Eventually, a regrettable phoniness takes root in the script, with that central romance the worst offender. Charlotte and Fred are supposed to be creatures of their idealism, helpless to resist their inner impulses – at least that's how they're established. A shrewder movie would have them discover as much slowly, growing closer not out of a half-remembered teenage crush but an attraction based on ideas. Then again, we may be overthinking it.
Details
Release details
Rated:
M
Release date:
Thursday May 2 2019
Duration:
120 mins
Cast and crew
Director:
Jonathan Levine
Screenwriter:
Dan Sterling, Liz Hannah
Cast:
Seth Rogen
Charlize Theron
Bob Odenkirk
Lisa Kudrow

Users say