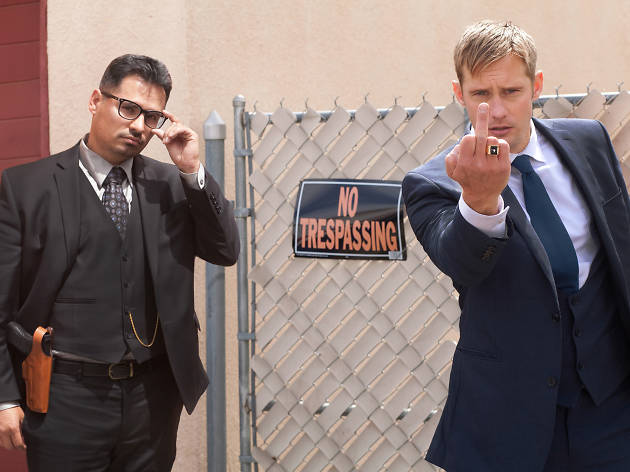 Time Out says
A patchy black comedy thriller from the director of Calvary
McDonagh + America = disappointment. That's that's the moral of this messy, raucous dirty-cop comedy. Just as his little brother Martin followed the glorious In Bruges with ropey Tarantino knock-off Seven Psychopaths, so John Michael McDonagh has chased his Irish masterpiece Calvary with a noisy, funny but fatally glib and self-regarding Hollywood thriller.

The setup is basically Bad Lieutenant doubled up and packed with bantz. Alexander Skarsgård is Albuquerque cop Terry, who cruises the dusty streets with his partner Bob (Michael Peña) robbing drug dealers, blackmailing criminals and gleefully insulting everyone they encounter. There's a hardass lieutenant (Paul Reiser) on their case and a smarmy British lord (Theo James) with evil designs, but it's all just one big, dirty game to Terry and Bob.
It doesn't help that War on Everyone comes hard on the heels of The Nice Guys, a film that took a similar formula and spun it for bigger laughs and much deeper emotional resonance. The casting, too, is dubious. Peña (End of Watch) is a riot – this is the role he's been after for years – but Skarsgård is a dry, sneering foil, and James is dull as the villain.
McDonagh's plot is intentionally rambling, taking scenic detours to grotty bars, racing stables and, rather wonderfully, Iceland. His dialogue is often hilarious and strangely poetic ("I always wondered, if you hit a mime, does he make a sound?"). But it's all so painfully postmodern, with a tacky, irritating habit of critiquing itself at every turn ("You ain't got a good script, you ain't got shit"). After the bruising honesty of Calvary, it's probably not surprising that McDonagh felt the urge to cut loose a little and make a movie with few ambitions beyond cheap violence and filthy laughs. Let's just hope he's got it out of his system. - Tom Huddleston
Details
Release details
Release date:
Thursday November 17 2016
Duration:
98 mins
Cast and crew
Director:
John Michael McDonagh
Screenwriter:
John Michael McDonagh
Cast:
Michael Peña
Alexander Skarsgard
Theo James

Users say