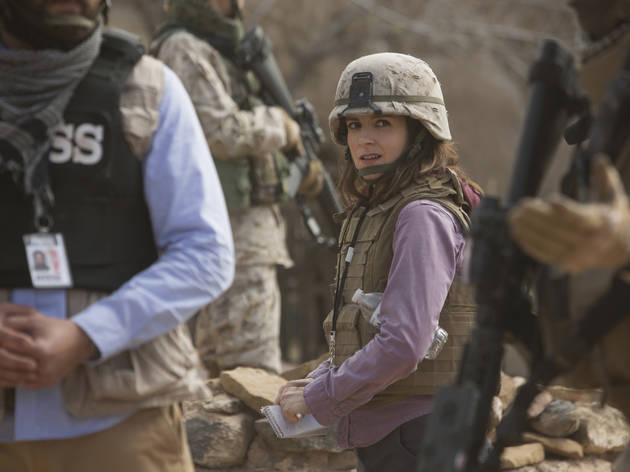 Time Out says
Tina Fey finally finds a movie worthy of her chops in this stealth feminist comedy about a US journalist in Afghanistan
Why did Tina Fey ever want to leave TV in the first place? She had it so good. For all her groundbreaking success on '30 Rock' and 'Saturday Night Live' (she'll always get mileage out of that pitch-perfect Sarah Palin), the showrunner's transition to the big screen has been a series of forgettable whiffs: 'Baby Mama', 'Date Night', 'Sisters'.
Finally the spell is broken with the robustly entertaining 'Whiskey Tango Foxtrot', a war-journalism film in shooting distance of the mighty 'Broadcast News'. It not only finds a perfect 'MASH'-like milieu for its wisecracking lead but even manages to accommodate Fey's inspiring offscreen status as a woman in charge. She plays Kim, an unmarried workaholic whose sad dish of mystery tuna salad, listlessly picked at, speaks volumes about her unexciting life. Selected among other unattached staffers at her cable channel to become an Afghanistan-based war correspondent, Kim decides not to crumple into a crying heap but instead to go, hoisting an orange backpack that's certain to attract enemy sniper fire.
This real-life material comes from Kim Barker's 2011 memoir, 'The Taliban Shuffle', and while big liberties have been taken with the facts, Robert Carlock's witty script sharpens the book into a spear. Fey engages in verbal sparring with four pros: Margot Robbie's sexpot frenemy journo, Alfred Molina's slimy local official, Billy Bob Thornton's begrudgingly admiring military man and – best of all – Martin Freeman's mouthy Scottish photographer, who becomes something more.
By the time Fey is able to say the words, 'This is not about you,' the comedy owns the feminism it always had. The war scenes are only so-so, but it wins a bigger battle. - Joshua Rothkopf
Details
Release details
Release date:
Thursday May 12 2016
Duration:
0 mins
Cast and crew
Director:
Glenn Ficarra, John Requa
Screenwriter:
Robert Carlock
Cast:
Margot Robbie
Tina Fey
Billy Bob Thornton
Martin Freeman
Alfred Molina

Users say