Heads up! We're working hard to be accurate – but these are unusual times, so please always check before heading out.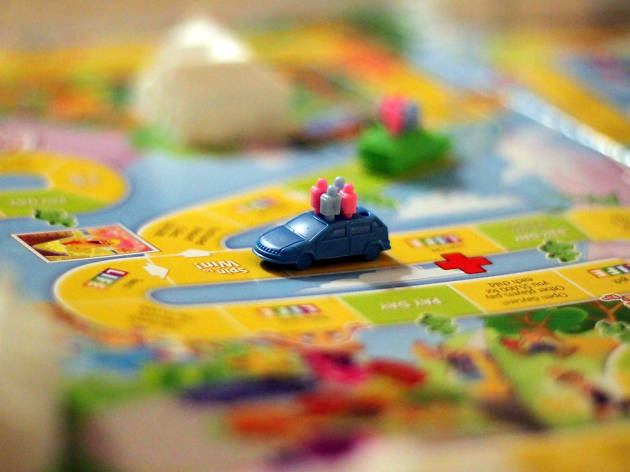 Great family board games every home should have
Our pick of family board games to make the holidays a treat, from Clue to Scrabble, Mouse Trap to Sorry! and beyond
Long weekends and holidays are perfect for getting the family out to see the world: road trips with the kids in the warmer months; family ski trips for when the mercury dips. But they can also be the perfect time for staying in and shuttering out the world. There are so many excellent kids' books to read, and delicious things to bake, and then there's that old family staple: Friday game night. To help you make your game night a treat, we've compiled a list of the absolutely essential family board games that every household should have on hand.
Great family board games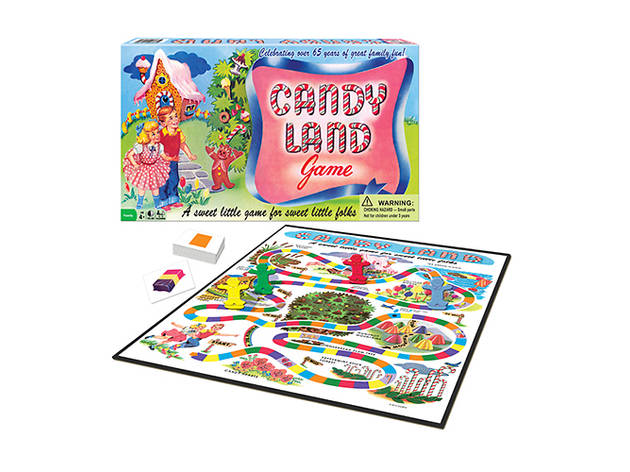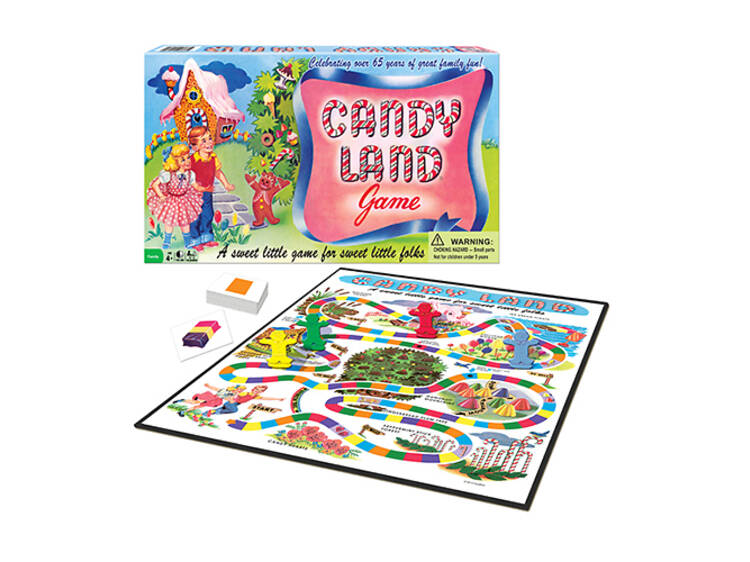 Photograph: Courtesy Hasbro
1. Candy Land, Hasbro, 3 and up, 2–4 players
Don't be concerned about cavities—Candy Land involves no actual sweets. But you know that, because you grew up playing this pink favorite (and were reminded of its bizarre virtues thanks to Katy Perry's "California Girls"). The rules are simple, so anyone in the fam can join in: Players pull cards or spin a spinner, depending on the version, and match colors to travel along Candy Land's rainbow path toward King Kandy's Castle, the winning destination. Treats are encountered along the way that move players forward or backward to delicious landmarks straight from your six-year-old imagination, like the Peppermint Forest and Ice Cream Slopes. The game was invented by schoolteacher and game designer Eleanor Abbott while she was recovering from polio. So, if you're a little sniffly over the holidays, this might be just the trick.
Difficulty:
Unlike life, there is no strategy involved: As long as players can differentiate the colors along the path, they can play. Make the experience extra sweet and provide actual IRL candy to your fellow players.
Set aside:
15 minutes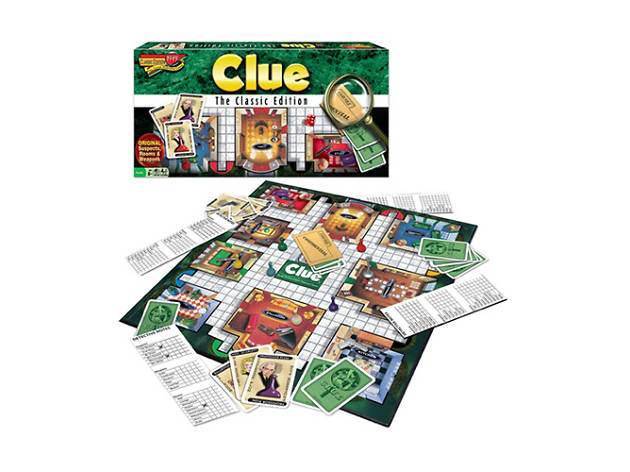 Photograph: Courtesy Winning Moves
2. Clue, Winning Moves, 8 and up, 3–6 players
Every Clue game begins with the same scenario: while hosting a party in his mansion, Mr. Boddy is murdered by one of his own guests. Players impersonate these guests, each of whom has a unique character profile—and fondness for a brightly colored wardrobe—and become both potential subject and super sleuth. Will you be the bumbling intellectual Professor Plum, the flirtatious Miss Scarlett, or the charming Mr. Green? Characters traverse the mansion game board, exploring rooms in which inquiries are made to determine the location, weapon and, of course, the murderer (cue lightning crack!). Practice your poker face for this one: you'll want to rack up as many clues as you can without giving away what you know. The results change every game, so the mystery can be solved again and again.
Difficulty:
While hardly torture—in the conservatory, with a rope—Clue is more than just a guessing game. Deduction skills are required to keep track of clues and eliminate faulty evidence.
Set aside:
1 hour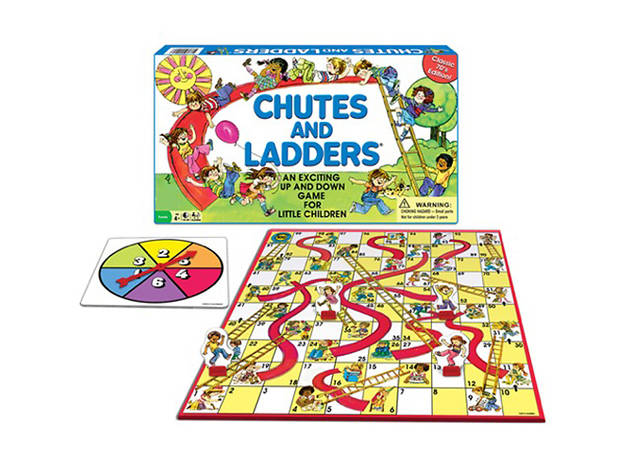 Photograph: Courtesy Winning Moves
3. Chutes and Ladders, Winning Moves, 4 and up, 2–4 players
This game of chance originated in India as Snakes and Ladders, making the name change upon arrival to the U.S. A love of the reptile is not required. Players spin the wheel to determine how far they'll move along the board and encounter literal highs and lows in a race to the top. If you're lucky you'll land on a square that holds the base of a ladder and climb up a higher spot; next thing you know, you may find yourself at the top of a chute that sends you sliding back down below. Don't be superstitious of walking your game piece under a ladder—in this game that brings good luck!
Difficulty:
Climbing ladders is much more difficult in real life. Though the board squares reach 100, counting skills don't need to surpass six, which is the most squares a player will travel on any turn without climbing or sliding.
Set aside:
15 minutes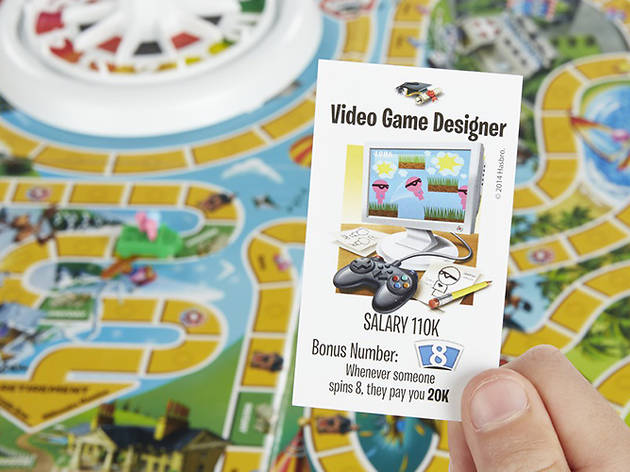 Photograph: Courtesy Hasbro
4. Game of Life, Hasbro, 8 and up, 2–4 players
Before The Sims there was The Game of Life. Here, you create your ideal life by choosing your education level, career path and family members (a glorious fantasy)—but be prepared to handle the curveballs thrown along the way. Each choice has the chance to impact your progress in the game, and every spin of the wheel sends you on another adventure—will your house flood? Will you get a promotion? It's not all fantasy though, as players need to make decisions regarding loans, housing, work, and more. The game's goal may need tweaking in today's society: to reach retirement with more wealth than your peers.
Difficulty:
Reaching milestones takes minutes instead of years, but the ability to focus on thoughtful planning and decision making still pays off.
Set aside:
1 hour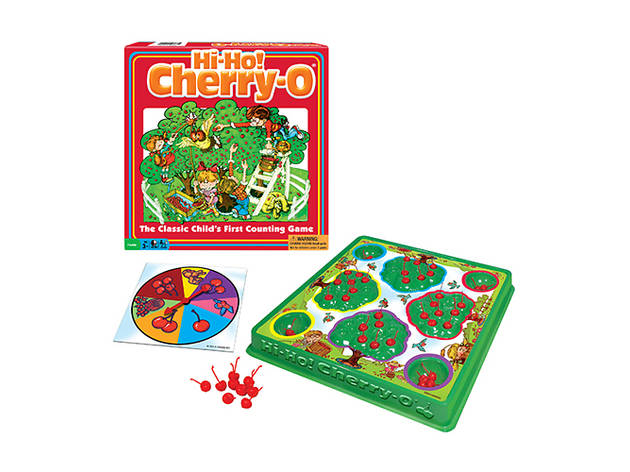 Photograph: Courtesy Winning Moves
5. Hi-Ho! Cherry-O, Winning Moves, 3 and up, 2–4 players
Your little cherry pickers can improve their counting skills while filling their baskets with fruit. Players start the game with a tree full of cherries and spin the spinner to determine the number of cherries they can pick and add to their basket. A day out in the orchard may not go exactly as planned: Spin a dog and a bird—both hungry for your haul—and you'll be giving up some fruit. One wrong spin can empty the whole basket, but it's no use crying over spilled fruit—this quick game of chance can be played again so every picker has their chance to bring home the bushel.
Difficulty:
These are the smallest cherries on earth, so moderate hand­-eye coordination is required. If counting skills aren't fully developed yet, hopefully this will help!
Set aside:
15 minutes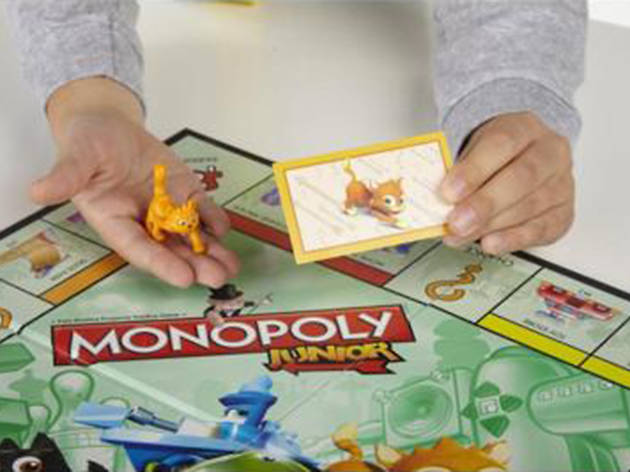 Photograph: Courtesy Hasbro
6. Monopoly Junior, Hasbro, 5 and up, 2–4 players
Who doesn't love to pass go and collect money (albeit only loose change, $2, in this junior edition)? This classic board game has been giving players the opportunity to experience the real estate market for 80 years. It takes a combination of skill and luck to successfully roll the dice to travel the boardwalk, buying properties such as the pet store or pizza shop, and profit from charging other players for goods and services. Pull Chance cards for new opportunities that can expand your bank account or allow you to trade properties with other players. Just make sure to stay out of Jail! (A good life lesson for any kids who may be playing.)
Difficulty:
The Junior version makes it easier for players to reach real estate mogul status, but keeping track of money and properties still takes a keen business intellect.
Set aside:
1 hour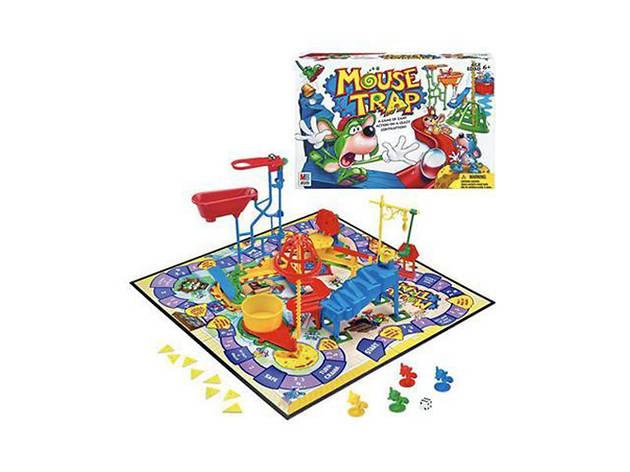 Photograph: Courtesy Hasbro
7. Mouse Trap, Hasbro, 6 and up, 2–4 players
Not quite rats in a cage, but close: Mouse Trap requires players to contribute to the construction of a Rube Goldberg­-style mouse trap while traversing the board, adding to it piece by piece. Once the trap is built, the fun really begins. Instead of working together, the competition heats up and each mouse must try to ensnare the other mice in the trap while avoiding their own capture. Have even more fun by learning the Mouse Trap commercial jingle from the mid-'90s ("I guarantee…").
Difficulty:
Along with nimble fingers, forward­-thinking is required to not get caught in a mousetrap of their own design.
Set aside:
30 minutes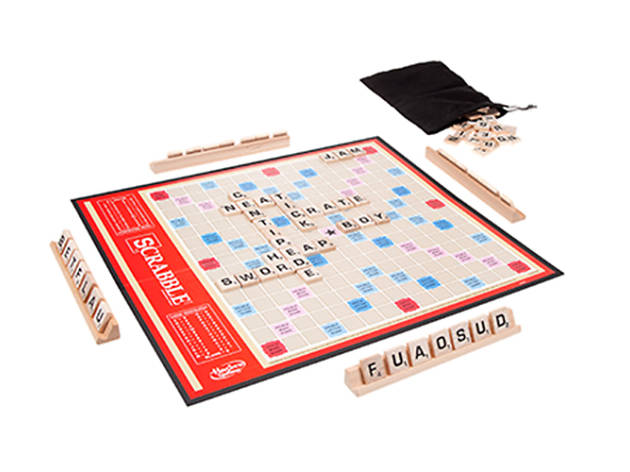 Photograph: Courtesy Hasbro
8. Scrabble, Hasbro, 8 and up, 2–4 players
For nearly 80 years, carefully arranged Scrabble tiles have inspired debates over legitimate definitions and accurate spellings. No need to start a family feud—Merriam-Webster publishes an official Scrabble Players dictionary that will settle all disputes. You know the drill: Players arrange tiles bearing the letters of the alphabet into words positioned in crossword fashion across the board, racking up points based on the numerical value assigned to each letter. Additional points can be gained from placement on special locations across the board. Who'd have thought: Words With Friends has an ancestor!
Difficulty:
The score is essentially based on building long and/or complicated words, featuring more rarely used letters than others, so an extensive vocabulary is a formidable advantage.
Set aside:
1 hour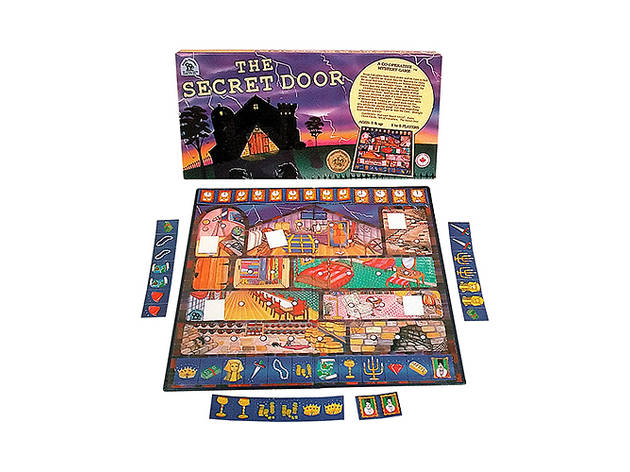 Photograph: Courtesy Family Pastimes
9. Secret Door, Family Pastimes, 5 and up, 1–8 players
It's a race against time to catch the thieves before they make off with the treasure. This lesser-­known board game is a hidden gem. The board portrays the interior of a mansion with game pieces located throughout various rooms—like Clue, you know, without the stabbing (or candlestick-bludgenoning). In a Memory­-like sequence, players flip over pieces and find matches to prevent the thieves from running off with jewelry, gold and other valuables. Though turns are taken and each player makes their own matches, it's a collaborative effort to clear the board and no individual scores are kept. Like Cinderella, when the clock strikes midnight—every time an hourglass piece is uncovered one hour passes—the fun is over.
Difficulty:
It's no secret that memory and logic skills are a plus, but the cooperative nature of the game allows stronger players to help others.
Set aside:
30 minutes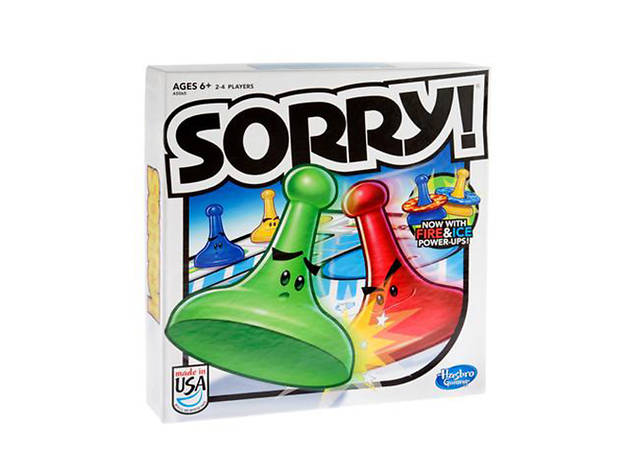 Photograph: Courtesy Hasbro
10. Sorry!, Hasbro, 6 and up, 2–4 players
Like peanut butter and jelly, teddy bears and the "Happy Birthday" song, some things just stand the test of time: The earliest version of Sorry! can be traced back to a patent filed by an Englishman 86 years ago, and the game has remained popular ever since. Each player starts with multiple pawns (three or four, depending on the game edition) that must each be moved around the board to the player's home base by drawing numbered cards. On this journey, players can knock one another off the trail, sending pawns back to start. The first person to get each of their pawns to safety wins the game.
Difficulty:
No need to say sorry if you need a little help, but if you can count to 12 and keep track of multiple pawns, there shouldn't be too much apologizing.
Set aside:
30 minutes