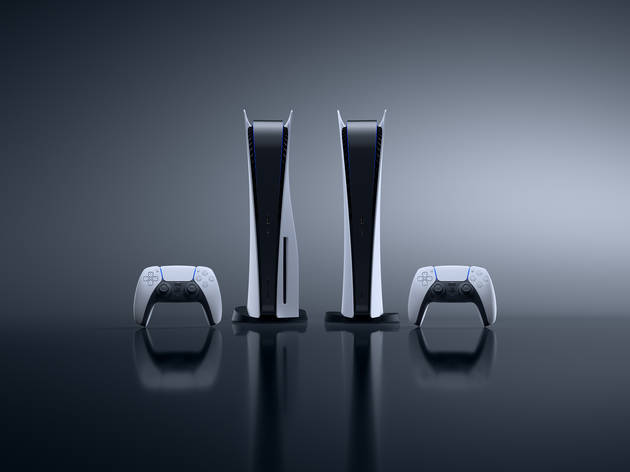 Playstation 5: is it worth the money?
Sony's new console is out now – but is it worth including the PS5 on your letter to Santa? Here's our take
Mastered sourdough? Completed Netflix? Sony's new PlayStation 5 is here to save Lockdown 2.0.
The sleek new console looks like it just decoupled from the International Space Station and has the performance and price to match (£360/$400 for the digital version or £450/$500 with a disc drive, the same as the new Xbox Series X). It's got full 4K graphics at a super-smooth frame rate, blink-of-an-eye loading times and a fancy new controller with 'adaptive triggers' and 'haptic feedback' – whatever they are.
But will this gargantuan sci-fi monolith just end up as another expensive dust collector under your TV?
Well, not if the games have anything to do with it. You'll want to pick up a few of the 25-plus PS5 launch games. Our pick would be 'Spider-Man: Miles Morales'. This superhero romp promises a whole load of web-swinging fun. What better way to spend your time stuck inside than weaving your way through New York's skyscrapers?
'Spider-Man: Miles Morales'. Photograph: 2020 Marvel
Handily for long-standing PlayStationers, the PS5 is also backwards compatible with more than 4,000 PS4 games, so keep hold of that old copy of 'Red Dead Redemption 2'. The console's real highlight comes in the form of a subscription-based games library: the PlayStation Plus Collection.
A PlayStation Plus subscription will set you back a further £6 each month, but seasoned gamers will see that as a steal, considering the games in the collection: Norse fantasy 'God of War', 'Persona 5', a stylish role-player featuring the funkiest video game soundtrack ever, as well as 'Crash Bandicoot N.', 'Resident Evil VII' and the Indiana-Jones-style adventure of 'Uncharted 4'. It feels like there's something for everyone (three things if you're into bandicoots).
If you're a movie lover, bear in mind that the PS5 also plays all your old DVDs and Blu-rays. With streaming sites recently admitting that they're only lending you those films you bought, physical media is back. This console is all the excuse you need to head up to the loft and grab your old boxset of 'The Wire'.
The PS5 has all the specs you'd want and a great-value games collection, but if the price tag seems steep, the Xbox Series S might be for you. At £250/$300, it's the wallet-friendly option for next-gen gaming, with its own rival games subscription service. Santa awaits your decision.
The Playstation 5 is available now.
Looking for something more old-school?
It's official: on our list of best board games to own, Monopoly reigns supreme. Do you not agree?