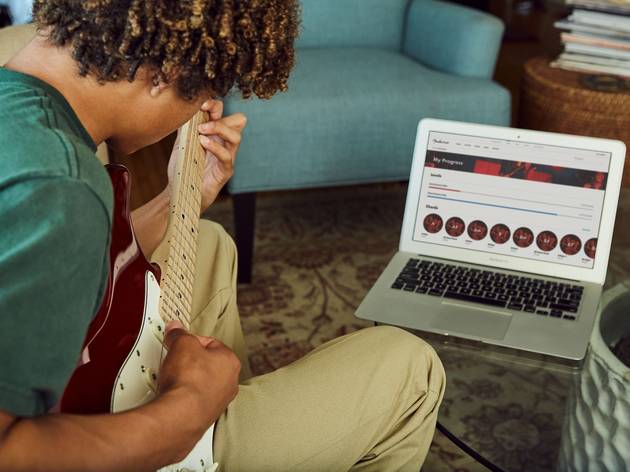 Three excellent ways to learn guitar online
Want to teach yourself guitar at home? Make like St Vincent with these handy how-to tutorials
Think you might have a secret Eddie Van Halen hidden deep within you? A mini St Vincent lurking somewhere in your gut? Well, you should probably go to a doctor, but after that, you might want to start learning how to play guitar. Here's an easy guide to getting started online.
RECOMMENDED: 42 surprising things we achieved during 2020
Three ways to learn guitar online
First up, Fender Play offers a super-easy introduction to guitar (or bass, if six strings feels like two too many; or ukulele, if you have no self-respect) from one of the world's biggest guitar manufacturers. Hey, if it was good enough for Jimi Hendrix, it's good enough for you. It's offering a free three-month trial for new starters, and you'll get to learn songs by your favourite artists in the process. Then you can buy one of its new Player series Mustangs and pretend you're Kurt Cobain too.
YouTube is full of white guys with boring names, big smiles and acoustic guitars, all gagging to show you how to finger a D. Andy Guitar is the most viewed, with a super-approachable free ten-day guitar course, but you can't go too far wrong with Marty Music or JustinGuitar. Then give Rick Beato and Paul Davids a go when you're more advanced. Oh, and it's all totally free, you just have to sit through 10 million ads for Skillshare.
Social media is full of amazing guitarists – take a bow, Instagram – and most of your faves will probably also have a Patreon where you can sign up for exclusive lessons, and sometimes even one-to-one private tutorials with people like Rob Swift and the aforementioned Paul Davids. There are even Patreon accounts for exclusive tablature (an easy kind of music notation) for any genre you want. All the information is out there, so get shredding.
More actually fun things to do at home
Bored at home? Then get stuck into our epic list of streaming culture, movies, podcasts, games, workouts and learning – plus some curveballs.
Best selling Time Out Offers