Heads up! We're working hard to be accurate – but these are unusual times, so please always check before heading out.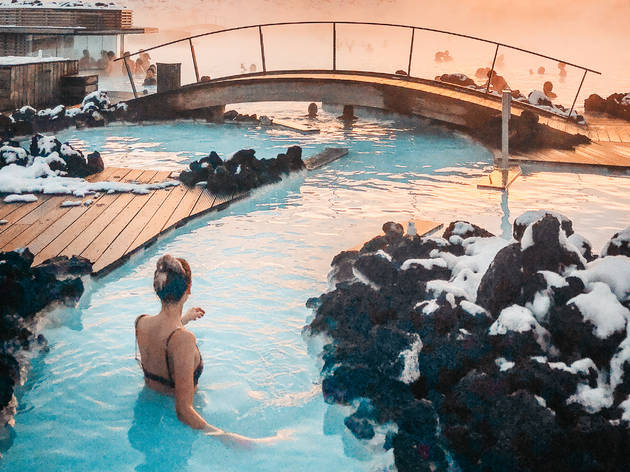 Five wanderlust-inducing travel shots from the world's most Insta-friendly destinations
Time Out-approved ideas for what to do after nabbing a sought-after Instagram pic from trendy international vacation spots
Lately, it seems like everyone you know has been jetting off to these global destinations, and now they're blowing up your Instagram feed with wanderlust-fueling snaps. Well, we're here to tell you that no, you're not imagining things: Time Out reached out to Instagram and discovered that these locales are trending, with an average month-to-month increase in geotags of 116 percent. (The most buzzworthy place right now? Iceland, with a whopping 200 percent jump in the number of geotags from December 2018 to January 2019.) Looking to plan your own vacay just to nab one of these enviable pics? We asked our international team of travel experts to give its best recommendations for what to do after you hit "share."


Photograph: Courtesy @kvdenn
The spot: Tulum, Mexico
The shot: Taking a ride on the beach swings
Don't miss: Villa Pescadores
Spending the night in a hut on a beautiful beach? Not exactly a hard sell. A fabulously relaxing vibe envelops this resort, where nature, rather than stuffy luxury, sets the tone. The 18 thatched huts are seamlessly integrated into the surrounding sand dunes and made with local materials, including live palm trees. As the name suggests, pescadores (fishermen) do indeed haul their boats onto the broad sands, from which they then sell their wares to the hotel's restaurant, where zingy Mexican cuisine is served alongside whole fish that's grilled right on the beach. Evening brings events ranging from gentle techno concerts to picture-perfect outdoor film screenings. There will be no fancy facilities—but no fancy prices, either.


Photograph: Courtesy @emmett_sparling
The spot: Bali, Indonesia
The shot: Basking in the glow of the cliff-flanked waterfall Tukad Cepung
Don't miss: Pretty Poison
The aesthetics of Bali and California combine to create this one-of-a-kind bar. Outdoor dive Pretty Poison takes cues from stateside skate culture, complete with its own Lords of Dogtown–inspired pool (drained of water, of course) just for skating. Watch locals beam around the bowl with a drink in hand while bumpin' DJs spin tunes on vinyl. Love the skate style that you see there? You can now purchase bar merch on the Pretty Poison website to take a touch of Balinese cool wherever you go.


Photograph: Courtesy @lucyinthesskyy
The spot: Santorini, Greece
The shot: A dramatic walk down to the blue bell tower
Don't miss: The hike from Fira to Oia
This scenic stroll is one of the most breathtaking in the entire Mediterranean. For a unique experience trekking the Greek islands, follow the path carved out between the towns Fira and Oia. Known as the Fira-Oia Hike, for less than 10.5km it runs across the cliffs and through the villages of Fira, Firostefani and Imerovigli. Along the way, you'll find yourself amid amazing, Instagram-worthy vistas of the dark blue Mediterranean waters. Disclaimer: A good climb in both directions, the hike can be challenging, especially beneath the blazing summer sun.


Photograph: Courtesy @katarina_mandarina
The spot: Marrakesh, Morocco
The shot: Lounging at the turquoise-tiled pool at Le Riad Yasmine
Don't miss: Majorelle Garden
Created by French painter Jacques Majorelle (hence the name) across 40 years, the botanical garden is home to more species of cacti than you can shake a terrarium at and boasts a stunning indigo Art Deco house as its pièce de résistance. After looking closely—but not too closely—at the impressive number of prickly plants, you can stroll through the complex to the Berber Museum and the Islamic Art Museum, the latter of which features an astounding array of North African textiles from the personal collection of fashion designer Yves Saint-Laurent.


Photograph: Courtesy @hedikaialtvlja
The spot: Reykjavik, Iceland
The shot: A scintillating soak in the Blue Lagoon
Don't miss: The Iceland Phallological Museum
Dedicated to all things D, this engorged institution highlights the world's largest collection of animal penises and phallic memorabilia. Since 1997, the unusual exhibit has grown to showcase more than 286 different specimens, including—if you can believe it—5-foot sperm whale schlongs. One guy even dedicated his own, uh, member to the batch after his death. Breaking countless taboos, the meaty museum is one of Reykjavik's nuttiest attractions.