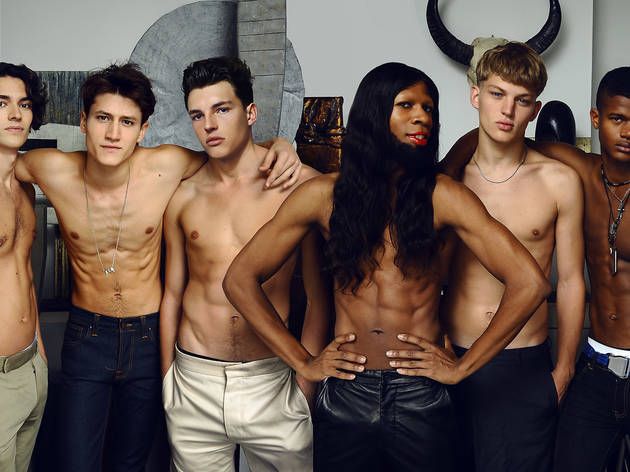 The title of this 'art happening' is as attention-grabbing as its contents. With work contributed by names as prominent as Yoko Ono and Makoto Aida, each asked to create with the concept of 'sex' in mind, the potential is there for a riotous exhibit, and from what we've been shown by the curator so far, it'll be an anything-goes mix of static and performance art, with a healthy dose of aural maltreatment thrown in for good measure.
What is instantly interesting from the preview pics is the variety of ideas the three-letter word prompts. You'd be right to expect a range of gimp masks, for example, and they are indeed present and correct, though in the distorted, wraith-esque splurges of Frederic Aranda (see below). Aranda is also responsible for the gender acrobatics on display in the 'Group' pictures (see above), proving that arty tactics such as these still have the power to shock, even in this decadent age. Elsewhere, 'The Primal Scene', by Beatriz Inglessis, is an almost childlike pop-up take on the female reproductive system. 'Sex', it seems, attracts all sorts. The event, put together by ArtGigTokyo, will run at Bar Exit for 12 hours and is absolutely free of charge.

A word with the curator
Back in 1997, Shai Ohayon envisaged ArtGig as a series of free events intended to encourage the general public to interact more frequently with the art world. The series began in Toronto and soon grabbed recognition as an important highlight on the local arts calendar. Dirty! Dirty! Sex! Sex! will be the first of a number of ArtGigTokyo happenings to take place in the capital, so we sat down with Shai for a brief, sex-driven chat.

The theme of the event is, simply, 'sex'. With that in mind, what do you think the audience can expect to see?  
I wanted the artists to have their own interpretation, so I didn't actually give any of the artists a proper curatorial statement or direct them. Some of the pieces are new and created especially for the event and some are historical pieces; some of the work is quite abstract and some is quite literal and graphic. It is fascinating to see how individuals perceive such a common theme - from the female reproductive system to fetish. The work presented covers a wide range of disciplines from live performance-art pieces to photography, video, sculpture, installation, drawings and sound.

How did you go about selecting the artists involved?  
The process of selecting artists for the show focused on three criteria: artists that produce work that would be interesting to exhibit in this particular setting, artists from a wide range of disciplines, and, lastly, a very concious decision to have a mix of both established artists, mid-range and emerging artists. The core aims of ArtGigTokyo are both to give opportunities for artists to exhibit in Tokyo and to give the public an opportunity to interact with art in an accessible fashion. I tried to be aware of both these aims while selecting the artists.
You mentioned that it took you a year to put this together. Is there a reason for that?

Most exhibitions take a long time to develop from conception to the actual installation. This show, I suppose, took as long because there are quite a few people involved and we are showcasing a wide range of disciplines. Trying to ensure also that the event remains free to the public means that everyone involved has been donating their free time, so I had to be as understanding and flexible as I could possibly be.
What's next for ArtGigTokyo?  
I plan for this event to be the first in a series of art happenings to take place in public spaces across Tokyo. I am currently working on a few more events in the series such as a 'ghost' theme event in an empty building and a 'death' theme event at a cemetery.
Click here for the official ArtGigTokyo website