Things to Do
Your comprehensive guide to the best things to do in Tokyo
The best upcoming events in Tokyo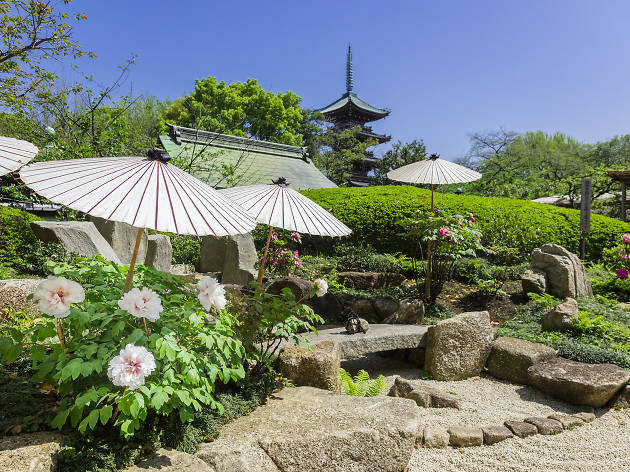 Ueno Toshogu Spring Peony Festival
Opened in 1980 to commemorate then-friendly diplomatic relations between Japan and China, the peony garden at Ueno's Toshogu Shrine is home to flowers from both of those countries, in addition to imports from the US and France, for a total of 110 varieties. This month-long spring festival is held to celebrate their bloom and is always teeming with visitors – last year's opening of a new Japanese garden on the premises has only added to its popularity.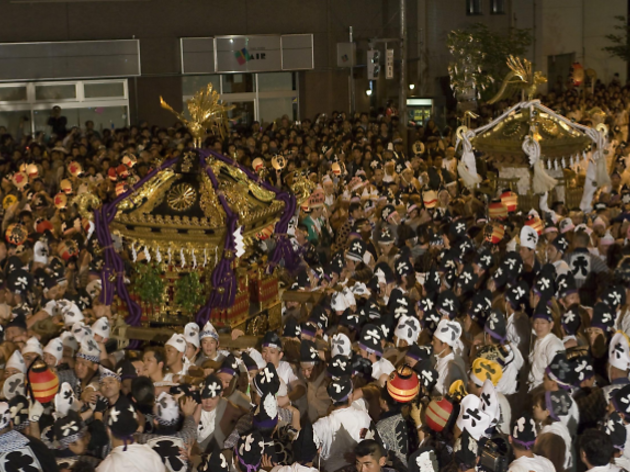 Kurayami Matsuri
The ancient Okunitama Shrine out in Fuchu is said to have been founded in the year 111, and the annual Kurayami Matsuri is its most notable event. Translating as 'darkness festival', the festivities go on for a week, with float parades, performances and plenty of family-friendly fun taking place on each day from April 30. The highlight comes on the evening of May 5, when eight mikoshi shrines are carried through the grounds to the beat of huge taiko drums, followed by a spectacular yabusame (horseback archery) demonstration.
Fuji Shibazakura Festival
Great views of majestic Mount Fuji and seemingly endless fields of shibazakura ('pink moss') – it's no wonder that this annual spring festival out at Lake Motosu in Yamanashi attracts hordes of Tokyoites over Golden Week. In addition to strolling around the immense flowery growth, you can buy your own shibazakura pot to take home or bite into a wide range of local delicacies. The food stall selection has been further expanded for this year, with festival grub from all over the region available throughout the event period.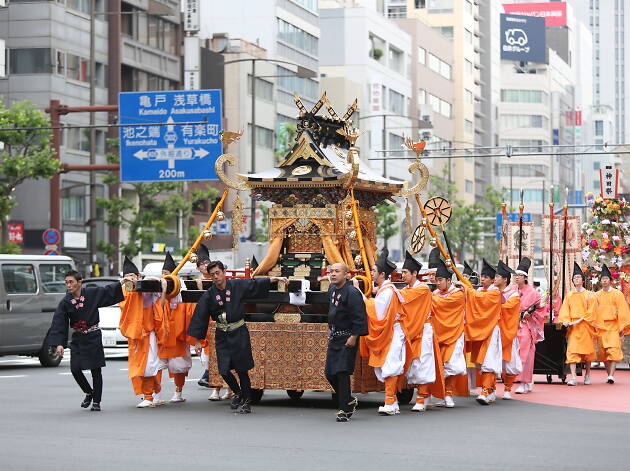 Kanda Matsuri
One of Tokyo's greatest traditional festivals returns in May. The Kanda Matsuri is customarily held on odd-numbered years and consists of a week-long succession of ceremonial rituals and parades, centring around Kanda Shrine. The highlights are on May 13, when hundreds of people parade through Kanda and the surrounding area, bearing mikoshi (portable shrines) and accompanied by Shinto priests on horseback; and on May 12, when the locals take to the streets with nearly a hundred portable shrines of their own.
Ebisu Urban Garden Festival
Unleash your inner gardener or just sit down for some coffee and a scone under the flowers at Ebisu's Garden Place, where this plant-focused celebration takes over for Golden Week. In addition to a plentiful selection of food trucks, all of which will be peddling treats between 11am and 8pm daily, you can look forward to a wide range of sustainability- and gardening-themed workshops, including a multi-day demonstration of how to build a solar-powered 'urban cabin' out of natural and recycled materials. 
That's What She Said!
An all-woman run, English-language stand-up comedy night during Golden Week, and for a good cause to boot? Sure sounds good to us – in addition to performances by some of the city's top female comedians, That's What She Said! includes a charity auction, the proceeds of which go to a domestic violence shelter support fund run by the Zenkoku Josei Shelter Network NPO. It's the first event of its kind at Shimokita's Good Heavens, which hosts a wide range of shows in English every month, and could even be the first of its kind in all of Japan. Head over on Friday night for laughs, drinks and the opportunity to support a very worthy cause.
See more upcoming events in Tokyo
The best things to do in Tokyo