Heads up! We're working hard to be accurate – but these are unusual times, so please always check before heading out.
Floor-by-floor guide to the Yayoi Kusama Museum
What to expect when visiting this highly anticipated museum full of pumpkins and polka dots
Officially opened on October 1, 2017, the world's first museum dedicated entirely to bewigged contemporary artist Yayoi Kusama hosts two exhibitions annually, focusing on Kusama's entire repertoire, including (as of the current run) those legendary red polka dots, her Infinity Mirror room/installation and of course, pumpkins.
The museum is located in Shinjuku ward's Bentencho, close to Waseda University and upscale Kagurazaka.
Yayoi Kusama's fame internationally has skyrocketed this year, thanks to a series of high-profile and widely acclaimed exhibitions that have taken the world by storm. And it all culminates with this: the opening of her namesake museum back in her home country and adopted hometown, set up and run by a foundation created by the artist herself.
Here's what you can expect from one of Tokyo's most anticipated new openings this year, as well as from one of the most popular artists in the world today.
The distinctive white building is a modern-day icon, beautiful in its simplicity and minimalism. It was designed by architect firm Kume Sekkei, and makes the most of the relative lack of space: there's only 200sqm of floor space to play with here. To make up for it, they've created a structure of stacked 'cubes', with windows at alternate angles to let natural light seep in and give each floor a sense of airiness.
Getting tickets has proved to be akin to juggling underwater, and all tickets for the inaugural exhibition have sold out. Whether you managed to bag some and are curious about what you'll see, or are weeping in a corner because you didn't and now need some armchair browsing, we've got you covered. Swipe on for our definite floor guide to the Yayoi Kusama Museum.
Note that photography inside the museum is forbidden except for the 4F installation room and 5F rooftop.
For those looking to book tickets for the next exhibition (check the official website for details), read our blog on how to actually get them in the first place.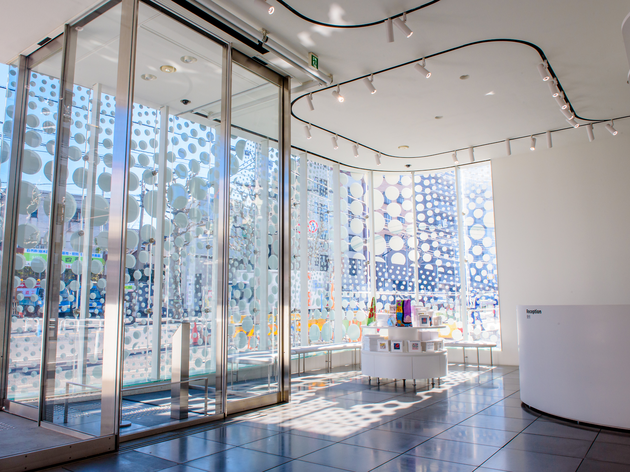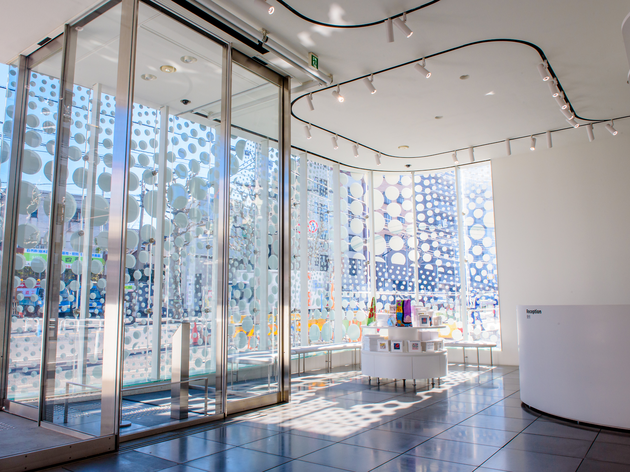 1F: Entrance, reception & shop
When entering, you'll walk through the set of glass doors – head straight to the reception to show them your (e-)ticket and pick up some leaflets. None of the artworks in the museum are numbered or named on the walls; you'll have to stick to the paper for that.
The giftshop is right next to the entrance too, with a curated selection of goodies. Be warned that they don't come cheap: when we visited, the least expensive thing on offer was a box of Yayoi Kusama-branded cookies, retailing for a cool ¥1,000, while limited-edition handkerchiefs and scarves go for ¥3,000-¥30,000.
Heading up the narrow staircase at the back of the first floor (or the elevator), you'll find yourself in the first exhibition room. In November 2017, it was decked out with almost un-Kusama-esque black and white canvases, all screenprints of paintings originally made with black markers.
The entire series, named 'Love Forever', comprises 50 works, which were made between 2004 and 2007; 27 of them are on display here. Most, if not all of them have facial features motifs – look long enough and you'll find that some leaves are actually mouths, and much more.
For upcoming exhibitions, this floor and the next one will host either paintings or a mix of sculptures and other artworks.
Note the image above is from the original 'Creation is a Solitary Pursuit, Love is What Brings You Closer to Art' exhibition, held between October 2017 and February 2018.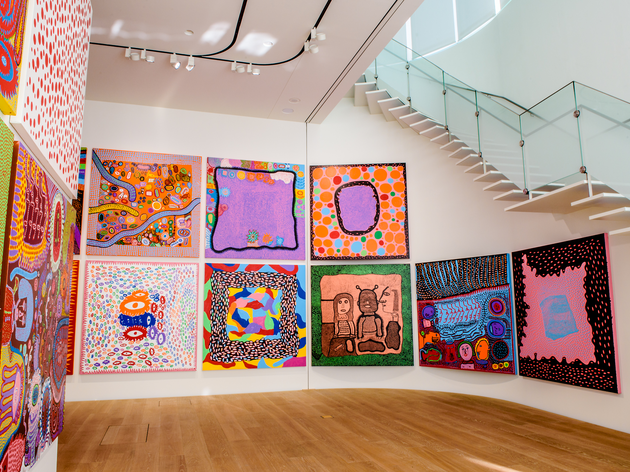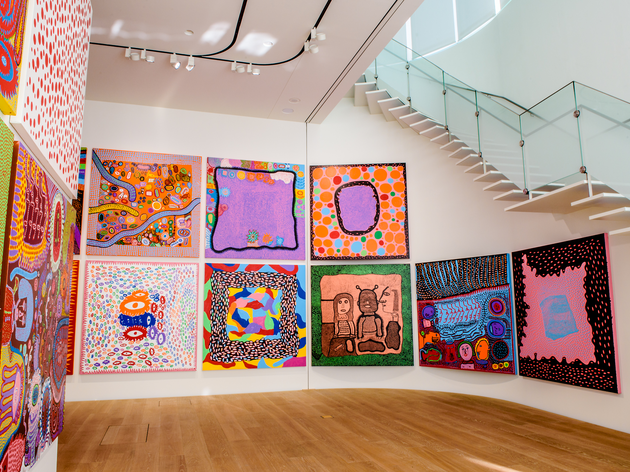 Yayoi Kusama may be famous for her pumpkins and polka dots, but her most recent massive retrospectives have often focused on her My Eternal Soul series, which runs to this day. Started in 2009, her output is staggering: she originally finished one canvas every day or two for years on end. So far, she's managed to rack up a whopping 530 to date, all of them unique.
During the inaugural exhibtion, you could find 16 of her most recent works here, selected by Kusama herself. The staircase loops around the wall, and the big windows give the entire gallery a much lighter feel than the one below.
Note the image above is from the original 'Creation is a Solitary Pursuit, Love is What Brings You Closer to Art' exhibition, held between October 2017 and February 2018.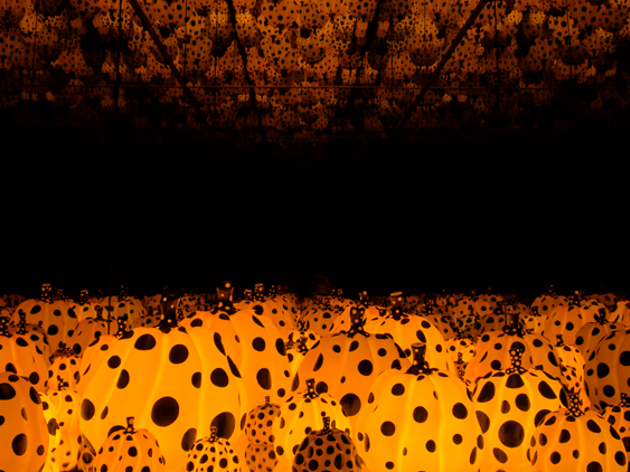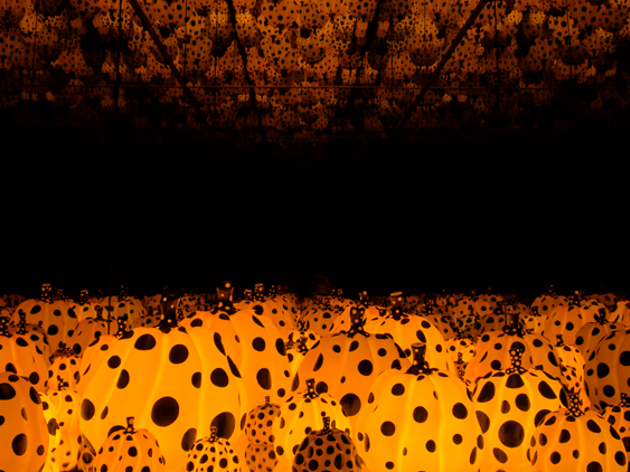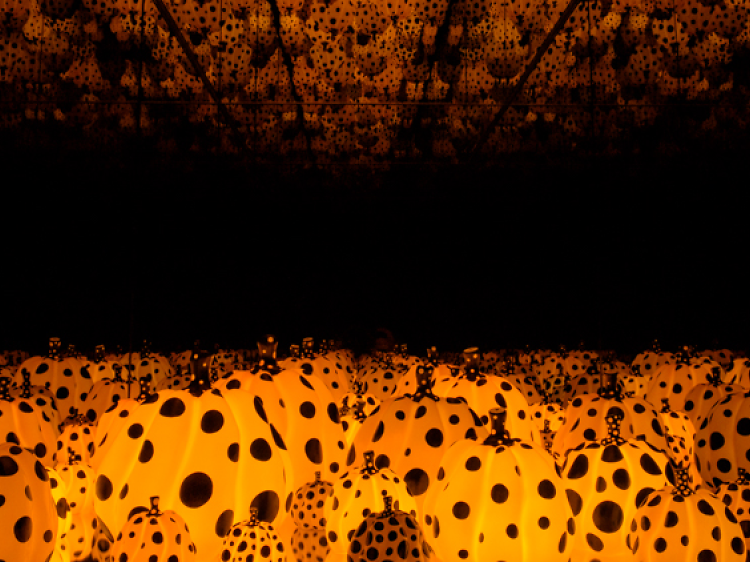 4F: Installation room (infinity mirrors room)
The ultimate Insta-artwork, Yayoi Kusama's very first Infinity Mirror Room (full of spotted phalli) was created way back in 1965. Talk about being ahead of the times. They've since blossomed into arguably her most famous artworks, only second to her pumpkin perhaps.
Luckily, the pumpkins and mirrors are married in her latest one, specially created for the museum. Going by the mouthful of 'Pumpkins Screaming About Love Beyond Infinity', it's presented inside a raised cube, in a pitch-black room. The pumpkins are lit up in random order, and then go dark again, in a never-ending pattern. Most intriguing, you can walk all around it, and won't be able to see the person standing on the other side – it's all one-way mirrors here.
For future exhibitions, the room will be used for varying installations – we hope it'll house some sort of Infinity Mirror for a while, though.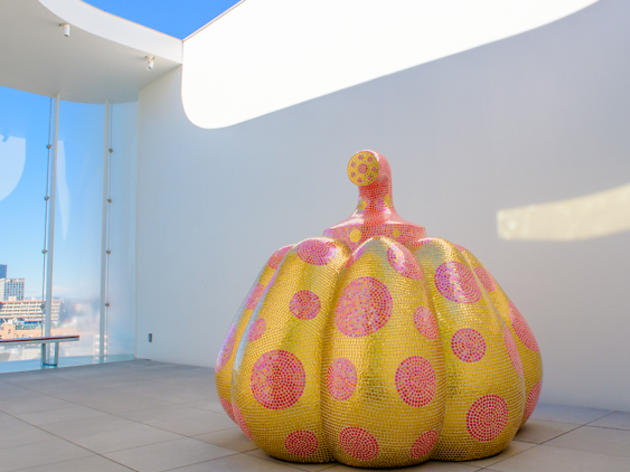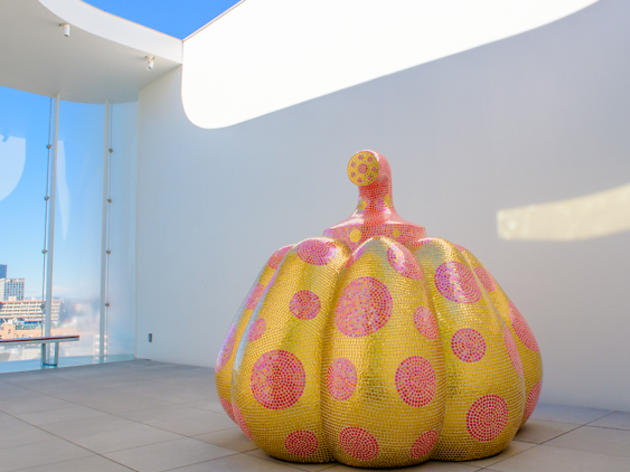 5F: Rooftop sculpture and reading room
You've made it to the top! Now all that's left is to gaze out at the Tokyo skyline from this open rooftop space... with a very glittery pumpkin as part of the view. This new 'Starry Pumpkin' is one of Kusama's latest pieces too, and is set to be there for the next exhibition.
Back inside, you'll find a reading room with a number of catalogues from Yayoi Kusama exhibitions across the country and the world, as well as biographies, picture books and more in a plethora of languages. After this, all you can do is head back down by elevator and bid goodbye to Kusama-land... but not until you've taken a few selfies.
It wouldn't be the Yayoi Kusama Museum if there weren't polka dots involved somewhere. Luckily for selfie-snappers, the lift and the toilets are all decked out in polka-dotted mirrors, for all your social media cred. Other than that, photography is allowed at the fifth floor's Starry Pumpkin, and inside the Infinity Mirror Room – the lighting may be very low, but you might just be able to snap a ghostly reflection of yourself in the mirrors.
Get your tickets now
Ever since the news broke of Yayoi Kusama opening her own museum, the question on everyone's lips has been how to actually nab tickets for the place. Here's how.