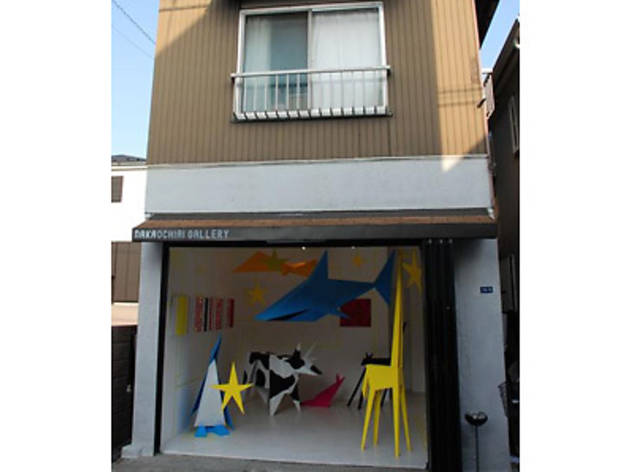 This unconventional street-front gallery makes use of a traditional wooden merchant's home, one of the last of its kind on a street presumably once lined with them. Sixty-odd years ago local residents came for here sweetened shaved ice; some of the same residents now come to see the space transformed (and re-transformed) by subsequent contemporary projects. Open since 2004, Nakaochiai Gallery has established a reputation for interactive installations and cross-border communication, as well as for engaging the surrounding community.
Long time Tokyo resident (by way of New Zealand) Julia Barnes directs the space along with co-curator Clint Taniguchi. Barnes is choosey about her artists, selecting not only those who share her affinity for non-traditional space and community integration, but also those whose 'voices resonate with a world beyond their own imagination.' Such artists are 'hard to find,' Barnes says, explaining why the exhibition schedule is somewhat erratic (call ahead for current schedule details). Barnes herself is also involved in a bevy of other art world endeavours, which keeps her both busy and abreast of new creators. Notches on her belt include initiating the alterna-art fair 101 Tokyo in 2008.
Shows at Nakaochiai include those from both Japanese and overseas artists, all categorically young and under the radar. The gallery is perhaps most well known for the Instant Drawing Machine project (2005-2007) with the then San Francisco-based duo CRUST and DIRT. This installation saw Barnes deposit her laptop and web-cam on a Tokyo sidewalk as an open call to passersby. Those who stopped for a closer look were invited by CRUST and DIRT to make a wish, which the California artists instantly transformed into an on-screen drawing for the viewer. The cost of the dream fulfilled? Just ¥100. Suffice it to say that Barnes and Co. are about as excited by the prospect of riches as they are by the idea of existing solely within four white walls.
While Nakaochiai's far-flung location seems determined to prove that galleries do indeed exist in every remote corner of the city, the neighbourhood is not without its charms. According to Barnes 'it is the kind of place where people stop to talk to you' and, in the 1920s, was an area populated with artists, writers, and choreographers.
Venue name:
Nakaochiai gallery
Contact:
Address:
4-13-5 Nakaochiai, Shinjuku-ku, Tokyo
Tokyo


Transport:
Nakai Station(Seibu-Shinjuku Line, Toei Oedo Line), Ochiai Minami-Nagasaki Station(Toei Oedo Line)