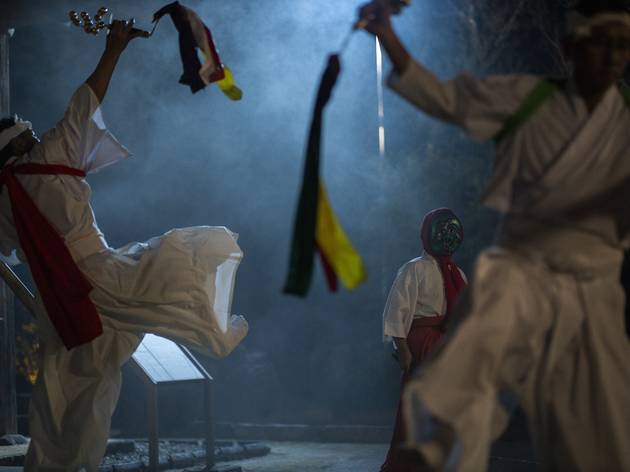 Five events to keep an eye on at the Japan Cultural Expo – with Katsumi Tanaka
The Minyo Crusaders frontman selects five outstanding events that offer a fresh perspective on Japanese performing arts
Love Japanese arts and culture? Take our one-minute survey at the bottom of the page (or click here) and let us know your interests for the chance to win a ¥5,000 Amazon gift card.
***
A comprehensive celebration of Japanese arts and culture that's part of the lead-up to this year's Tokyo Olympics and Paralympics, the ongoing Japan Cultural Expo features everything from art exhibitions to performing arts events taking place throughout the country. The expo offers something for everyone, but the vast number of happenings held under its umbrella can make choosing what to see a bit challenging. In this series, we're checking in with six experts to get an insider's take on the Japan Cultural Expo events that definitely shouldn't be missed.
Our fifth curator is Katsumi Tanaka, the frontman of Tokyo-based music collective Minyo Crusaders, who blend Japanese folk with Latin, Caribbean and other exotic beats. Tanaka is on a mission to reintroduce his listeners to folk – originally the ultimate people's music but no longer part of daily life for most of us today. His efforts have hit the spot both in Japan and abroad: Minyo Crusaders now have a global fanbase, having toured extensively in Europe and elsewhere.
In choosing five notable events at the Japan Cultural Expo, Tanaka focused on happenings that, like Minyo Crusaders' music, shine a spotlight on cultural exchange between Japan and other countries and that provide an opportunity to rediscover Japan's traditional performing arts through experience.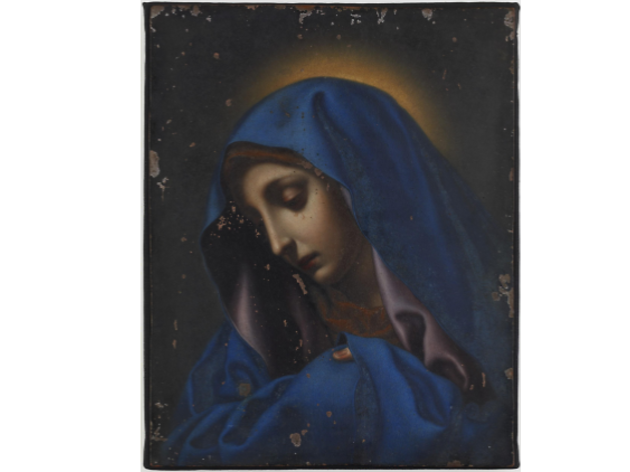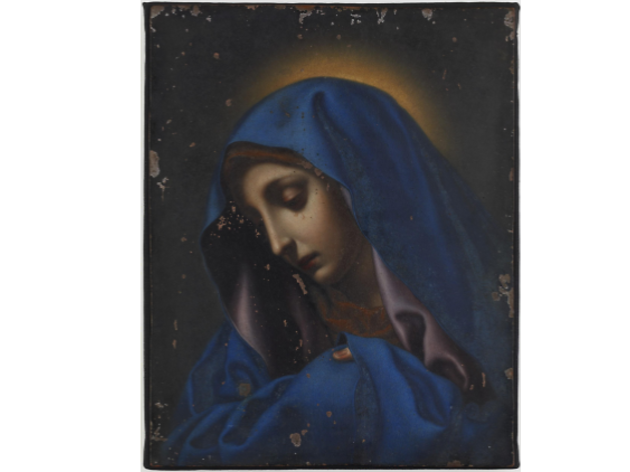 出典:ColBase(https://colbase.nich.go.jp/)
Japan and the World: 300 years of Global Exchange
Though Japan was officially 'closed' to the rest of the world for most of the Edo period (1603-1868), plenty of trade still took place between the samurai-ruled nation and Europe. The variety of rare items that were imported during this time inspired a wide range of new currents in arts and crafts throughout the country. This curiosity about the foreign and how it contributed to the elevation of Japanese arts and culture was the focus of 'Japan and the World', an exhibition that took place at the Tokyo National Museum from November 25 2020 to January 11 2021. Items such as Western-style paintings and Christian artefacts were displayed alongside maps and books acquired by the Edo shogunate, and provided an insightful look into a pattern of exchange that few casual museum-goers knew much about. The exhibition demonstrated how the Edo-period fascination with the foreign is connected to contemporary Japanese attitudes.
Katsumi Tanaka was fascinated by the exhibition's focus on how Western technology and forms of expression were incorporated into Japanese art and culture. 'We do the same with Minyo Crusaders by combining Latin and other foreign music with Japanese folk (minyo), so I felt something of a connection there,' he says.
'Japan's obviously no longer closed to foreign contacts, and we can all connect with people around the world through the internet. For example, when we tried combining minyo with Colombian cumbia, Colombian people listened to our stuff and told us it was great. I can also have conversations about music with people all over the world, talking about the kind of music each of us like to make. How we're now able to look for inspiration all around the globe is something I find endlessly stimulating.'
Note: This exhibition ended its run on January 11 2021.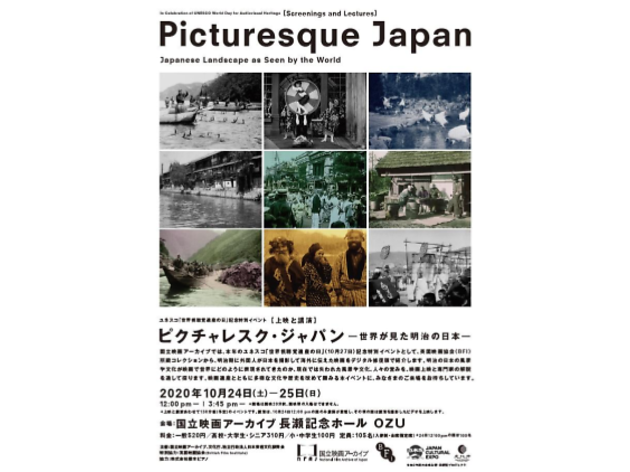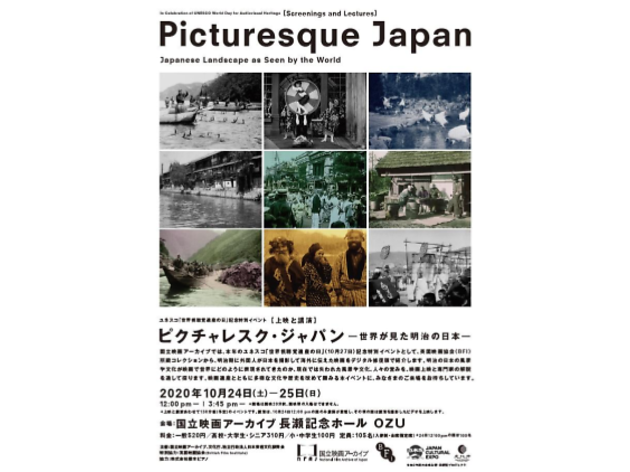 Photo: Picturesque Japan: Japanese Landscape as Seen by the World
Picturesque Japan: Japanese Landscape as Seen by the World
A series of special screenings held under the umbrella of MoMAK Films, a programme put together by the National Museum of Modern Art, Kyoto and the National Film Archive, 'Picturesque Japan' took place at the former venue on February 20 and 21 2021. The screenings and related talks focused on a number of digitally remastered short films from the British Film Institute's collection, shot by foreigners in Japan during the Meiji era (1868-1912). These flicks offered both a peek at landscapes and customs now long lost and insight into how Meiji-era Japan was portrayed for a foreign audience.
'I like watching old films of Japan shot by people from elsewhere, who've come here to document the landscape and daily life,' says Tanaka. 'There's a strong sense of exoticism to these clips, in which the perspective is detached, that of an outsider's.'
'I feel like things people say are "essentially Japanese" are being glorified a little too much these days. That's true even for folk music, which used to be really down-to-earth, the kind of tunes you could catch anyone humming. Sure, Japan has beautiful landscapes, but the films screened at "Picturesque Japan" show those places and their people as they really were back then, no glorification involved. I found that really interesting.'
Note: This event ended its run on February 21 2021.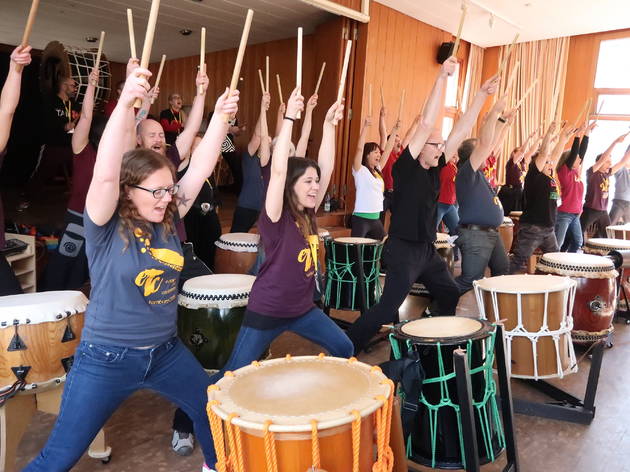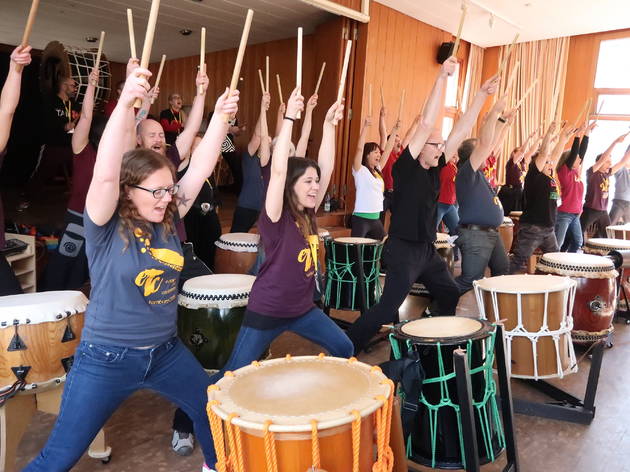 World Taiko Conference (Image Photo) Photo: European Taiko Conference
Wadaiko or Japanese drumming emerged as a performing art in its own right some 70 years ago and now enjoys a measure of popularity worldwide. The World Taiko Conference, aimed at connecting enthusiasts from around the world and sharing the wonders of taiko with a global audience, was set to make its Japan debut in 2020. The Covid-19 pandemic meant that the real-world event sadly couldn't be held as planned, but that didn't fluster the organisers: an online programme was rolled out instead, and video of the many talk sessions that took place can still be viewed on the conference's official website. The event made clear how a traditional Japanese instrument can have a universal impact and inspire cross-cultural exchange.
Having watched clips of the talk sessions, Tanaka noticed how taiko drumming is perceived differently in different countries. 'The programme helped introduce me to the taiko scenes in various countries and to how those scenes differ – a perspective that felt really fresh.'
'I think drumming is universal – it's at the heart of what drives us humans to play music. I live in Fussa, close to Yokota Air Base, which has its own wadaiko club. I've seen them perform at local events together with Japanese drummers, and find it amazing how much cultural exchange and communication the taiko can give rise to.'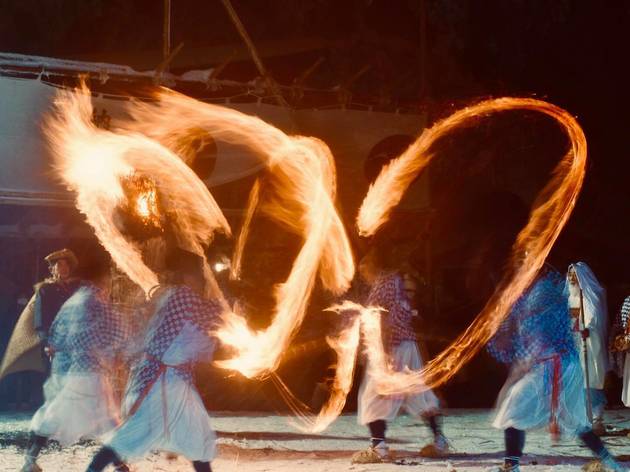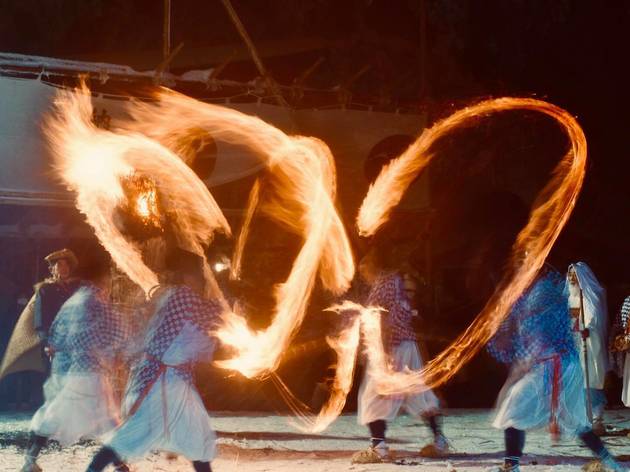 Photo: NOBODY KNOWS
The NOBODY KNOWS project consists of history-focused tours and innovative shows featuring traditional performing arts, all taking place in Japan Heritage-designated locales throughout the country. Tours were held in six locations in 2019, while the 2020 edition, in response to the Covid-19 pandemic, saw the on-site events replaced by online programmes that provide viewers with an in-depth look at history, culture and the traditional arts, allowing them to experience the stories associated with specific, previously 'unknown' places in an engaging manner.
'I was really drawn to the places featured in this project,' says Tanaka. 'Though the events were all online-only this year, they were extraordinarily successful in conveying aspects of both culture and history – a testament to how well the project is organised.'
'I love stories that are associated with specific places – even more so now that we can communicate with each other no matter where in the world we are. Living in the Tokyo suburb of Fussa, which has an interesting post-war subcultural history in itself, I've also taken an interest in Akiruno, the neighbouring municipality higher up in the mountains. I've learned how the area, now a quiet town in the midst of nature, was an important source of timber during the Edo period, how it used to be densely populated and attracted the cultured classes back then (as evidenced by the large temples that still dot the town), and even that the Beat-inspired poets Nanao Sakaki and Sansei Yamao lived in Akiruno at one point. I was amazed to hear all those stories about what at first seemed like a rather unexciting place. I recently played a Tiny Desk Concert from an old community centre in Akiruno, where the villagers used to gather back in the day.'
UNESCO Intangible Cultural Heritage Special Exhibition "The World of Traditional Performing Arts – Kabuki, Bunraku, Noh and Kyogen, Gagaku, Kumiodori"
The five types of Japanese performing art recognised as elements of Intangible Cultural Heritage by UNESCO were all set to feature extensively in this ambitious exhibition, planned for March 10 to May 24 2020 at the Tokyo National Museum but sadly cancelled due to the Covid-19 pandemic. Instead, a selection of videos and virtual-reality content featuring performances and other highlights related to each of the five traditional arts is available to view online. (Note that some of the content will be released at a later date.)
For Tanaka, this event offered a compact introduction to Japan's traditional performing arts. 'Its sweeping approach made for a stark contrast with the place-focused NOBODY KNOWS, and the fact that both of those events can be enjoyed at home makes comparing them an interesting exercise.'
'In the days before travelling was made as easy as it is now, Japan probably felt like a much larger country. Back then, folk music let people imagine faraway landscapes like majestic mountains or golden fields. The songs were a gateway to another world, like world music still is to modern listeners. Japanese performing arts are like that too, in that they draw inspiration from nature. Keeping that in mind, I found it interesting to look at the colours and patterns on the performers' costumes and to imagine how interaction with nature may have inspired the works being performed.'
'Most people learn history chronologically, going from prehistory to the present, but reversing that order can often lead to deeper understanding. In that sense, checking this event out only after viewing the previous four I've recommended might open up new perspectives.'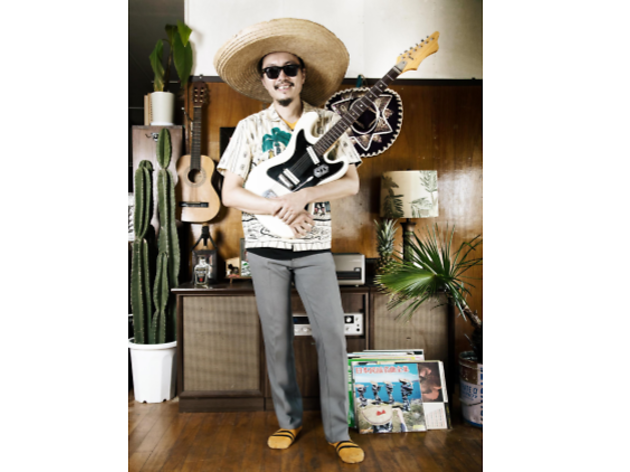 Photo: P-Vine Records
Katsumi Tanaka (Minyo Crusaders)
Katsumi Tanaka is the frontman and guitarist of Minyo Crusaders, a band that puts a 21st-century spin on the sort of combination of Japanese folk and Latin rhythms pioneered by the likes of The Tokyo Cuban Boys and Toru Arima & Noche Cubana. Founded in 2011 by Tanaka and vocalist Freddie Tsukamoto, Minyo Crusaders got its start in the western Tokyo suburb of Fussa, best known as the site of the USAF Yokota Air Base. Aiming to revive Japanese folk or minyo by fusing it with dance tunes inspired by Caribbean, Latin, Afro, and Asian music, the band settled on its current 10-member format in 2016 and released its debut album, Echoes of Japan, in December 2017. Minyo Crusaders have appeared at a multitude of major festivals, from Fuji Rock to Tokyo Jazz, and re-released their first album in the UK in April 2019. That was followed by a tour of Europe that also included a trip to Colombia and appearances at the WOMAD festival in Australia and New Zealand. August 2020 saw Minyo Crusaders put out a new EP together with Colombian band Frente Cumbiero.
Terms and conditions

1. No purchase necessary.
2. Anyone in the world can participate, but only one entry per person per survey.
3. Entries are open only to those above the age of 18.
3. There will be up to 5 winners chosen per survey, up to a maximum of 20 winners in total.
4. Amazon gift cards are limited to
amazon.jp
for Japan residents and
amazon.com
for international contestants.
5. Gift cards will be delivered (electronically) within 3 months of the contest's end-date.
6. By submitting your email address for this contest, you also agree to subscribe to the Time Out Tokyo newsletter.
7. Promoter: Original, Inc. Shibuya, Tokyo.