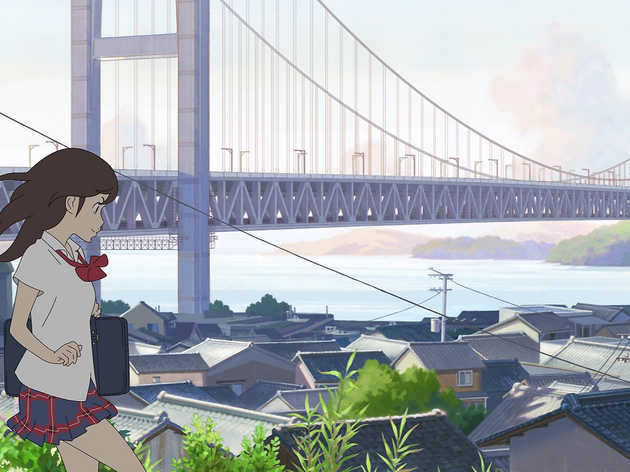 Director Kenji Kamiyama (Ghost in the Shell: SAC, Cyborg 009, Eden of the East) makes a return to the big screen with a fantastical new anime drama called Ancien and The Magic Tablet (or Hirune Hime, 'Napping Princess').
The story follows Kokone Morikawa, a bubbly, likeable high school girl who has the unruly habit of sleeping too much. When she sleeps, she becomes Ancien – a brave princess with a magic computer tablet and an appetite for adventure. After her father is suddenly arrested, Kokone's waking life threatens to become every bit as exciting as her dreams.
More accessible than Kamiyama's previous works, Ancien is a bold, promising new step for the director. He weaves in familiar themes from past work – Kamiyama's unabashed love of slightly bulbous robot designs is reminiscent of his Ghost in the Shell work and there's some infostructure hacking that's rooted in Eden of the East – but these more specialist elements thankfully take a back seat to the family focus of this piece.
Visually, the film plays with tone and colour, contrasting the real-life drabness of rural life and cheap family apartments with the oceanic night skies and luminescent hues of the dreamworld. A lot of thought clearly went into this aspect of the film, and it really illustrates a phenomenal team effort guided by the hand of an artisan. Outlandishly detailed establishing shots and breathtakingly paced action scenes further reinforce this view.
Sonically, the film is cleverly propelled along by excellent sound design and a commendably dynamic score from legendary Final Fantasy and Kingdom Hearts composer Yoko Shimomura. Ghibli-esque piano themes are mixed in nicely with some devilishly mischievous bassoon pieces and more frenetic string ensemble work for the action scenes.
Kokone is a very likeable character, thanks in part to Mitsuki Takahata's subtly nuanced performance. Despite her hardships, she comes across as a resilient, self-sure girl and is written with a refreshing amount of agency. The ensemble cast also clearly had a riot recording this, and it was especially pleasing to hear Wataru Takagi (Okuyasu from JoJo's Bizarre Adventure) bring his brand of magic to the proceedings.
The film is not without its flaws: a few sub-plots are paper-thin and one wonders if key scenes were cut to create a more competitive running time. The screenplay is also a little ambitious – a narrative with two worlds is always difficult to balance. Alice in Wonderland achieves it by getting us lost down the rabbit hole and bringing us back at the end, but in this case, dipping in and out of the fantastical might have been better done with some more experimental scene transitions.
Nonetheless, the film succeeds wonderfully in achieving it's aim – this is a fun action adventure that resonates because it doesn't glamorise everything. You feel a warmth after watching it, as there's something in its depiction of imperfect, loving family relationships that stays with you.
All in all, Ancien and The Magic Tablet is a touching, exciting adventure that, despite insurmountable obstacles set by the screenplay, manages to provide a heart-warming cinematic experience.
By George Art Baker
Cast and crew
Director:
Kenji Kamiyama
Cast:
Yôsuke Eguchi
Wataru Takagi
Mitsuki Takahata