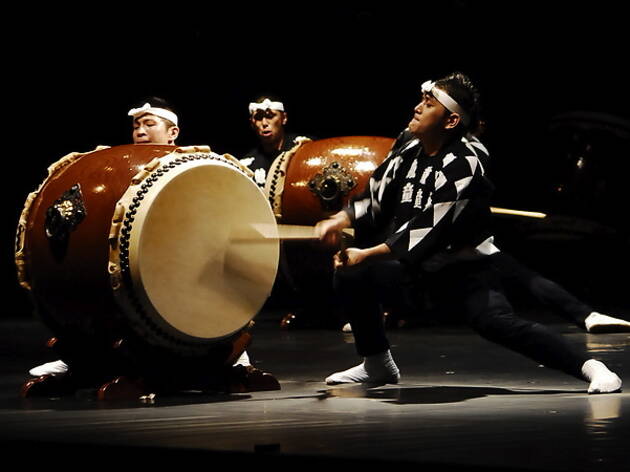 If you're looking for an excuse to get away from the big city for a few days, it doesn't come more relaxed than the Earth Celebration festival on Sado Island. Just don't expect blissful peace and quiet. The festival is, after all, the main fixture on the yearly calendar for Kodo, one of the foremost taiko groups in the world today.

Earth Celebration takes place every August in and around Shiroyama Park, not far from Sado's Ogi Port, a leisurely ferry ride off the Niigata coast. In a former life it was used as a place of exile; in more modern times it has become a sanctuary for traditional craft and performance. Approximately 170 miles from the capital, life on Sado Island could be a million miles away from life in Shibuya.
The festival first started life in 1988, making it Japan's longest running music event and an absolute must for anyone interested in a more traditionally Japanese take on life. Drum workshops are a key part of it all, but so are the enchanting streets that wind through ageing wooden buildings of Ogi Port, brought to life in the evenings by the street markets and dances that surround the main event. During the day, the festival area thrums along to a hippyish vibe, with flowing skirts and tie-dyed shirts to the fore, and an anything-goes feeling on the wind.

If you've not seen Kodo in concert, then you're in for a treat. They're as much about sheer physicality as they are about musicianship, the muscular pounding of the towering drums a visual spectacular that stands equal to the thunderous aural attack. The troupe are well-known across Japan, but have also earned an international reputation on the back of hard work and relentless touring. Sado Island has been their home since the early '80s, and those who hope to become fulltime Kodo members are obliged to submit themselves to an almost commune-like existence, devoting their entire focus and energy to rigorous daily study and rehearsal, living together, eating together, all in the name of the drum.
Performing alongside Kodo at this year's Earth Celebration festival will be the Ranaei Family, a group of Iranian musicians of Kurdish background who work with the tanbour, a stringed instrument that is thought to boast a 6,000-year history. The group will take to the stage with Kodo for a unique collaboration on the Shiroyama Park stage on August 19 and 20, the second date of which will also include a performance by Japanese dance troupe 'Ko No Kai'. All in all a fairly majestic event, then. You couldn't get much further away from it all if you tried.

For the full schedule, and for more information on transportation to Sado Island, see the official Earth Celebration website, 'like' the official Earth Celebration Facebook Page, or perhaps even follow the the event on Twitter