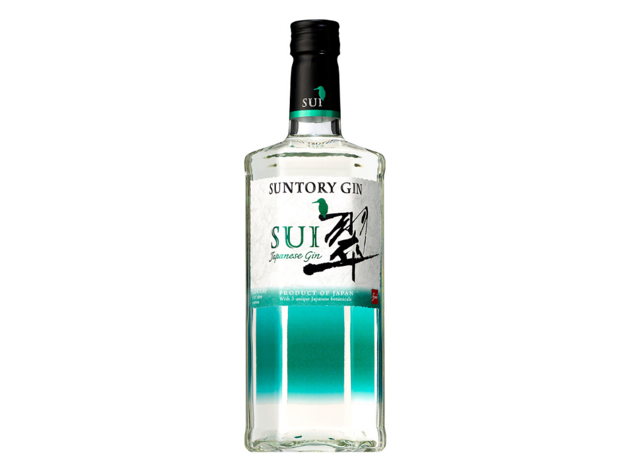 Suntory releases new Japanese gin Sui
Posted: Tuesday March 10 2020, 5:41pm
Japanese whisky may be struggling to keep up with global demand, but that's good news for gin drinkers, as big distilleries like Suntory turn their attention to spirits that are quicker to produce. The new Suntory Sui Japanese Gin, launched on March 10, is the latest entry in the rapidly-growing list of Japanese-style gins – it's not even Suntory's first gin release – but with Suntory Roku gin proving popular in bars from Setagaya to Sydney, it was only a matter of time before we saw a sequel.
With its elegant emerald-tinged bottle (sui means green in Japanese), Sui gin looks a lot lighter than the squat hexagonal Roku, and it'll taste lighter, too. Both gins are made with eight typical gin botanicals, including juniper, coriander and cardamom, but where Roku adds six more Japanese flavours to the mix, Sui has only half as many: yuzu, green tea and ginger. We haven't tasted it yet, but that's pretty much a greatest hits compilation of trendy Japanese flavours.
Based on the glossy launch campaign, it looks like Suntory is selling Sui as a dinnertime drink, but mixed with soda instead of tonic – sounds like Suntory's looking to make gin and soda as ubiquitous in bars and izakaya as the whisky highball. The suggested retail price of ¥1,380 (about USD13) plus tax definitely makes Sui gin more of an everyday tipple than the more premium-priced Roku.
At 40% ABV, Sui gin is now available in bottle shops and bars across Japan, and considering the company behind it, we expect it'll make its way overseas very soon.
Want to sample some Japanese gin? Head to the best gin bars in Tokyo, or try one of the city's many bottle shops and liquor stores.
Share the story